This vibrant hue has already become the next "it" color for wedding decor!
Just last month, Pantone officially announced its Color of the Year: Ultra Violet. Equal parts "complex and contemplative," the hue "suggests the mysteries of the cosmos, the intrigue of what lies ahead, and the discoveries beyond where we are now." While it's sure to dictate upcoming fashion and interior trends, there's no doubt it will also make an appearance on the wedding front. In fact, it can easily be incorporated into both classic and unconventional ceremonies for breathtaking results! Below, we've rounded up our favorite ways to feature Ultra Violet in your wedding— whether you're a boundary-pushing bride or stick-to-the-basics kind of gal.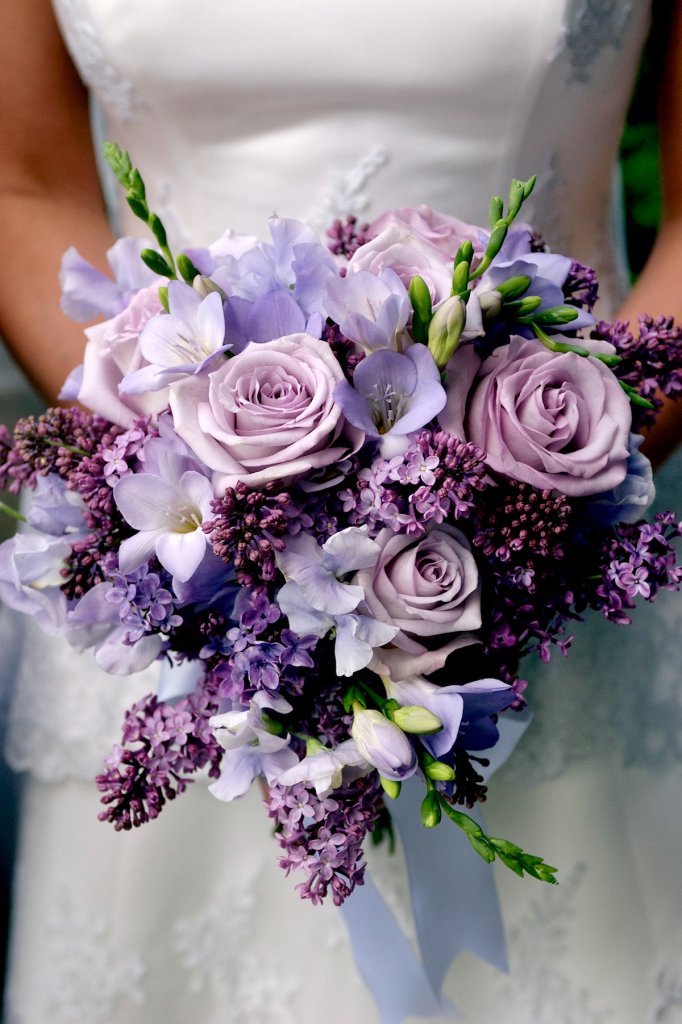 Photo Credit: Tammy Hughes Photography

Your bouquet is arguably the most important accessory on your big day. Use it to make a bold statement with violet-colored roses and sprigs of lavender. Alternatively, you can stick to mostly neutral flowers while adding in a few violet-colored blossoms for a more subdued look.
 Photo Credit: Muriel Silva Photography
A smattering of violet can be subtle but powerful. Add violet-colored accents to your cake to make the hue stand out without being overly ostentatious.
Photo Credit: Hunter Ryan Photo
If you're ready to dive into the Ultra Violet trend head-on, try incorporating the shade into cocktail hour. Mix some cranberry juice and Blue Curaçao liquor for a drink that's almost too pretty to drink.
Photo Credit: Tammy Hughes Photography

Ultra Violet table settings will add to the fairy-tale allure of your reception. Opt for vibrant pieces like violet-colored menus or namecards to create the perfect ethereal effect. 
Photo Credit: Tammy Hughes Photography
While you don't need to go crazy with violet-colored decor at your ceremony, adding elegant touches here and there can be quite stunning. Tie bunches of purple flowers to the chair at the end of each aisle. Guests won't be able to miss the gorgeous color coordination with your own hand-held blossoms!
Photo Credit: Sparkling Sweets Boutique via Etsy

Give your guests something unique to remember your wedding by. We love the idea of using amethyst rock candy as wedding favors. With edible gold-dipped ends, these sparkling treats taste just as decadent as they look. 
 —Sam Peters