An unforgettable celebration starts with finding the perfect palette. Here, three bright ideas.
By: Elena Donovan Mauer
-AS SEEN IN BRIDAL GUIDE MAGAZINE-
Moody & Mauve
This Utah bride's oatmeal-hued gown hid a colorful secret: A petticoat of tulle in varying shades of purple. So of course, that became the jumping off point for the wedding's color scheme. The couple married in the fall, so purple, plum and lavender were made autumnal by adding peach and gold. This earthy mix, in turn, complimented the mountain-view setting, High Star Ranch. "It poured rain that day," says Michelle Leo Cousins, owner and lead designer of Michelle Leo Events. "Between the color scheme and the weather, it was a really romantic, subdued kind of a setting. It was actually perfect." The rustic space was dressed up with traditional and garden roses, purple artichokes, coleus, smoke bush and amaranthus. "The bride wanted a lot of texture and layering throughout," says Cousins. Flower arrangements in antique-style gold, footed vases and tall taper candles in varying heights added drama to tables. Guests dined on a hearty autumn-inspired feast made with local flavors. The wedding cake was decorated in light purple with a gold floral pattern and topped with fresh flowers. "I find a number of couples believe they have to pick two 'wedding colors,' but I tell them 'Let's pick color families,' " says Cousins. "For example, if you really love purple, let's explore different shades of that color, so there's tone and depth. I love infusing metallics with any color palette because I feel it provides a really great balance and then the metallic almost becomes the neutral."
Footed vases lend a vintage vibe.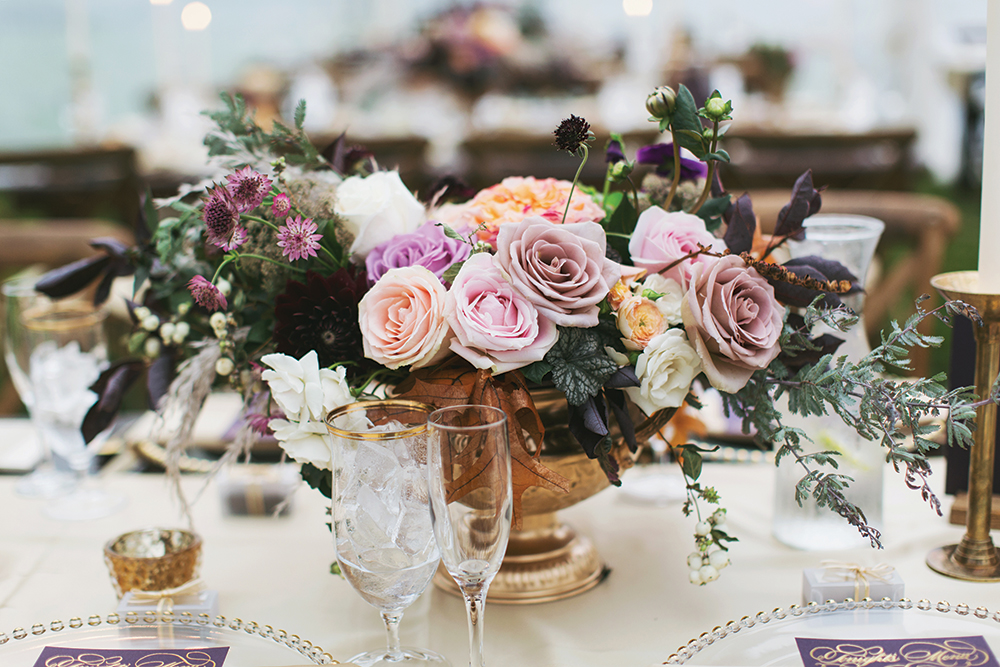 Gold adds shine to the menu cards and the rims of the glass chargers.
Elegant calligraphy made the stationery feel ultra-refined.
The barn was swathed in layers of tulle and flowers and set with gold chiavari chairs.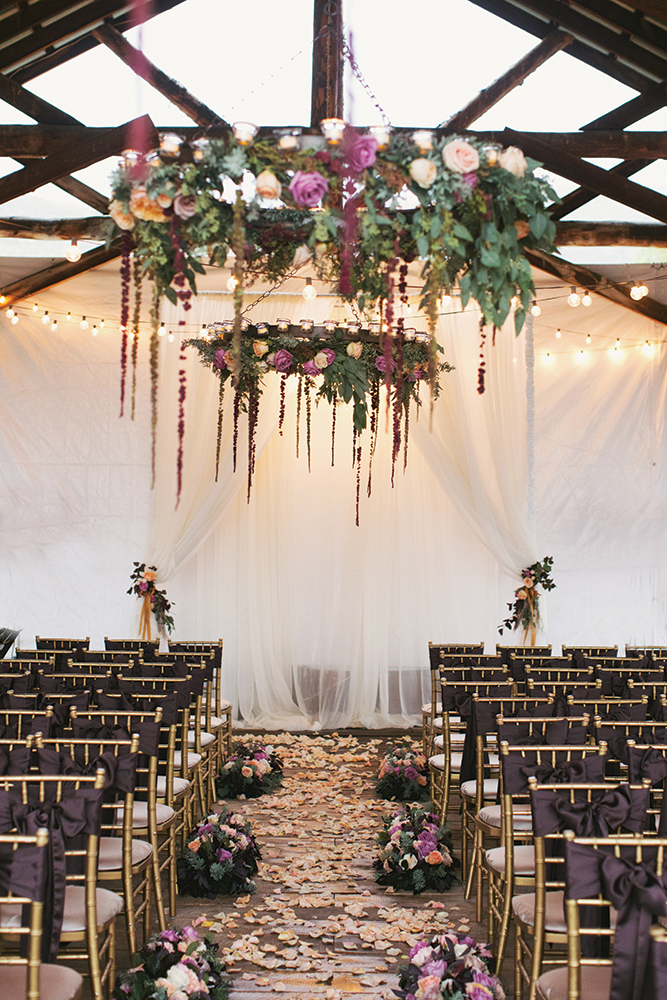 The rain let up a bit, allowing the bride and groom, Sara and Matthew, to snap photos with their wedding party.
The mountain setting.
The grand, four-tier mauve cake was accented with a hand-painted gold floral pattern and topped with fresh flowers.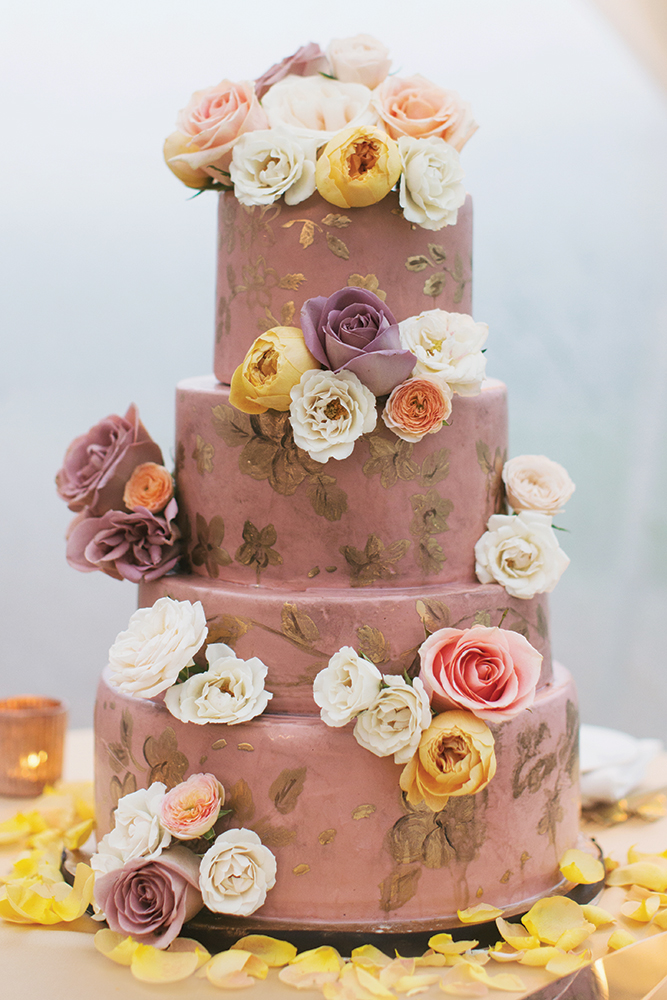 Photo: Alixann Loosle Photography
Blue Notes
This wedding's pairing of periwinkle blue with peach and blush pink was a tribute to the wedding locale. "The bride was just really inspired by Charleston itself," says wedding planner and designer Samantha Anderson of Samantha Anderson Events in Charleston, South Carolina. "A lot of our architecture here, especially downtown, is colorful, like the homes on Rainbow Row. It's so beautiful." For the intimate gathering at Gadsden House, a historic home turned event space, most guests traveled from Georgia, and hospitality was top of mind. Guests were invited to the spring nuptials with monogrammed stationery and were also given a watercolor map of the destination. The bride and groom exchanged vows in front of a gate covered with boxwoods and cascades of roses, peonies, amaryllis and other blooms — a stunning backdrop. Throughout the decor, tones of blue and pink created a striking contrast, and a variety of other decor selections made a juxtaposing statement. "We got to incorporate a lot of new, modern ideas but keep the feel of a traditional southern wedding," says Anderson. "It made the event super fun and lighthearted." For example, at reception tables, antique-style blue water goblets looked classic, while gold flatware lent table settings a contemporary edge. Colorful Amal-style plates made a bold statement without being overly fussy. The cake was given an unexpected update by switching up the bottom tier to a hexagon and decorating the fondant with a blue marble effect with edible gold flecks. "The bride and groom said, 'Let's do something different,' " says Anderson. "It was a breath of fresh air."
A centerpiece of peach amaryllis, eucalyptus and greenery.
A classic wedding cake was given a twist with a hexagon-shaped bottom tier and gold-flecked blue marbling.
Popsicles added flavor and fun to champagne cocktails.
Wedding stationery was created by several different vendors to eclectically chic effect.
Inviting table settings made guests feel at home.
The bride and groom, Miranda and Adam.
A cascade of blooms adds romance to the sweetheart table.

Photo: Aaron & Jillian Photography
Emerald City
Dress inspiration created a very glamorous result for this luxe winter wedding, held at the Four Seasons Hotel Seattle. "The bride told me she loves emerald green and she'd already found ribbon for a sash that she wanted to make for the dress," says Aleah Valley of Valley & Company Events. The couple's love of travel, books and a bygone era also contributed to the nostalgic look of the wedding. Green was paired with gold to glam up the ballroom, and give a nod to the Roaring '20s. As the sun set, the couple exchanged vows under an arch decorated with unique hanging sphere lights and a swath of white and pale pink roses and greenery. Those same blooms were later reused to decorate the band's stage at the reception. "We brought in velvet linens that felt very rich, but it wasn't overly glitzy or forced," says Valley. Gold chameleon-style chairs offered a modern look that felt retro and fresh at the same time. Long tables were set in a U shape, so guests could all see each other. "It made everyone feel very connected, especially because it was a smaller group of guests," says Valley. The bonus of the seating arrangement was that no one was facing away from the musicians as they played swing music and then worked their way up to contemporary tunes as the evening unfolded. A speakeasy-style lounge was set in the middle of the room for guests to sit and sip cocktails when they weren't dancing the night away. Between the timeless tunes and luxurious green and white details, guests were treated to a fete with the feel of the Great Gatsby era. Valley says, "Color played a big role in the way that guests experienced the day."
Lavish linens, gold spherical light fixtures, lush flowers and greenery made the ceremony space feel ultra glam.
Low and tall centerpieces created drama without blocking views.
Luxe green napkins gave contrast to stark white menu cards.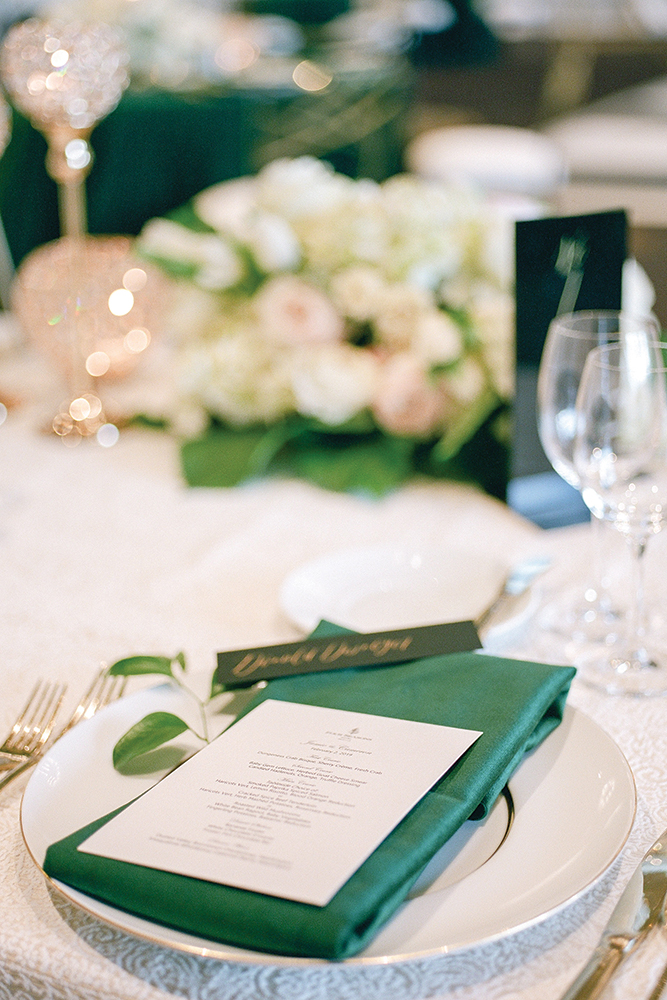 Cut-crystal decanters elevated the bar service, making it feel nostalgic and elegant.
Bride Jamie's paper-flower bouquet was made from pages of a Harry Potter book, one of her favorites.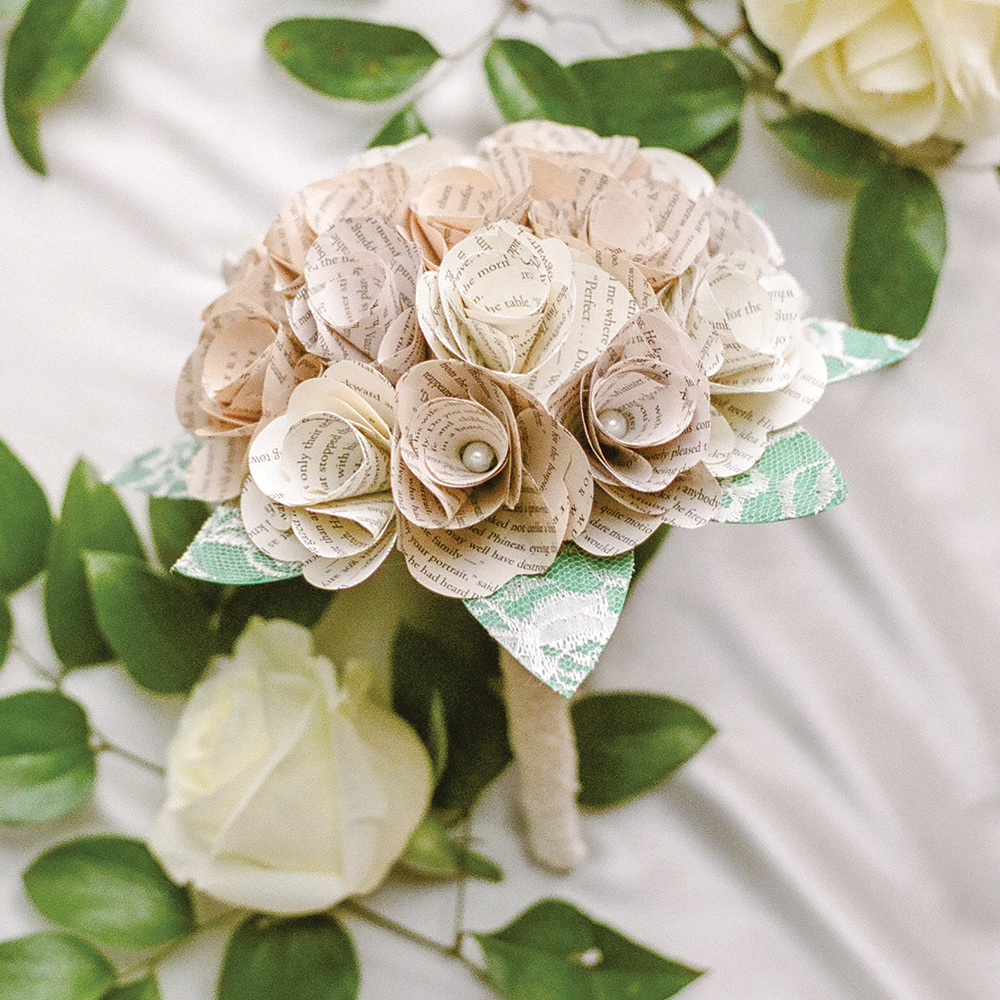 Black acrylic escort cards adorned with gold keys.
The bride's chic accessories.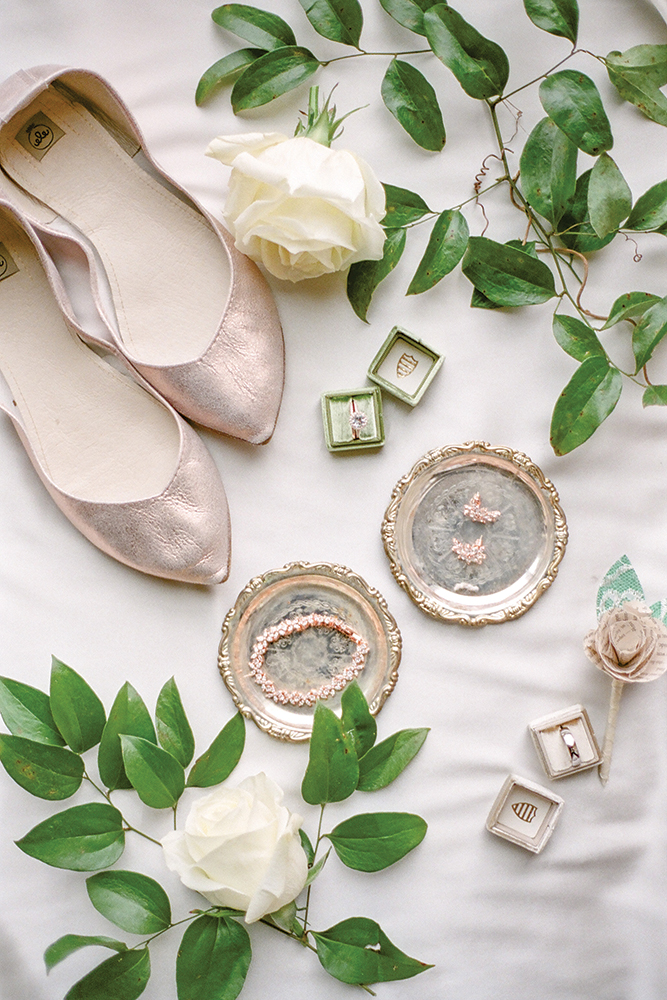 Groom Cameron's whimsical accessories.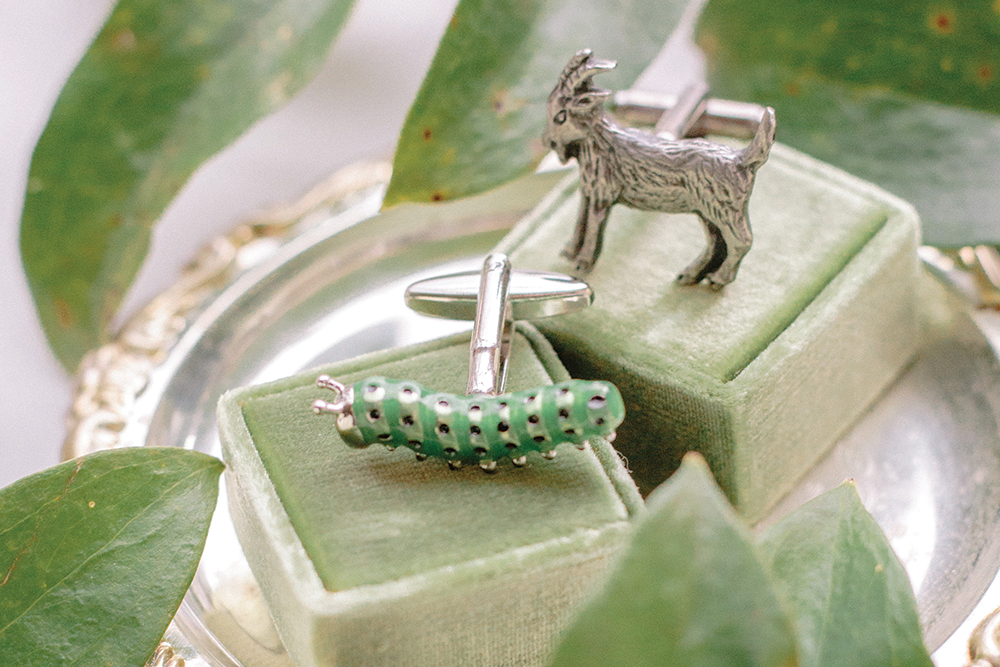 Photo: Kerry Jeanne Photography