There's been a lot of talk about creating socially-distant seating at your wedding — but how do you actually do that? Here, wedding industry pros share their favorite ideas for spacing out your ceremony seating.
By: Kristen Klein
Create Family Pods

Photo: ShootAnyAngle Photography
Keep family groupings together in their household pods by arranging your seats in groups of two to four and providing adequate spacing between pods. "You can space these pods out down the aisle to give the small ceremony a grander look," says Melanie Levin of LuckEleven Event. Be sure to place a few individual chairs throughout the ceremony space as well for those who arrive alone or just feel more comfortable sitting solo.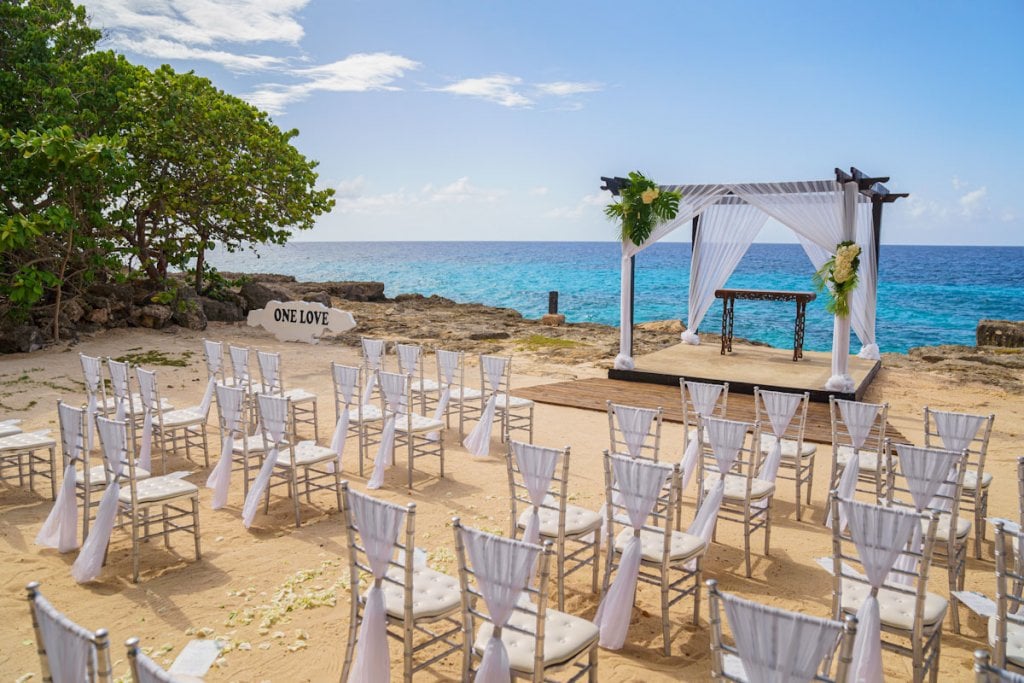 Photo: Chris Colyard Photography

Photo: Events by Marylee
Asymmetrical Lines
Instead of lining up your chairs in equal columns, make sure pod groups are placed diagonally from one other. "Stagger groups of seats asymmetrically," says Juls Sharpley of Bubbles & Bowties. "This visual trick will make it look fun and intentional; like it was part of the design rather than a government mandate."

Photo: Events by Marylee
Equal Distance
If assigning seats or figuring out pod numbers sounds like way too much work (hey, we get it!), space out each of your chairs so that they're six feet apart. Not only will this cut down on your planning, but it'll also help fill the space with a smaller guest list.

Photo: Blancorazon Wedding Photography
Spiral
If you have a larger guest list, spacing out your rows and chairs can lead to some guests feeling too far away from the action. Solve this with spiral seating, which gives each guest a front-row seat for your walk down the aisle. "I love having guests arranged around a spiral so they can see each other and feel connected as an entire group there to celebrate," says Sage McRae of Sage McRae Event Design.

Photo: Kevin Chin Photography
Encircled
"One of my favorite ceremony floor plans that is ideal for social distancing is the ceremony in the round," says Shannon Tarrant of WeddingVenueMap.com. "The couple would be in the center, and the seating is divided into four sections rather than only having a left and right side. This allows plenty of area for the spacing of seating, and the rows guarantee your guests can see the ceremony clearly but also feel safe."

Photo: Hamilton Photography
Lounge Furniture
Mix-and-match sofas, benches, and chairs encourage guests to arrive together to sit together without others mixing in. "We've seen the focus shift from side-by-side chairs to lounge furniture and benches, as it's easier to space out while sitting on these," say Jena Clem and Katie Borges of Gibbes Museum of Art.

"I am personally loving the departure from 'chairs in a row' and the movement towards incorporating soft seating into a ceremony arrangement. Your rental companies will be the real MVPs here, as we work closely with them to curate lounge furniture that reflects the color and vibe of what you're going for on your wedding day," says Ashley Lachney of Alston Mayger Events. "A big plus to this set up is that it photographs beautifully and gives the opportunity to your floral and decor team to create some really beautiful vignettes."
Tip: Make sure to have some individual chairs available as well for those who arrive alone or who don't fit on their family's bench.

Photo: Ryan Ray Photography
Family Blankets
Go casual with a picnic-inspired ceremony. "With a ceremony by the river, we opted for some seating for immediate family near the altar along with monogrammed blankets for guests to sit by families (or couples) at a distance. There were also designated areas for guests who felt more comfortable standing," says Camille Ross of Elsie Event Co.

Photo: Rick Cortez / Wedding Planner: Elsie Event Co.
Drive-in Wedding
Let your guests enjoy your wedding from the comfort of their own cars! "Hosting your wedding at a drive-in movie is a fantastic way to provide a safe guest experience with flexibility," says Jon Lemon of JC Lemon Photography. You can remain in the exact same spot for the reception, too. "People can stay and enjoy the celebration from their own cars, or they can step out as much as they're comfortable. Car hop service can also be used to bring food right to guests to enjoy in their own space."

Photo: JC Lemon Photography
Table Seating
If you're hosting your ceremony and reception at the same venue, seat your guests at their tables from the very beginning. "We've encouraged our couples to seat their guests at their dining tables and have them watch the ceremony from there," says Kamia Kinchlow of Balboa Bay Resort. "Our guests have come to enjoy this seating style much better than in traditional times, and it also helps us as a venue to eliminate shuffling guests around, encouraging less person to person contact."

Photo: Kayla Denae Photography
Stadium Seating
Draw inspiration from your favorite concert arena or sports stadium. How do they ensure everyone has a great view? Levels! Take advantage of your venue's balcony, deck, or porch to create a spaced out seating plan that still feels intimate.

Photo: Brynna Kathleen via Bridal Bliss
Another idea borrowed from stadiums: "Introducing the Wedding Jumbotron! If your venue allows for the space, keep loved ones separated by household groupings six feet apart and set up a big screen for them to watch closely as you say "I do.," says Ashlie Fastino of Infinite Events.
Fill the Space with Decor
Worried about your room looking empty? Fill those holes with décor elements. Marylee Santoro of Events by Marylee has used plants, hay bales, and even stuffed animals and cut-outs of guests who could not attend to help fill any gaps. "It's important to not have items too tall to obstruct the view of the bride and groom," says Santoro.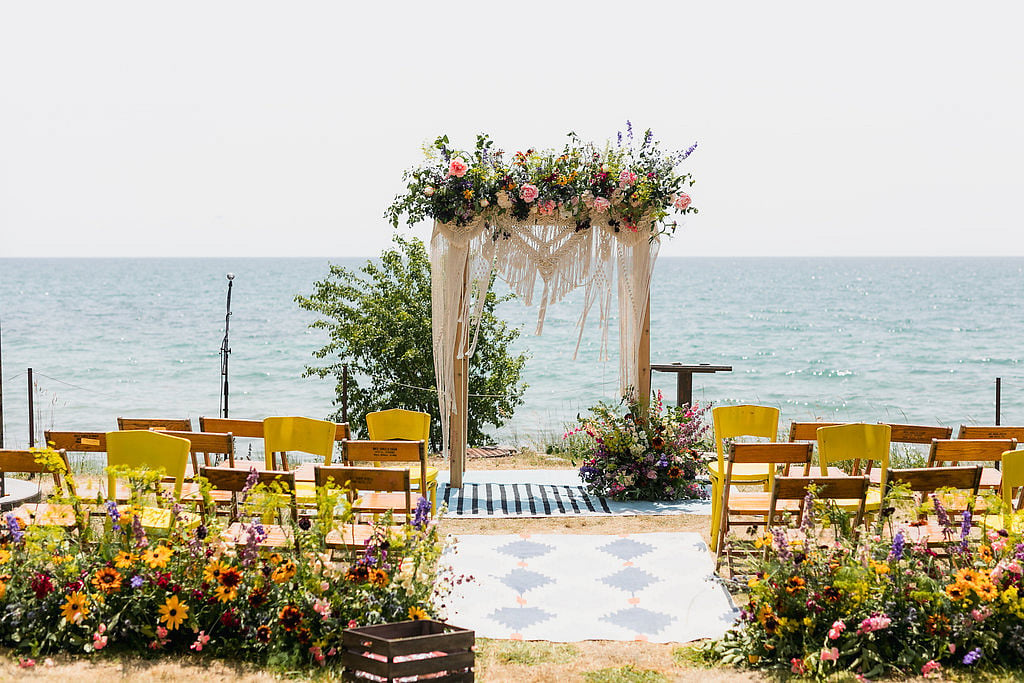 Photo: Luminous Weddings
On the Water
Getting married near a lake or bay? Utilize the water to help space out your guests. "If you really want to go big, get married on a boat with guests watching from a dock, or vice versa!" says Nora Sheils of Bridal Bliss. "Get creative, and it might turn out even better than you expected."


Photo: Vanessa Tivadar Photography



Photo: Brynna Kathleen via Bridal Bliss