Need to change your last name? Breathe easy for now—this is one planning detail which has to wait until after the wedding.
Sponsored by Kitbiz.
Whether you're following tradition and taking your husband's name, hyphenating, or making any other change you want legally recognized, here are the steps you'll need to follow. (Of course, these same steps apply to him if he's changing his name too.)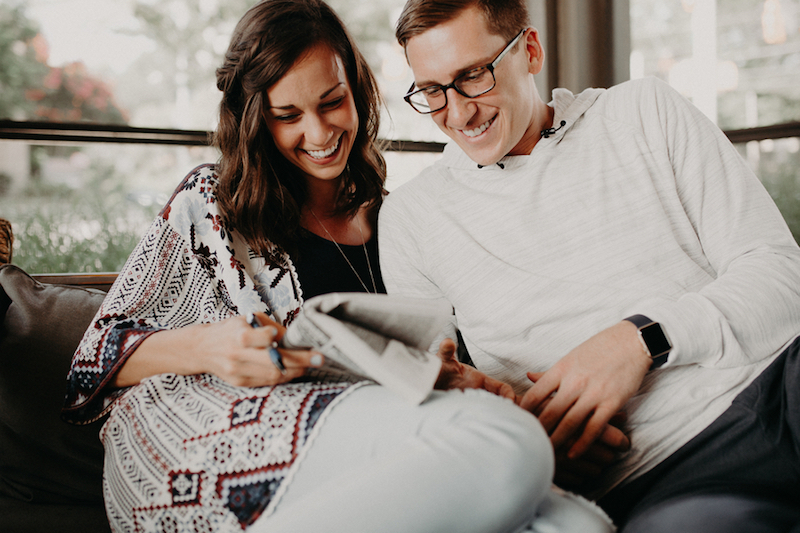 Photo credit: Aline Marin Photography
The good news is that this is not yet another task you need to accomplish before the wedding. Until you receive your signed and sealed marriage certificate back from the registrar, you won't be able to begin the official name change process. (You could start in advance on minor things like changing magazine subscriptions and ordering new checks with your married name, but that's about all you'll be able to do without that certificate.) Given that fact, be sure to book all airline tickets for the honeymoon under your maiden name — obviously, your ticket will need to match the name on your passport, and even if you're not traveling abroad, all airlines now require a photo I.D. which matches the name on the ticket.
Most states will automatically send you a copy of your marriage certificate by mail after it has been processed, which typically takes about a month after the signed license was filed following your ceremony. In some states you have to request a copy of the certificate; be sure to ask about the policy in your area when you check on other local Marriage License Requirements.
Official certificate in hand, the first step of recording your name change is with the Social Security Administration. Obtaining a Social Security card showing your new name (your number won't change) is free and fairly easy. You can download the required form, SS-5, along with instructions, from this page of the administration's website. Or you can pick up the form at your local office (call 800-772-1213 or click here to find your nearest office). Mail or bring the completed form, along with the documents specified in the instructions included with the form, to your local office. The administration will return your documents right away, followed in a couple of weeks by your new Social Security card.
Next comes the pleasure of a visit to the Department of Motor Vehicles to update your driver's license. You will need to appear in person for this change. Bring your marriage certificate and new Social Security card, as well as your new proof of address if you've moved as well. Don't forget your old driver's license, which you'll have to surrender in exchange for an interim card until the new one arrives by mail.
Once that's done you've essentially established your official identity with your new name, but there are still many more, less crucial changes to make. Some of the following simply need to be notified about the change; others will require official proof, so don't file that marriage certificate and Social Security card away just yet. Don't forget to change your name with:
Your employer
Your bank
Your mortgage company
Your passport
Property titles or leases
Credit card companies
Investment accounts, including 401(k)s
Car registration and insurance
Utility companies
Insurance policies (life, health and dental)
Your doctors and dentist
Any memberships, such as your health club or alumni association
Voter registration
Magazine subscriptions
One major organization you don't need to notify about the change is the Internal Revenue Service — the Social Security Administration will automatically tell the IRS about your new name (creepy, huh?). Don't worry if your W-2s or other forms still list your maiden name; simply cross it out and write in your married name when you file. See the IRS's website for more details on how they handle name changes.
Changing your name doesn't have to be complicated! The Bride Name Change Kit by Kitbiz can help you simplify the process.