Beloved "Bachelorette" Desiree Hartsock's new book is filled with great budget ideas, many of which she deployed in her own wedding.
The Date
Desiree's wedding was held on a Sunday in January. "It's important to keep in mind that having a non-Saturday wedding can considerably cut costs," Desiree says. Opting for a less-traditional wedding month (like January) can help defray expenses, too. "At first, we were looking into a Saturday celebration, as most couples do, but we ended up having our wedding on January 18, 2015. And since that Monday was Martin Luther King Day, it worked out nicely, as most guests were able to enjoy the weekend without worrying about getting to work the next day."
The Ceremony Space
The Wayfarer's Chapel in Rancho Palos Verdes, CA offered Desiree and husband, Chris Siegfried, "the best of both worlds," Desiree says: "We had an indoor ceremony with the look and feel of being outdoors." With the wedding seemingly held beneath towering trees, no pricey ceremony décor was needed beyond the greenery that was already in place.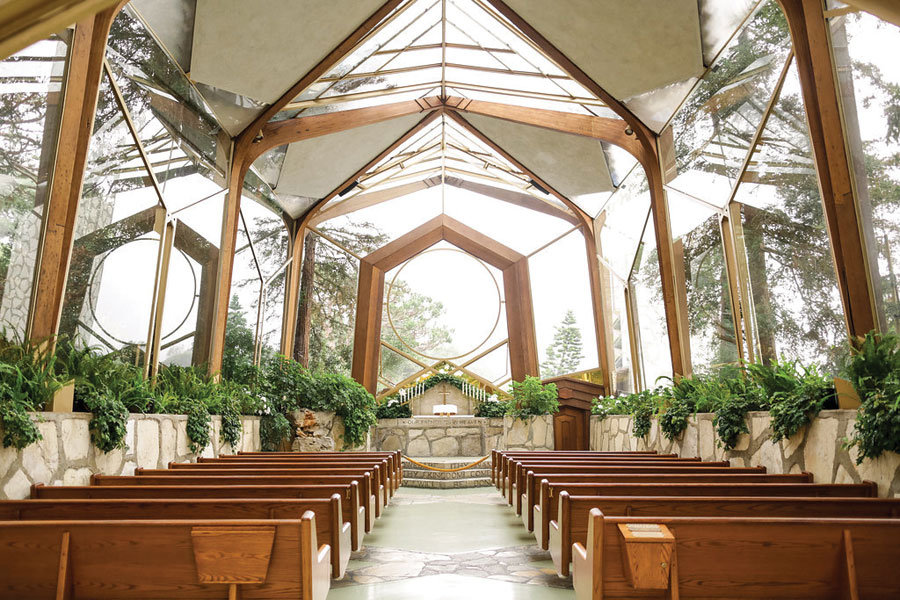 The Reception Venue
"I fell in love with the Redondo Beach Historic Library thanks to its nostalgic ambience and vintage details," Desiree says. Another plus was its location, close to the wedding chapel — along with the locale's built-in sunset views. Long tables lent themselves to the creative centerpieces by Sinclair & Moore Events: romantic blooms in glass vases atop stacks of vintage books. The books added height and heft to the delicate floral arrangements, making less seem like much, much more. Other savvy décor strategies Desiree suggests are using mirrors at the base of each centerpiece, adding candles or even candelabras to the mix and incorporating a variety of colors and textures in the place settings. Greenery, grasses and fresh fruit look great and add tons of style at a gentle cost.
The Party
The couple chose to devote much of their budget to food and music and to downplay other elements. To that end, "We didn't have a photo booth or other guest activities. We wanted everyone out on the dance floor enjoying themselves! "The couple ensured guests were well fed by offering three entrée choices, but they chose to jettison the traditional champagne toast. "Instead, we just had guests toast with whatever drinks they already had," Desiree says — a definite cost-cutter. The venue offered in-house catering, which cut down on the expense of negotiating extras like servers and food-preparation equipment fees.
The Sweet Finale
One of the most Instagram-worthy elements of Desiree's reception meal was the dessert table, a mouthwatering lineup of pastries beautifully displayed on an array of cake stands and pretty platters. "Chris and I both prefer homey dessert treats like chocolate chip cookies, brownies and apple pie to the traditional — and potentially expensive — multi-tiered wedding cake," she says. "Our dessert table was everything we wanted it to be since it included all of our favorites. The simple two-tiered cake was perfect for cake-cutting and for those who don't think it's a wedding without a cake — but having all those other bite-size options meant guests could sample one of everything if they were so inclined."
Find more style and budget ideas in My Fairtytale Wedding: Planning Your Dream Wedding Without Breaking the Bank, by Desiree Hartsock (Dragon Fruit, 2016).
Photo Credit: Brandon Kidd Photography