The wedding watchwords right now: smaller, safer, and ever so special. Looking further ahead, planning takes an optimistic turn, with larger weddings later in the year, conditions permitting, and safety measures firmly in place.
By: Mary Clarke
-AS SEEN IN BRIDAL GUIDE MAGAZINE-
Sizing it Up

Photo: Cactus Collective Weddings
"The fact that two people found one another and have decided to spend the rest of their lives together is the key. Small, medium or large, there is no right or wrong wedding size."—Jove Meyer
Micro, minimony, elopement. "We've seen a huge spike in couples who were planning a large traditional wedding and are now planning something smaller," says McKenzi Taylor, owner, Cactus Collective Weddings, which has long specialized in intimate outdoor weddings in Las Vegas and the surrounding area. "We are seeing a lot of 'just us' elopements or micro-weddings with a handful of guests. A lot of our couples have told me, 'This is what I always wanted anyway.'"
"Couples are making very thoughtful and intentional decisions — they want the fine details of a big wedding, but on a much smaller scale," reports the team at Peninsula Events with Patrick Properties Hospitality Group, based in Charleston, SC. Of late, "The most popular option has been for a waterfront ceremony with the couple's loved ones paired with a champagne toast and cake cutting or a beautiful al fresco brunch."
"We see the smaller wedding trend sticking around," says Cheryl Stair, chef and co-owner, Art of Eating Catering in Bridgehampton, NY. "There is something really special about an intimate celebration. We believe couples are beginning to realize the real reason for weddings in the first place — to focus on your love for one another and the lifetime commitment you are making to one another and each other's families."

Photo: John Kowalenko
Timing is Everything
"The couples who are ready to get married feel more comfortable than ever before with short engagements," says Neillie Butler, owner of Mariée Ami, based in Mountain Brook, AL. "They see how quickly the world can change, and their focus is more on starting their life together." Adds Taylor, "Couples are tired of being in limbo and really want to get married."
Others are waiting, Butler says. "We have a group of bigger weddings that were supposed to happen in 2020 that have been rescheduled for 2021, some as early as June. July 2021 is booked solid."
Two-part celebrations have also taken hold. "We see many couples who had to put their 2020 weddings on hold, opting for an intimate celebration this year with hopes of going forward with their larger-scale plans next year," says Stair.
"We see weddings much smaller and closer to home for many couples," says Virginia Frischkorn, founder of Bluebird Productions in Colorado. "Starting in June 2021, we see the destination wedding'' return and larger (150+) headcounts."
Looking further ahead, "For weddings taking place after June 2021, almost all our couples are envisioning guest counts of 100-150, but with backup plans in mind," say Aleah and Nick Valley, founders of Valley & Co. Events in Seattle, WA.
Décor Details
"Rather than focus on how the reception 'looks,' couples are putting the priority on guest comfort. Instead of impressing, couples are trying to delight their guests." —Cheryl Stair

Photo: Rachel Havel
Outstanding décor will take center stage and ease the distraction of masks, screens and other safety protocols, says Jove Meyer, owner and creative director of Brooklyn-based Jove Meyer Events. "Creative décor and florals will make the day feel extra-special for those in attendance," he says. "Gone are the days of gold and white. Couples are leaning into bold, beautiful color in fun ways."
Frischkorn concurs. "We are seeing the return of color in weddings," she says. "This is seen in the form of vibrant florals, linens, ink or paper in stationery and fashion. As people come back into a celebratory mood, we feel that brighter and happier colors and attention to creating a 'party' atmosphere will prevail."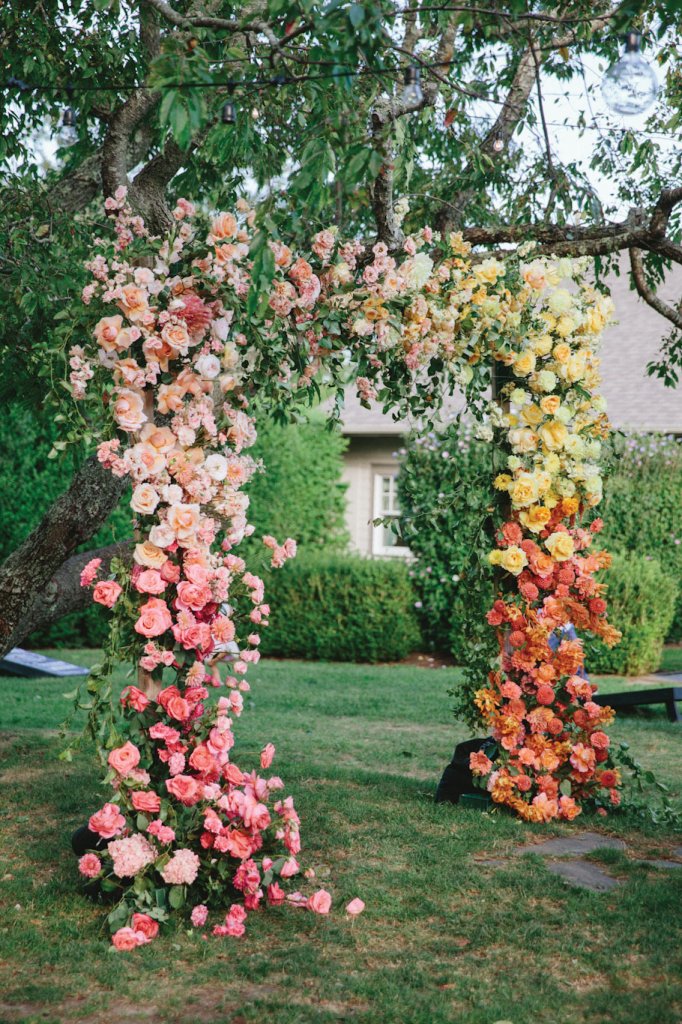 Photo: Sasithon Photography of the Wedding Artists Collective
"Not only are guest counts going to be smaller, but details will be far more personalized now that couples are considering an average of 30 guests instead of 100 guests," says Jen Bergmark, owner of First Pick Planning in Los Angeles, CA and Houston, TX. "Although some couples' budgets may have suffered just as the overall economy has, being able to curate a wedding for 30 guests can be relatively cost effective. I'm seeing more quality, personalized details to make the guest experience even more beautiful than ever."
"Because hosts are drastically reducing guest lists, I'm seeing couples selecting first-class invitations," says New Orleans, LA and online-based stationer Alexa Pulitzer. "They are interested in the fi nest offerings — whether it be heavyweight card stock, gilding the edges with a pop of color, a distinctive envelope liner, or a custom hand-drawn illustration by yours truly."
The visual experience for 2021 is all about creating focal points that tie guests together without being too close, to create the illusion of an intimate setting as opposed to one big distanced party that feels empty or sparse," say Aleah and Nick Valley. "Impact points can be a greenery and floral wall where guests can snap photos or assigned petite 'living rooms' with a bountiful floral installation and amenities box (containing comforts like sanitizer, sparkling water, and contained welcome snacks) where guests know they'll have a safe space for the night. The idea is to increase comfort and designs equally to balance distance and beauty."
"Most of our couples are still going for a slightly bohemian, whimsical vibe," Taylor reports. "They are going big and exotic with their flowers, opting for larger, loose bouquets with luxe florals." As for décor: "We let the backgrounds do the talking, since our natural locations are so gorgeous! Red Rock Canyon is the most popular."
"Every wedding I've planned since the pandemic has featured custom masks for guests as the wedding favor," says Bergmark. "My favorite was from an August wedding in Redondo Beach, with custom masks reading, 'quarantined for life.' Additionally, mini hand sanitizer bottles have become popular as both wedding favors and place cards."

Photo: Joanna Miriam Photography
Entertainment 
"We are working with one of our couples on staging a concert where instead of everyone gathering on a crowded dance floor, households will have their own lounge pods with sofas and tables to enjoy the show," Aleah and Nick Valley say. "They'll be served wedding cake and champagne — so the same traditions apply, just in a creative way! We are also brainstorming for a spring 2021 wedding where we will have individual musicians positioned along a garden path, tucked away as a beautiful surprise for guests upon arrival."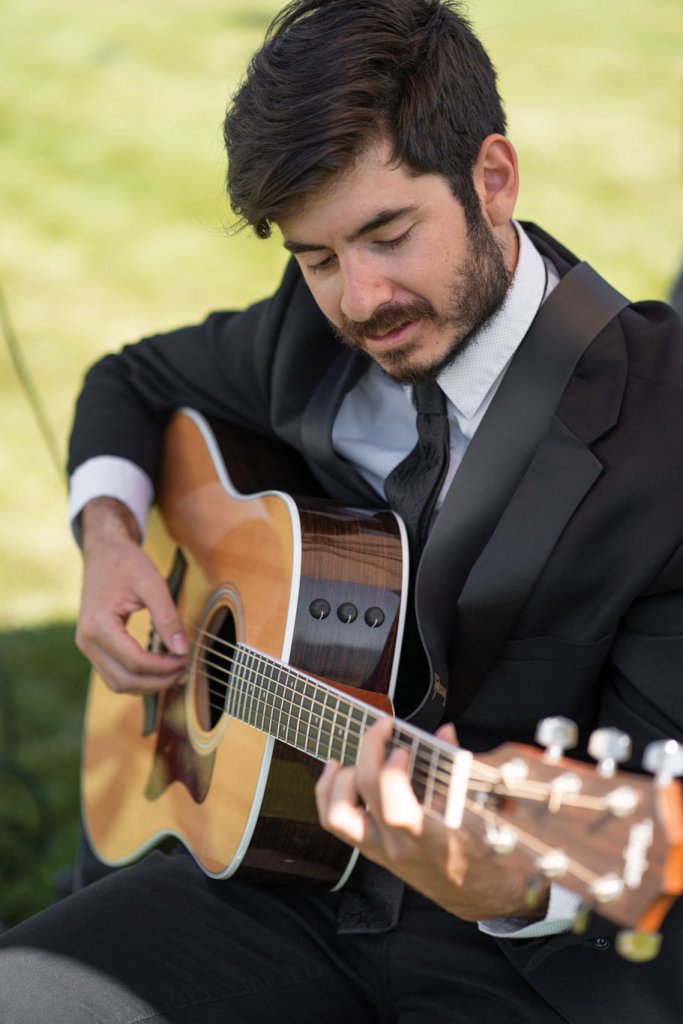 Photo: Cameron Clark Photography
"With events becoming more intimate, I'm seeing a focus on live music to entertain guests and create an ambience that allows everyone to be able to talk comfortably together, since many guests won't have socialized in a while but still want music," says Bergmark.
"There is more focus on table settings, with more dinners and less dancing taking place," Butler says. "The days of the band being the most important part of the party are behind us, at least for now."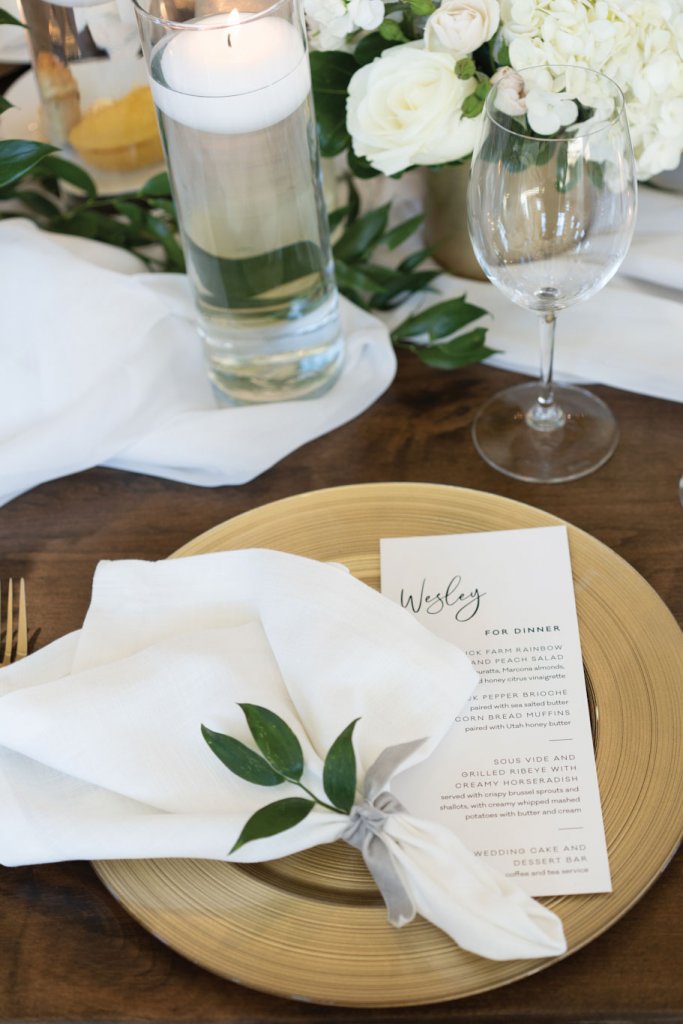 Photo: Cameron Clark Photography
Catering in the COVID Era

Photo: Joanna Miriam Photography
Grazing stations and buffets are suspended for now. "All catering services have been plated," reports Michelle Cousins, owner of Michelle Leo Events in Utah. "Guest capacity at tables hasn't exceeded 10 individuals per table, and tables have been placed a minimum distance of six feet apart." Despite all these changes, "We've successfully executed celebrations that ran smoothly and were both safe and enjoyable!"
"Smaller guest counts can translate into dining upgrades," reports the Peninsula Events PPHG team. "Adding the amuse bouche you fell in love with at your tasting but pushed you a bit beyond your budget is now an option. Your favorite wine being paired with your dinner happily may no longer be out of financial reach. We have turned our commercial restaurant and bar into stunning venue spaces created to accommodate groups of 50 and under.  Safety remains firmly in the forefront, with "hors d'oeuvres passed in petite clear boxes to safely showcase each delectable bite."

Photo: Cactus Collective Weddings
"Couples are definitely leaning away from food stations and buffets, but on the more fun and positive side, they are also interested in treating their guests to beautifully curated menus, multi-course dinners and wine pairings," Stair tells us. "They are opting to spend more to give their closest friends and family a memorable and enjoyable meal, including personal details that reflect their story as a couple. Some are serving drinks that are favorites of their siblings, or foods that would remind their families of their great-grandparents. Little details like that are definitely coming through in the planning process."
"More thought is put into self-service options like creative drink walls," Pinon says. "Food is also more playful, presented in chic bento boxes and to-go containers. There is no finger food, everything is eaten with a fork (and knife where needed).

Photo: Magnolia Adams
"Smaller guest counts make the large wedding cake unnecessary, so couples are going for smaller cakes or mini tiers to cut for ceremonial purposes, then offering guests an array of other options," says Bergmark. "Best practices are to not do dessert stations, but rather to plate a variety of mini desserts for each guest to enjoy at the table."

Photo: Cactus Collective Weddings
Venues (and Safety Measures)
"We believe there is actually more focus on the ceremony now than there was before. Couples are realizing the true point of their wedding day. It's more to say I do to the person you want to spend the rest of your life with — and less about the big party!" —Cheryl Stair
Jove Meyer is seeing more outdoor weddings and a rise in outdoor and mixed indoor/outdoor spaces. "Along with masks and hand sanitizer, we'll be looking to automatic doors and sink faucets to keep guests and vendors as safe as possible," Meyer says. "We'll see more thoughtful floor plans with smaller table sizes based on family pods and who feels most comfortable with whom."

Photo: PPHG
"Guest lists are smaller and the venues are more intimate," says Art of Eating's Stair. "More couples are choosing to celebrate in spaces that they have personal connections to (such as their very own homes) or the little park where they shared their first kiss — spaces that may not previously have been an option due to the size of their guest lists."
"The saying 'Love cannot be canceled' is our new driving force during this pandemic," says Emily Pinon, creative director of Ode & Bastille Events in New York City, NY. "As a result, weddings have become more intimate and romantic. Couples are choosing to have their weddings outdoors, at home, on rooftops or finding creative ways to incorporate gorgeous tents into the mix."
"More thought and time has been going into the seating charts," Pinon continues. "We have found that increasing the table count and decreasing table sizes results in a perfect balance of fewer guests per table while still keeping family members of the same household together."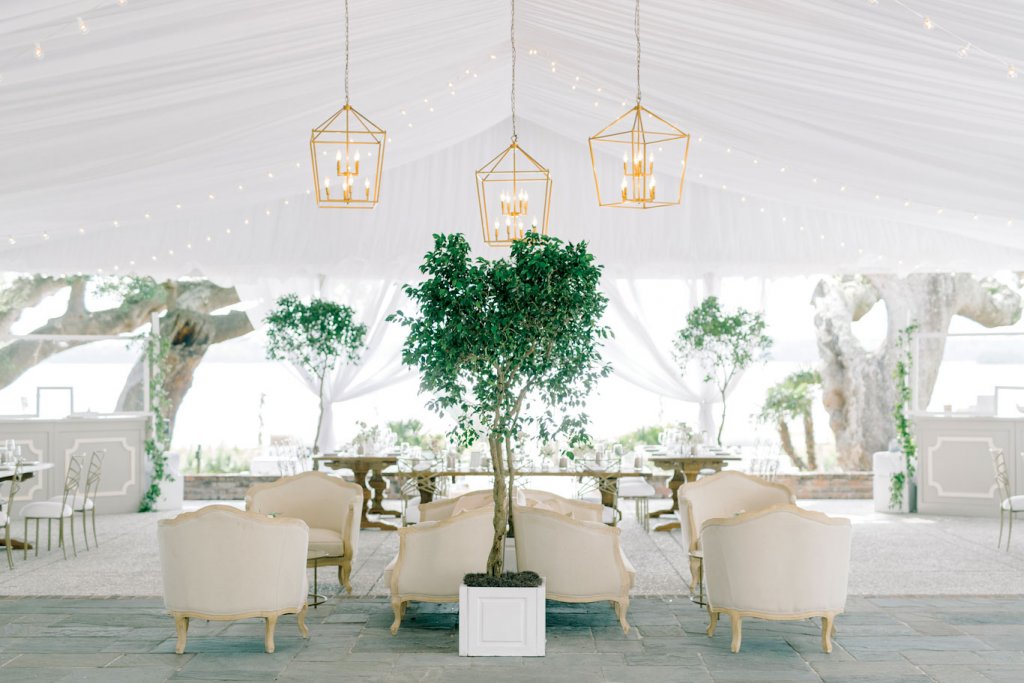 Photo: Aaron & Jillian Photography
Virtual Guests
Live-streaming will be bigger than ever. With so many guests reluctant to travel, "Live-streaming the ceremony will become common," Meyer says, adding, "And sending custom gift boxes to those who cannot make it so they can experience the fun from home in real time, will become the norm. We will bridge the gap for those who RSVP regrets like never before!"
"Couples are encouraging Zoom watch parties for groups of people to gather and watch their wedding together," Bergmark tells us. "One of my couples even provided both venue and popcorn for a group of guests who couldn't attend their backyard wedding."