Danny Seo, lifestyle expert, author and host of NBC's Naturally, Danny Seo, shares his tips to help you create a healthy ahd happy home.
If there's one room in the house that's getting the most love with new advancements in environmental efficiencies and high-tech gadgetry, it's definitely the bathroom. At the annual Kitchen and Bath Industry Show, there's a Gattica futuristic feel when it comes to transforming the smallest room in the house into the most luxurious. If you're planning to renovate a bathroom, keep reading: Here are a few of my favorite things.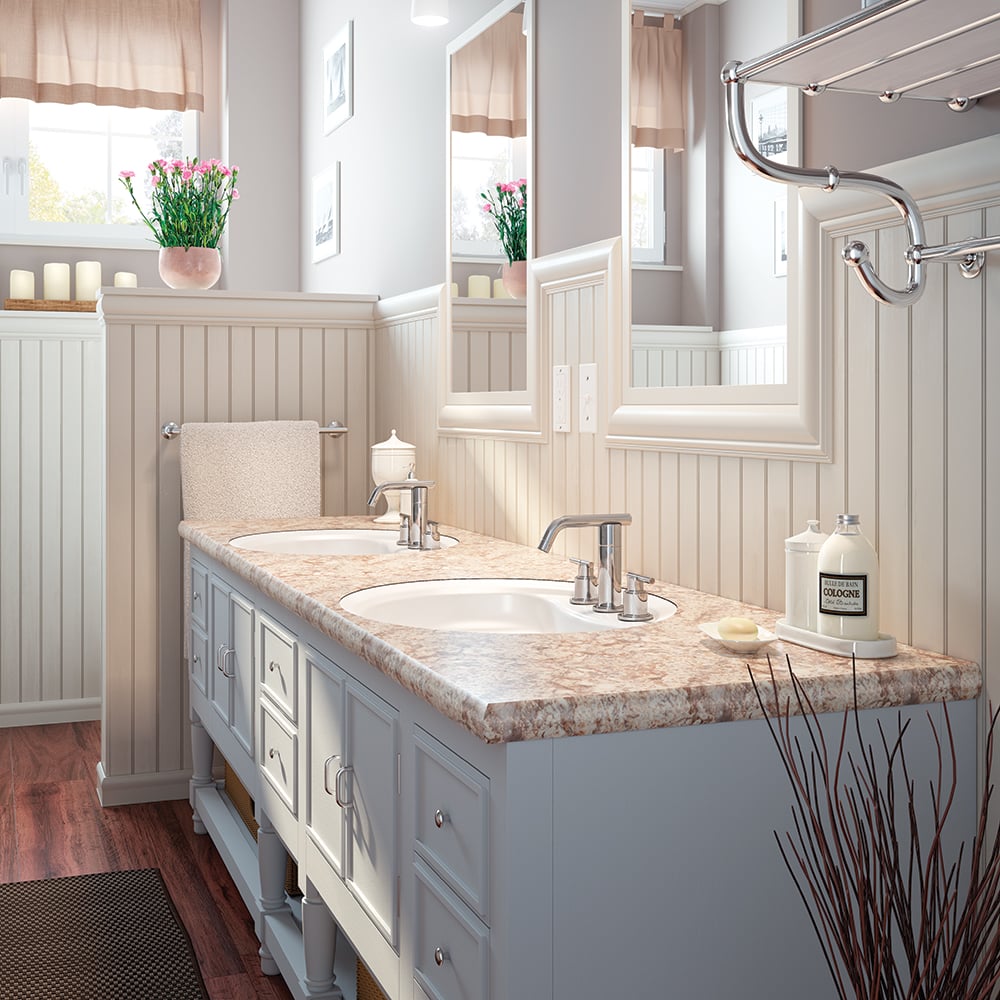 Photo courtesy of Wilsonart
Your old toilet is going to feel like dial-up internet once you test-drive intelligent toilets. These high-tech commodes do more than flush. Think Bluetooth enabled to play your favorite music; color- changing night-lights so you can find your way in the middle of the night; and self- cleaning technology so you never have to reach for a brush. The Numi toilet from Kohler even has a sensor for hands-free opening/closing of the lid with just the wave of a foot. The new smart toilets offer all of this, plus serious water conservation features that make them EPA Watersense approved.
Re-cover with Laminate
Laminate has come a long way from your Grandma's avocado green countertops. Over the years, the Wilsonart company has not only elevated laminate with fashion- forward colors and designs but they have also added new bells and whistles like anti-microbial protection right into the surface. With these products you can easily achieve the look and feel of granite and marble at a frac- tion of the cost.
Bluetooth Showerheads
If you linger in the shower, you should know it's a bad habit that wastes water. But it can also be hard to tell how long you're actually in the shower. New Bluetooth enabled showerheads sync with your smartphone and actually play music right through an integrated speak- er. The rule of thumb is this: 31⁄2 minutes is the goal for a truly water efficient morn- ing shower. What else takes about this length of time? Your favorite song! Lather up, shower off, dance a little and get your day started in the right eco-direction.
Quick-Drying Towels
Nothing is worse than a damp, mildew-y bath towel, right? When shopping for new bath towels look for the quick-drying ones. They feature a special weave that blends cotton with nylon or polyester to wick away moisture faster. Not only do quick-drying towels inhibit the growth of odor-causing mildew but they also dry much faster in the dryer which helps save energy in the long run.
Tip: Vent the Bathroom
For many of us, the bathroom is the smallest room in the house. And it's also the room that fluctuates most quickly in terms of temperature and humidity whenever you take a steamy shower. When you turn on the exhaust fan in the bathroom, don't turn it off when you leave the room. It's key to keep the exhaust on for 15 minutes or longer in order to get all of the excess moisture out of the bathroom. Failing to do so can lead to unwanted mold and mildew growth.
Follow Danny @dannyseomag on Twitter and Instagram.