Whether you're ready to pop the question or just in need of a quick serotonin boost, these swoon-worthy proposals are sure to inspire.
By: Stefania Sainato
Give Me a Sign
"I'm a sixth grade school teacher in Egypt and my fiancé Liam works there with me. We've been together for three years, and one stressful day at school while I was marking exams, I got called to the assembly hall...these are all of the kids in my class (pictured below). It was the happiest moment of my life!" —Sarah Thompson


Thompson tells us that although she and her fiancé had picked out her engagement ring together,
she had no idea "he had this in him."
Photo Credit: Sarah Thompson
"Keith and I met in 2003 but despite an instant connection, it took us 10 years to officially become a couple. In June, we went out to Sundays River in South Africa (we live in Port Elizabeth) for the weekend under the guise of a celebration for his sister's boyfriend. We were asked to retrieve relatives who had gone out to the sand dunes and we proceeded to take a boat to fetch them.
After scaling a massive dune, I saw the words 'Lee, will you marry me?' spelled out in the sand, along with a huge bouquet of roses and champagne waiting for me. Keith brandished me with my dream engagement ring on bent knee. I ecstatically said yes and our lives were cemented forever." —Lee Vorster

Vorster and her fiancé stayed in The Addo Elephant National Park for the remainder
of their proposal weekend.
Photo Credit: Lee Vorster
"Prior to a flood in Colorado, where I live, we had a severe hail storm, which damaged our roof. My clever fiancé contacted the roofing company two weeks prior to replacing it and he asked if he could paint his proposal on our roof. The foreman granted him permission and chuckled, saying he'd let his crew know the message wasn't intended for them.
A week later, my cousin shared a photo with me from Facebook that a passerby had taken — our proposal had gone viral." —Kristi Whitcomb

Whitcomb's unique proposal captured the attention of passerby.
Photo Credit: Kristi Whitcomb
"My fiancé put the ring on a fishing pole, we went fishing and I reeled it in and he proposed!" —Jennifer Lynn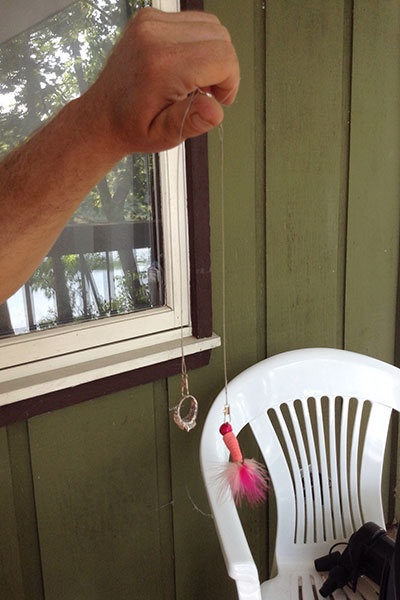 Don't try this at home!
Photo Credit: Jennifer Lynn
"At our cattle branding this year, my fiancé Jared tagged a little calf with a tag that said 'Will you marry me 18/05' so when I bent down to put a metal tag in his ear, he took the ring out of his vest pocket and I instantly bent over crying, as this was a total shock to me. I said yes as I hugged Jared." —Chantal Gallant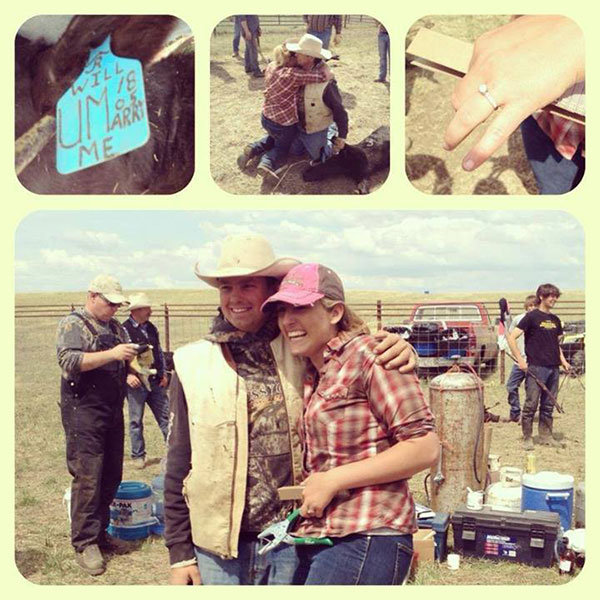 "This is now my special calf, which I have named Diamond, and she will stay on the ranch forever," says Gallant.
Photo Credit: Chantal Gallant
Next: Inspired by a famous book, band or movie ►
Pages