Get up-to-the-nanosecond news on the latest trends in all things bridal: from canapés to cakes, flowers to favors and invitations to midnight snacks.
By: Debra Witt
The Invitations
Buttons and ribbons and gems. Oh, my! couples will be generating excitement for their celebration by wowing guests with an invitation suite that's delivered in attention-grabbing style: wrapped in shimmery cellophane; boxed in decorative paper; tied up with ribbon, leather rope or baker's twine; studded with crystals; or adorned with dried flowers.

Photo courtesy of Ellen Weldon Design
Perfect penmanship. The ink palette is swinging away from neon brights toward more subdued tones, says Ellen Weldon of Ellen Weldon Design. She's working with high-gloss, tone-on-tone printing and pale shades, such as brushed gold, blush, champagne and pewter. "Last year, there was much more color but now i'm doing more in the way of very elegant, minimalist designs," she says.
Selfie-sational. "Couples are spending money on fun, professional engagement photos so why not use more of them?" says Angela Ferrara, of Pear Tree Greetings. She's noted a significant uptick in couples choosing invitations and save-the-dates that feature photography — anything from formal portraits to action shots to quirky set-ups.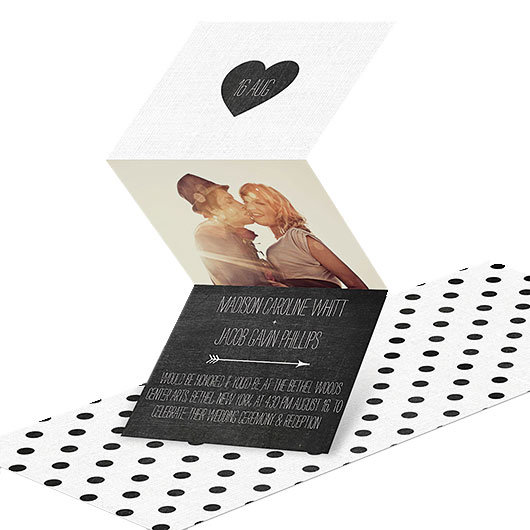 Photo courtesy of Pear Tree Greetings
Not your mother's paper. The selection of paper choices continues to grow, says Weldon. She's expecting to see more laser cut-outs, more handmade paper with silk threads, more textured paper and more embroidered or stitched paper. "Brides still like the idea of bringing elements of their gown into their stationery suite," says Weldon. "That's where the wide assortment of paper options really shines."
The Drink Report

Photo Credit: Abby Jiu
Champagne with a twist. Champagne towers have returned — big time — for formal affairs. A more casual, colorful option: mixing in fruit purées to create a signature cocktail that matches your palette.
Smaller sips. Be the flights of craft beer; shots of different bourbons; wine samplings; sangria that goes from white to pink to deep red; or even a lemonade or fizzy soda bar, couples are letting guests sample an array of beverages. These types of different drink stations are yet another way to let guests peek into your personal tastes, with the added bonus of helping you keep your bar budget in check.
Open bar not required. Planners are seeing more couples offering wine, beer and liquor that has a theme. For some, that means serving only local labels, for others it means showcasing drinks from their home states or from their favorite vacation getaway. "You never want guests to feel like they're going through the wedding motions," Laesser-Keck says. So while you may be limiting their choices, you're doing it in a creative way that adds to the fun and excitement.
The Taste

Photo Credit: Andrew Chan
Family-style dining. Guest interaction is a big goal for today's couples. And nothing gets a conversation started quite like a meal served family style, with guests passing beautifully plated entrées and sides. "It's relaxing and works well with both upscale and laid-back settings," says Dan Stacy, executive chef of Royal Fig Catering in Austin, Texas.
Just a taste, please. Tasting stations have taken over the cocktail hour, with couples showing off their favorite foods in manageable portions. From oyster shucking stations and mac 'n cheese bars, to make-it-your-own taco stands to local food trucks pulling right up to the patio, the idea is to surprise your guests with an unexpected assortment of party food.
Locally sourced and seasonal. Farm-to-table dining has gained so much solid footing that it's almost expected these days. At Royal Fig, for example, Stacy likes to keep the menu "chefs choice" until the farmers he works with tell him what ingredients will be available that week. So in the winter that might mean roasted trout with parsley bacon salad and in the summer smoked brisket with peach BBQ sauce.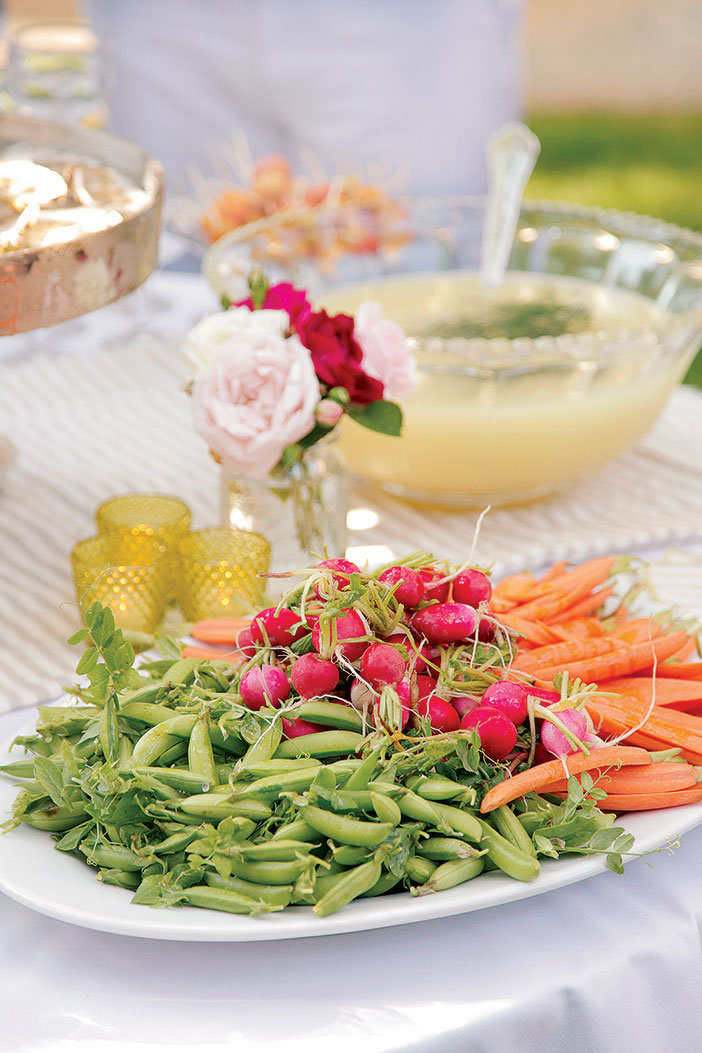 Photo Credit: Liz Banfield
Snack attack. Just when it seems like the party's about to wind down, couples rev up the energy with late-night snack trays brought right to the dance floor. Milkshakes, snow cones, warm cookies, even pizza are just a few of the trending midnight munchies.
Re-imagined classic cuisine. While you can rarely go wrong offering steak, chicken and a hearty vegetarian option, caterers say couples are asking for lighter, healthier versions of traditional entrées. "Couples want their guests to enjoy a yummy, balanced meal that gives them energy to dance the night away, not weigh them down," says Antonia Christianson, of Antonia Christianson Events in Virginia Beach, Virginia. That means grilled flank steak vs. filet mignon, roasted free-range chicken breasts vs. chicken cordon bleu, and grilled or roasted vegetables (brussels sprouts and cauliflower are the current "it" vegetables) vs. baked potatoes and steamed carrots.
Pages