With mountainous landscapes and natural outdoor activities, this under the radar wedding destination is pure magic.
—SPONSORED POST— 
1. Location, Location, Location - Urban Sophistication & Mountain Views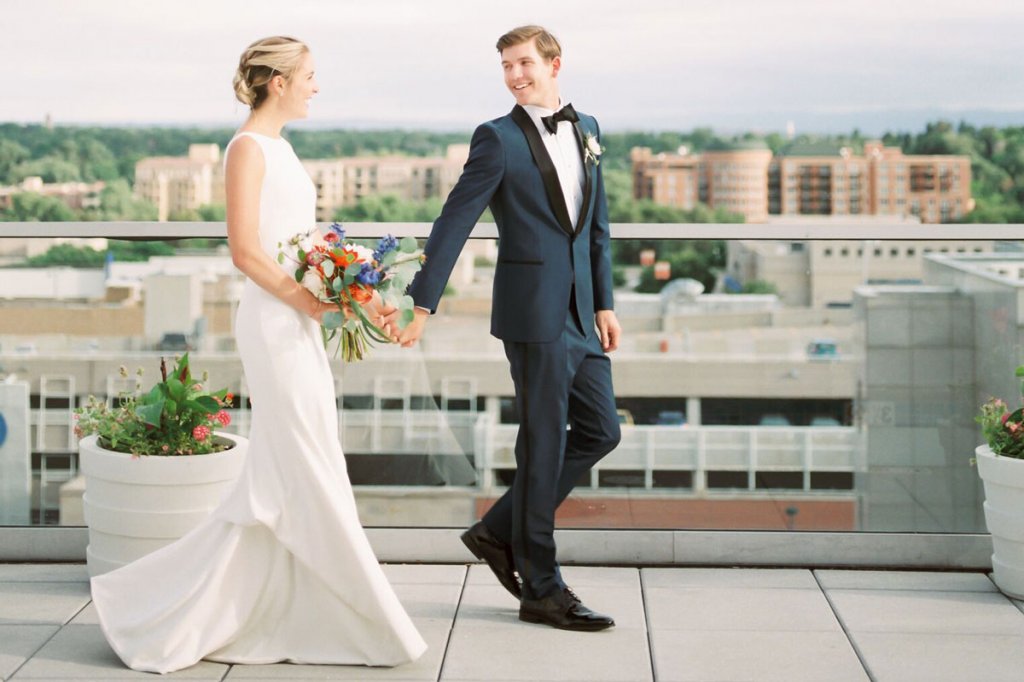 Photo: Sarah Lynn Photography
Choosing a destination for your ceremony and reception may be the toughest part of the wedding planning process. Fortunately, there are hundreds of unique wedding venues in the Denver area. Check out outdoor locations that highlight Colorado's natural beauty like Red Rocks Park & Amphitheatre or Denver Botanic Gardens. If you're looking for an old west meets new environment then consider venues like Mile High Station, Ironworks Denver, and Denver Union Station. For an elegant ballroom, explore the city's artsy boutique hotels like The Maven Hotel in the heart of downtown Denver, HALCYON in Cherry Creek, or The Source Hotel, which offers stunning mountain views and incredible service.
2. Denver - A Modern, Fun & Vibrant City
Photo: Scott Dressell-Martin
The great wonders of Denver are reason alone to host your wedding here. It's packed with one-of-a-kind attractions, dining and nightlife options, family-friendly activities and much more. Family and friends travelling from out of town to celebrate your big day will want to keep busy, so you'll love VISIT DENVER's list of itineraries— a guaranteed way for your guests to find something fun to do before you officially tie the knot.
3. Colorado - Denver's Incredible Backyard
Photo: VISIT DENVER
Beyond Denver, you'll find the city's massive backyard highlighted by the gorgeous Rocky Mountain Front Range. For guests who are coming to celebrate this momentous occasion from out of state, it's the perfect opportunity to extend their trip into an unforgettable vacation or a romantic mountain getaway. National Parks, skiing and outdoor adventure—it's all waiting for you in Colorful Colorado. 
 4. VISIT DENVER - Friendly, Fast & FREE!
VISIT DENVER is an unparalleled resource for wedding planning in the Denver area, and the best part is their services are absolutely free. Once you provide your dream venue specifications, they will then send out details of your needs to a wide array of wedding ceremony and reception venues. VISIT DENVER can also help you with hotel accommodations for your guests by securing room rates.  Basically, the sky's the limit in Denver.
For Denver wedding assistance, contact VISIT DENVER's wedding event specialists at [email protected] or 303-571-9446. Learn more at VISITDENVER.com/weddings.
Photo: Evan Semon