Comedian and Actress Rachel Feinstein, and her husband, FDNY fire captain Pete Brennan, just tied the knot and celebrated beforehand with a joint bachelor + bachelorette party at the Dream Hotel in Manhattan, filled with comedians and firefighters. Here, the new "fire-wife" shares her tips and explains why she chose to combine her bachelor/ette party.
By: Rachel Feinstein
Because my schedule as a comedian is so crazy, I plan a lot of short vacations last-minute. That's how I bonded with my new husband, Pete – he's a FDNY captain and also has to work in waves, so we connected over hectic schedules and sneaking in three-day getaways. HotelTonight hosted our joint "bachelor/ette" party at the Dream Hotel in Manhattan a couple of weeks before our wedding. Our schedules are too crazy to plan two parties, so we opted for a combined bachelor/ette that was easy and flexible for everyone.
Here, find my tips for throwing a joint bachelor and bachelorette party: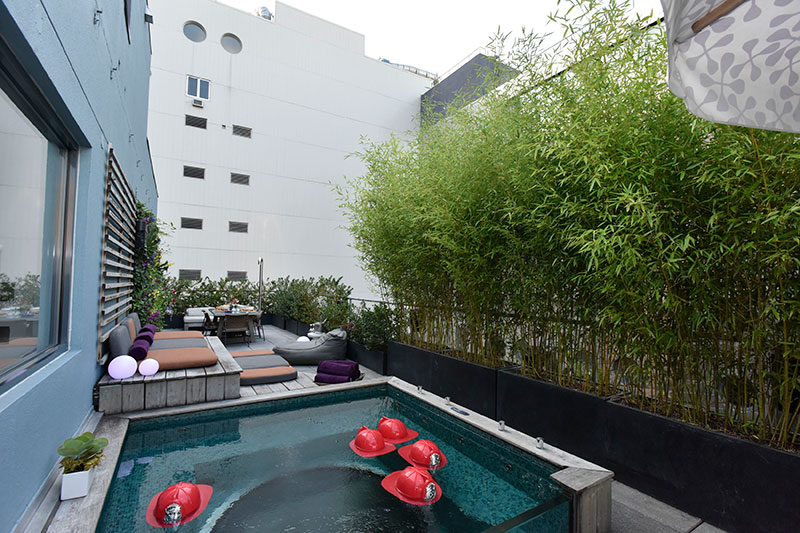 Photo: Dream Hotels
Make It Co-Ed
Throwing a combined bachelor/ette means there's no pressure to be selective about inviting male or female friends -- everyone's included, and it's more fun! This way your friends can meet each other and bond before the wedding, and they won't be placed at weirdly forced table situations together. (Ideally another comedian and fireman will fall in love at our bachelor/ette and then hook up at our wedding.)
Host It Over a Three-Day Period
Let's face it, not everyone can make it to an event if it's for one particular day. Instead, stretch your party to three-days to avoid the stress of schedules and just ask friends to stop by when they can. Why rush the celebration? Bonus: you get to wear different outfits and spend time with everyone. There's always those guests that fly in just for the wedding, so you might feel guilty afterwards if you aren't totally attentive to them. With a three-day bachelor/ette party, you'll have more time to individually hug more people and dance to old-school hip hop (our favorite).
Use On-Demand Apps to Organize
If you're a couple with a hectic schedule like us, get familiar with all of the on-demand apps out there that keep you organized. Use HotelTonight to find deals on luxury suites that you can book for your party at the last minute, then get Postmates to deliver the food and booze - you can even use Glamsquad to book manicures the day of the event. Early in my career, I stayed in some very sad hotels with a cardboard towel and an iron padlocked to the wall - so HotelTonight makes up for those traumatic hotel stays. And, with luxury suites available at the last minute, you can start your day with nothing but a vague idea and a debit card – and end it in a sweet robe eating steaks or a massive bathtub.

Photo: Dream Hotels
Book Activities
Good hosts will have more than just booze to keep people entertained. We booked a tarot card reader and massage therapists -- activities that cater to everyone. We had nail artists giving the ladies these cool custom manicure designs. We also booked a cryofacialist and spray tans so everyone could leave with that "I just had a three-day" feeling - and stocked the suite with champagne, poolside breakfast sandwiches and other delightful treats.
Split Up, if Needed
If you feel like you're missing out on quality girl time, you can always split up the party and then combine later. I invited my girlfriends to the suite first for manicures, massages and spray tans, and then my husband's firefighter friends showed up a couple hours later as things started getting more rowdy.
For more bachelorette ideas, visit 10 Must-Do Ideas for Your NYC Bachelorette.
– Rachel Feinstein is a comedian/actress with current projects including a Netflix comedy special, HBO's Crashing and HotelTonight's "Let's Have a Threeday" campaign, which she got involved with because of her frequent use of three-day getaways to get in vacation time amidst comedy travel.