Find sun, surf and seclusion in the Caribbean. Here, newlywed couples share the highlights of their tropical escapes.
By: Valerie Berrios
As far as honeymoon destinations go, there's no doubt that the Caribbean offers a little something for everyone: tropical sunshine, miles of unspoiled beaches, romantic resorts and plenty of activities to keep you busy. Take it from these real couples, whose Caribbean honeymoons took them to the Dominican Republic, the British Virgin Islands and the U.S. Virgin Islands.
St. John, U.S.V.I.: Ellen and Charles
Charles and Ellen
Shortly after they got engaged, New Yorkers Ellen and Charles Kreps vacationed on the lush island of St. John, and ultimately decided to return there to get married and spend their 10-day honeymoon. "We wanted a peaceful, secluded spot—somewhere away from our busy city lives," explains Ellen, a grad-school student majoring in speech-language pathology. She and Charles, a software developer, chose Caneel Bay, A Rosewood Resort, which, like 75 percent of the island, lies within the unspoiled Virgin Islands National Park. The land was acquired in the 1950s by environmentalist Laurance Rockefeller, whose goal was to preserve its natural beauty. "You won't find any high-rise hotels in the area," says Ellen. The resort has an open-air feel that blends well with the lush landscape, and the rooms have no phones, radios or TVs to distract you, she adds. The property was built from native woods and stones, and guest rooms feature locally handcrafted armoires, tables, chairs and four-poster beds. Ellen and Charles stayed in a room with a large living area, a patio and a lovely view of the gardens. Because there are no airports on St. John, the smallest of the three main islands of the U.S.V.I. (the others are St. Thomas and St. Croix), the couple flew into St. Thomas, where they rented a Jeep, since they knew it would make navigation over the occasionally rough roads easier. Then they took a 30-minute trip on the car ferry to their final destination (you can also use the resort's private shuttle boat).
After the wedding, held at the resort's Turtle Bay Estate House, the couple spent a day exploring some of the property's seven gorgeous beaches. "Usually there were just a few people on the beach," says Ellen.
On another afternoon, the honeymooners visited Trunk Bay, a nearby cove that has some of the best snorkeling in the world. They swam along its famed snorkel trail, following the underwater signs that describe the different kinds of coral and marine life. And that evening, the couple enjoyed a memorable dining experience at Asolare, a restaurant located in the island's main town of Cruz Bay, which offers a fusion of Asian and French cuisine. The restaurant sits on a cliff that provides a gorgeous view of the harbor. "We would recommend this restaurant to anyone visiting the island!" says Ellen. Another favorite dining spot: Tage, also in Cruz Bay. The couple feasted on seared scallops, a calamari salad, pan-roasted yellowfin tuna in a champagne truffle vinaigrette—and shared a tasty molten chocolate cake for dessert. "The French-inspired food was amazing," says Ellen, "and the intimate bistro-style dining room reminded us of New York."
The gentle surf of Caneel Bay's Hawksnest Beach. Photography: Courtesy of Rosewood Hotels & Resorts.
The next morning, Ellen and Charles bought souvenirs in Cruz Bay and then returned to Caneel Bay for a wine-tasting in the Estate House's wine room, hosted by the resort's sommelier. They sampled a fumé blanc, a chardonnay, a pinot noir, a merlot and a cabernet sauvignon. "We learned a lot," says Ellen, "and got a little tipsy toward the end."
They also took a 20-minute hike to one of Caneel Bay's more remote beaches, Honeymoon Beach. "There isn't a lounge chair or staff member in sight," says Ellen. Later, they drove to the town of Coral Bay on the east side of the island. "St. John is so small, it only takes about a half hour to drive from one end to the other," notes Ellen. They stopped to admire the town from a lookout point at the Chateau Bordeaux restaurant and had mahi mahi sandwiches for lunch at the Skinny Legs Bar & Grill. Then they headed back to the resort to watch the sun set from Scott Beach. With exceptional views of St. Thomas, Tortola and other islands, the adults-only beach is one of the most romantic spots to experience at dusk. "We had the whole beach to ourselves practically every night," recalls Ellen.
The couple tapped into their creative sides by signing up for a watercolor class taught by a local artist. "The paintings made for a nice souvenir from our trip," says Ellen. Charles painted mangrove trees by the sea, and Ellen's piece depicted Turtle Point, the grassy spot where she and Charles exchanged vows—and where their honeymoon paradise began (888-767-3966; caneelbay.com).
* Bridal Guide Exclusive! Mention Bridal Guide and receive complimentary round-trip ferry transfers from St. Thomas airport and an upgrade to the next room category. Go to bridalguide.com/deals for more information.
Peter Island, B.V.I.: Gina and Geoff
Relaxation was a top priority for Gina and Geoff Campbell when they were searching for their ideal honeymoon spot. "We were literally looking for the type of destination that did not have a Hard Rock Cafe," says Geoff, a TV station sales manager. Their pick: tranquil Peter Island, the largest private island in the British Virgin Islands, which has 1,800 acres of mountainous terrain and five sugar-white beaches. The couple stayed at The Peter Island Resort, the island's only property. It comprises about five percent of the island; the rest is completely untouched. With just 52 rooms and 3 villas—and given the fact that they'd be there in October, the low season—the resort offered just the type of solitude the Houston-based couple were seeking.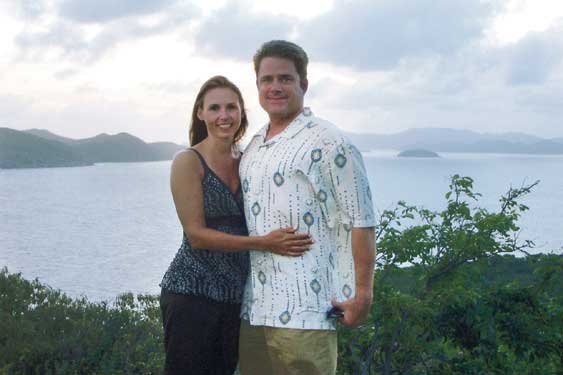 Gina and Geoff
Gina and Geoff flew from their hometown to San Juan, Puerto Rico, and then to the island of Tortola, where they were transported via private shuttle ferry to the resort. Their ocean-view room had bright yellow and blue walls and upholstery, and French doors opened to a private patio. From there, they could look out at the perfectly landscaped gardens and distant sea; just a few steps away, a hammock was suspended between a pair of palms.
Their room was located near the resort's Tradewinds Restaurant, where they usually ordered a breakfast of coconut-crusted French toast with bananas. For dinner, options included plantain-covered grouper, oven-roasted yellowtail and shrimp curry. The menu at the Deadman's Beach Bar & Grill, within a few minutes' walking distance, also featured plenty of seafood, in addition to salads, sandwiches and, says Gina, a delicious Jamaican jerk chicken pizza. "There were a wide variety of dishes, so we weren't eating the same thing every day," she adds. A shuttle van was available to take them to different parts of the resort, such as the spa, tennis courts and White Bay Beach, on the opposite side of the island.
Geoff windsurfs off Deadman's Beach. Photography: Courtesy of Gina and Geoff Campbell.
The newlyweds had purchased a seven-night honeymoon package, which included a group wine-pairing dinner, a 90-minute couple's massage, a snorkeling trip off the coasts of Virgin Gorda and Jost Van Dyke and a scenic drive to The Loop (a five-mile stretch of road along the southwestern end of Peter Island) to watch the sun set.
About 12 guests gathered at the Tradewinds Wine Room for the scheduled vintner's dinner, where multiple courses were paired with wine, champagne and port. It was a great
opportunity for the group of mostly honeymooners to get acquainted, and the couple enjoyed chatting and sharing experiences. The trip to the resort's spa, which sits on Big Reef Bay and overlooks the ocean, was another highlight. "It had just gone through a major renovation and was amazing," says Geoff. Surrounded by indigenous plants and coconut palms, the secluded spa offers a private beach, an infinity pool, an oceanside Jacuzzi and his and her steam rooms. During the "Sunset at the Loop" bus tour, which lasted about 30 minutes, Gina and Geoff were driven to a bluff with magnificent views of the neighboring islands, where they enjoyed a catered wine and cheese meal as they watched the sun go down. The couple also took the complimentary ferry to Tortola, just four miles away. There, they stopped for a bite at Pusser's Road Town Pub and picked up some West Indian seasoning blends from the Sunny Caribbee spice shop.
Falcon's Nest is Peter Island Resort's newest villa. Photography: Dougal D. Thornton.
While activities like sailboating, kayaking, tennis and biking were available at the resort, Gina and Geoff were happy spending most of their time lounging on the beach and taking in their peaceful surroundings. "At Peter Island, you can do as much or as little as you want," explains Geoff. On their last night, the couple shared a romantic room-service dinner and bottle of champagne on their patio. "It was the perfect way to end an incredible trip," says Geoff (800-346-4451; peterisland.com).
Dominican Republic: Tanika and Kenny
Tanika and Kenny
Tanika Donnell constantly travels for her job in retail sales. So when she and her fiancé, Kenny, a business development manager, were planning their March 2007 destination wedding and honeymoon, she knew the place had to be unlike anywhere else they'd been. The couple, who live in Cedar Hill, Texas, were looking for plenty of romance, five-star accommodations, exquisite dining and gorgeous beaches—all of which they found in the Dominican Republic. As for where to hold their nuptials and spend their weeklong honeymoon, the all-inclusive Paradisus Palma Real Resort, in Punta Cana, a region in the country's easternmost tip, fit the bill. "Not only was it a beautiful location, it was also very economical for our guests," Tanika says.
The couple booked a six-night honeymoon package, which included a free wedding ceremony, complete with a champagne toast, dinner reception and wedding cake. To make their trip extra special, they decided to upgrade to the resort's Royal Service option. Among other perks, this gave them access to an adults-only pool and beach area and a private lounge with a free Continental breakfast buffet. One of the best parts of the Royal Service treatment, the newlyweds say, was having a personal butler who catered to their every need, served them breakfast in bed each morning and set up a romantic petal-strewn bubble bath for them at night. Their oceanfront room, decorated in neutral tones, was the perfect respite. It had a spa-worthy shower with massage jets, Jacuzzi, flat-screen TV and pillow menu.
The Zen meditation garden at the Paradisus Palma Real Resort. Photography: Courtesy of Tanika and Kenny Donnell.
It was easy for Tanika and Kenny to fall into the laid-back vibe of the resort. They booked a soothing couple's massage in an outdoor treatment room and spent long afternoons lounging on one of the many oversize Bali beds on the beach. One evening, the two of them headed to the fountain courtyard to check out the resort's Dominican Night celebration, during which local artists and vendors sell their wares. Guests can savor traditional foods and listen to a live band playing salsa as well as meringue and bachata (both of which originated in the country).
When it was time to pick up souvenirs, Tanika and Kenny hopped on a free shuttle bus to the new Palma Real Shopping Village, a mall that houses clothing boutiques, high-end jewelers and trendy restaurants and nightclubs. For locally made goods, they took a cab to the Bávaro Shopping Plaza, an outdoor market in town, where Tanika bargained for beaded necklaces and bracelets and a ring made from native rock. Most of the jewelry on display is made with amber and larimar, a light blue stone found almost exclusively in the Dominican Republic. "Bring cash because part of the fun is negotiating with the vendors and getting a great deal!" advises Tanika.
Both of them enjoyed a variety of dining options at the resort (there are seven restaurants offering everything from barbecued seafood dishes to Asian fusion cuisine). Upon check-in, the Royal Service resort staff had secured Tanika and Kenny's restaurant reservations for their entire stay, so they never had to wait for a table. If lobster was on the menu, Tanika usually ordered it. "How often do you get to eat something so decadent every day?" she says. The couple's most enjoyable meal was a romantic dinner for two on the beach; a private waiter served them champagne with their dinner. Tanika, of course, had lobster tail in a garlic and lemon-butter sauce; Kenny, rack of lamb and beef filet in a mushroom sauce.
From start to finish, the couple's trip was seamless. "The Paradisus Palma Real was romantic, beautiful and well worth the value—it far exceeded our expectations," says Tanika (809-688-5000; paradisus.com).