Planning a ski honeymoon? Here's where to hit the trails in the good ole United States.
By: Mary Lynn Mitcham
If you're the kind of newlyweds who prefer the click of ski boots gripping their bindings to the clink of two margarita glasses on the beach, the mountains may just be your ideal post-nuptial escape. From the West Coast to the East Coast, and in plenty of spots in between, we've rounded up the best places to ski, play and sleep. We've also found scenic gondola rides, terrain parks for snowboarders and tracks for cross-country skiers, among other frosty draws, all of which you can experience during ski season (which typically runs from November through April). Read on for how to put an amorous spin on a fabulous slope-side stay.
Lake Tahoe, California
Watch out, you so-called experts! The 4,000 acres of runs around the Squaw Valley USA ski area's six Sierra peaks will put your skills to the test. And while the base-village may have plenty of pricey shops and a healthy dose of of attitude, there's no pretension once you get up on the mountains. Beginner and intermediate skiers will find happiness along the 3.2-mile Mountain Run, Squaw's longest cruiser. Seasoned schussers can test their abilities on bumpy Moseley's Run, or on tricky Siberia Bowl, which might be dubbed "advanced intermediate" but is far more advanced than intermediate.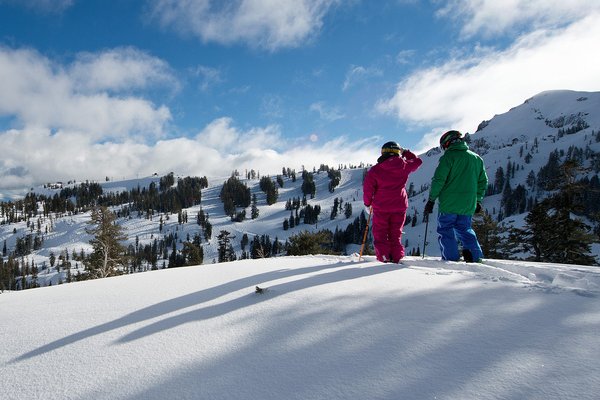 Photo Credit: Frank DeVre 
Off the slopes: When darkness falls, hop back on the lift and get a moonlit view of the skiing on High Camp and Mountain Run, two trails that stay open until the night owls are ready to hit the hay. Night skiing is free with the purchase of a daytime lift ticket; even if you're not planning to do many more runs, the sight of the mountain itself, blanketed in white snow and inky darkness, is truly worth the ride. 
 Where to stay: When your legs have had enough, ski down to the 61-room PlumpJack Squaw Valley Inn, located at the base of the mountains. Have a drink at the fireplace bar, and then head to your room to dive into a pile of comfy snow-white down comforters.

Photo Credit: PlumpJack Squaw Valley Inn
More Ski Towns:
► Park City, Utah
► Big Sky, Montana
► Jackson Hole, Wyoming
► Aspen, Colorado
► Killington, Vermont
► Jackson, New Hampshire
Pages