Before you hit the salon, read these top bridal blunders to avoid.
By: Kristen O'Gorman Klein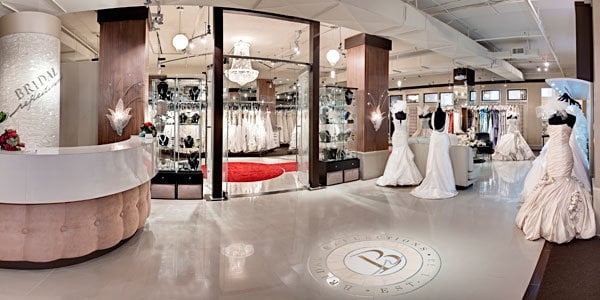 Photo Courtesy of Bridal Reflections
Bringing an Entourage
We know it's the most important dress you'll ever wear, and you want to make sure it's absolutely perfect. But having 10 different opinions makes it much harder to come to a consensus—and it can bring you farther away from what you actually want. "I have always been a believer that the most a bride should bring when dress shopping is two people," said Cristina DeMarco, of Bridal Reflections in New York, NY.
Most brides do best with just their mom and maybe a sister or best friend, said Debra Lash, of The Wedding Tree in La Crosse, WI. "They generally have the bride's best interest at heart, not what they want her to wear." One of our real bride bloggers, Theresa Misso, recently wrote about her dress shopping experiences and said, "When you're standing there in a big dress, and random people in the store are ohh-ing and ahh-ing and all you want to do is take it off, you'll need an honest, reliable companion to say, 'I love it. But it's just not you.'"
Shopping Too Early
Many couples are opting for longer engagements these days, but don't start shopping more than 12 months in advance. "The moment a bride starts trying on gowns, she'll inevitably fall in love with one," said Lash. "If she's not ready to buy, it quickly becomes difficult for her. In other words: Do not visit bridal salons until you're ready to make a purchase."
It's important to have the rest of your wedding details in place before you can truly shop for a gown, since many factors can influence the style of the dress. Consider your venue: "An ornate gown with tons of embellishments and a sizeable train might look stunning in a ballroom but completely out of place at a beachfront ceremony," said Tolu Ogbechie, one of our real bride bloggers. Also, the colors you choose for your bridesmaids and décor can influence whether you choose white or an off-white shade.
But, at the same time, don't procrastinate. Most dresses take anywhere from five to eight months to come in, according to DeMarco. You can sometimes place a rush order if you need it in under five months, but it'll cost you.
Trying On Too Many Dresses
If you're a fan of Say Yes to the Dress, you've undoubtedly seen a bride who's tried on 100+ dresses without finding the right one. Most brides try on between four and seven gowns, said DeMarco, and shouldn't try on more than 10, because it can lead to confusion.
Often, a bride is trying on dress after dress because she's just not ready to end the shopping experience and make a real commitment. "The most common mistake that a bride makes is not purchasing her gown when she finds it," said Lash. "The danger that befalls her is she becomes overwhelmed and forgets what she originally set out to find. She begins to doubt herself and starts to lose faith in the experience."
Not every bride has "that moment" when the tears start rolling and you know you've absolutely found "The One." Real bride blogger Crista kept searching until the tears started rolling. While trying on a Priscilla of Boston gown (pictured right), Crista noted, "As I gazed upon my reflection, I noticed my family standing around me, teary-eyed. Although I was touched by their reaction, I wondered, 'Why aren't I crying?'" said Crista. "I decided not to purchase that dress and left the salon contemplating my shopping experience."
Being Swayed by Steep Discounts
Try not to be too tempted by the lure of your dream designer gown for 70% off. "The biggest mistake I have seen brides make is purchasing a gown online or from a shop for a deep discount 'only today,'" said Lash. 
Sample sales are popular among brides, but you must keep in mind that you are typically truly purchasing just that — a sample: The dress has been tried on by hundreds of brides and could have been torn, stained, or otherwise damaged during the process. Before making a purchase, check the gown very carefully for any damage—and if there's anything that can't easily be fixed, put it back. Some brides end up spending hundreds in alterations to fix what's wrong with the sample when they could've found a similar brand new dress for not much more money.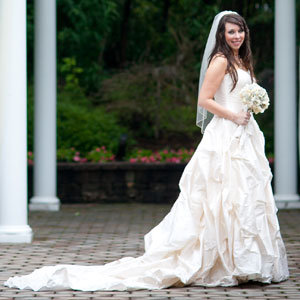 But don't be totally discouraged: Sometimes you truly can find an amazing gown at a bargain price. Kimberly Sanicki, of Wanaque, NJ, found her perfect wedding gown (left) at a "Running of the Brides" event thrown by Filene's Basement. She found a stunning Essense of Australia gown for just $500, marked down from $3,000. Before handing over the cash, Kimberly and her mom thoroughly examined the gown to check for any flaws. "My mom made sure it had every crystal, and it did not need to be cleaned or even hemmed," said Sanicki.
Demanding the Wrong Size
Wedding gown sizes typically run one or two sizes smaller than street clothes, so try not to get hung up on the number. "Do not fixate on the actual size but instead on how your measurements compare to the particular line on the specific designer's size chart," said Gesinee of Gesinee's Bridal in Concord, CA.
Planning on losing weight before the big day? "If I had a nickel for every person I have measured who said they were going to lose weight, I would be rich!" said Lash. Play it safe and order a size that fits your current body. Any dress can be taken in, typically up to four sizes without affecting the look of the dress, but most can only be let out one full size—if that. "You need to be realistic, in case you don't lose your targeted weight," says DeMarco.
What happens if your dress doesn't fit when it comes in? First, don't freak out and go on a crash diet. "There's always something you can do," said DeMarco. "You can order fabric from the designer, add beading, or even put in a new back to accommodate the measurements needed."
Photo Credit: Timecut Studios (left); Courtesy of Priscilla of Boston (right)

Photo Courtesy of The Wedding Tree
Sticking With One Style
"Ninety percent of our brides leave with something completely different than what they had in mind when they walked in," said DeMarco. Bringing in pictures of dresses you like is a good start, but if your consultant recommends something different, give it a try. It's impossible to tell what a dress will look like on your body just from seeing it on a hanger. "If a bride is fuller in the hip area, she might have a mind set that she can't wear a fitted dress," says DeMarco. "However, what she may not know is that a more fitted dress would show off her curves, fit beautifully, and make her appear more slender as opposed to covering up."
Need advice on which shape is most flattering? Get some recommendations here.
Buying a Dress You Don't Love
"The biggest mistake I've seen brides make is settling on a dress because someone influenced them to purchase it instead of going with her heart," said DeMarco.
This is why it's so important to choose your shopping companions wisely. "Many people that may accompany the bride will look at each gown and decide if it's best for them—not for the bride whom they should be helping," said Lash.
If you find yourself liking a dress but also having doubts, or if you're feeling pressured from a part of your entourage or a salesperson to make a purchase, it's okay to go home empty-handed, sleep on it, and return at a later point if you're still dreaming about the dress.
Trying On Dresses You Can't Afford
You see a stunning gown  a mannequin that's way out of your price range, but you want to try it on just for fun. What's the harm? "It can lead to heartbreak and disappointment," said Lash. "You need to be able to afford anything you try on."
Make sure you are completely clear on your budget before you hit the salon—and make sure that the salon you choose respects your budget. One of the top complaints Lash hears from her brides is that other salons showed them dresses that were out of their respective budgets. "We have a strict policy in place to keep the customer within budget, which makes her happier with the entire process," said Lash. "Happy bride equals happy life for bridal shop employees!"
Not Accounting for Extra Costs
Let's say you have $2,000 set aside for your attire. That doesn't mean you can buy a dress with a list price of $2,000. Alterations typically cost extra, and you may also be charged tax and delivery, so don't max out your fashion budget on just the dress. "Almost every gown will need some alterations," said Gesinee. Whether it's something, small like a hem, or something major, like taking in (or letting out) the bodice, it can add up. You'll also need to account for undergarments, shoes, a veil and/or hair accessories, jewelry, and any other accessories you'll want to complete your bridal look.
Not Choosing Your Store Wisely
If you're a plus-size bride, call ahead to see if your desired store carries a sizeable amount of plus-size samples—not all do. Otherwise, your only option is to play "paper dolls" to get an idea of what a style would look like on you, said Gesinee.
"It is very hard to determine fit by holding up a gown to your body," said Lash. "If a bride loves one of our gowns in a size 12, we will find one with an exact or similar fit in her size to try on."
Also, make sure that your store is an authorized retailer for the designer you've selected, said Gesinee.  If the retailer isn't authorized to sell that particular designer, there's a good chance that you won't receive an authentic gown. That means that the designer won't stand behind it if anything is wrong. To find out which stores are authorized in your area, check the individual designers' websites or call the number listed.