If your picture-perfect dress needs a few adjustments here and there, follow these tips and save!
By: Cybele Eidenschenk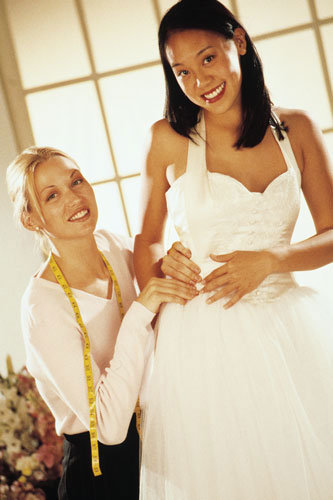 Most wedding gowns require some alteration to get that custom fit. While many bridal salons charge a flat fee regardless of the amount of work needed, some stores charge per fix, explains Mara Urshel, owner and president of Kleinfeld, a bridal salon in New York City. If yours does the latter, use these savings tips:
Buy a simple gown—it requires less work. For instance, a dress with a beaded hem might need to be shortened from the waist, which could cost more than it would if it were taken up from the bottom.
Bring the lingerie and shoes you'll wear in the wedding to each dress fitting. This will limit the chance that hemlines or seams will have to be redone.
Use a seamstress experienced with bridal gowns or you might "pay" in other ways. Many gowns are complex and beautifully crafted, so they require a tailor with special skills. "One regretful bride who had her alterations done outside our salon sent us a picture of herself dancing with her dad at her wedding, bosom exposed!" says Urshel. "Clearly, a good fitter is key."