For the couple seeking meaningful eco-conscious wedding ideas, these custom wooden rings from WoodenRings.com offer a unique way to symbolize your everlasting love and commitment.
— SPONSORED FEATURE —
Whether you are all about saving the planet or you just love nature, WoodenRings.com is ready to change the way you think about wedding rings. Their custom wooden rings are made of sustainable and salvaged materials, and you can choose from 70+ types of wood with over 30 kinds of inlays including gold, sterling silver, turquoise, and assorted gemstones. The rings are completely customizable and made to order in three to five days. An engraving service is available for that extra touch of personalization. Plus, there is a lifetime replacement guarantee and the majority of styles cost under $200.
See some of our favorite wooden ring styles below. 
1. Bentwood Ring in Honduran Rosewood with Turquoise Inlay
Bentwood rings are made from a unique process that literally bends wood into a circle and creates smooth edges. They are extremely durable and waterproof, and can incorporate a multitude of woods and interesting inlays such as azurite, malachite and red coral for a pop of color.
2. Mahogany and Stainless Steel Wedding Ring Set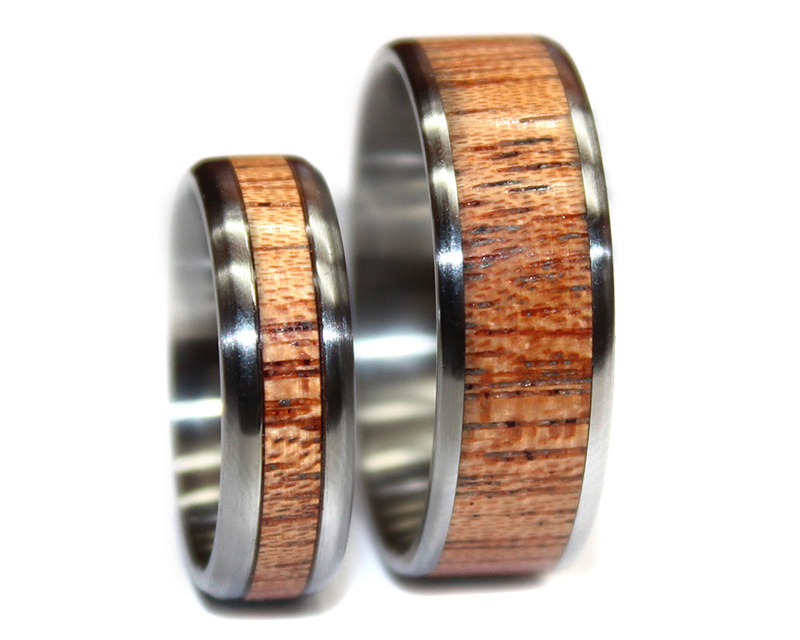 We are loving the uniqueness of these his and hers metal and wood rings made from mahogany and stainless steel. Change up the combination for a style that's more you, with olivewood, buckeye burl or blackwood, along with gold, sterling silver or tungsten among the design options. These rings are waterproof, durable and require little care.
3. Layered Wood Ring in Rosewood, Olivewood and Mahogany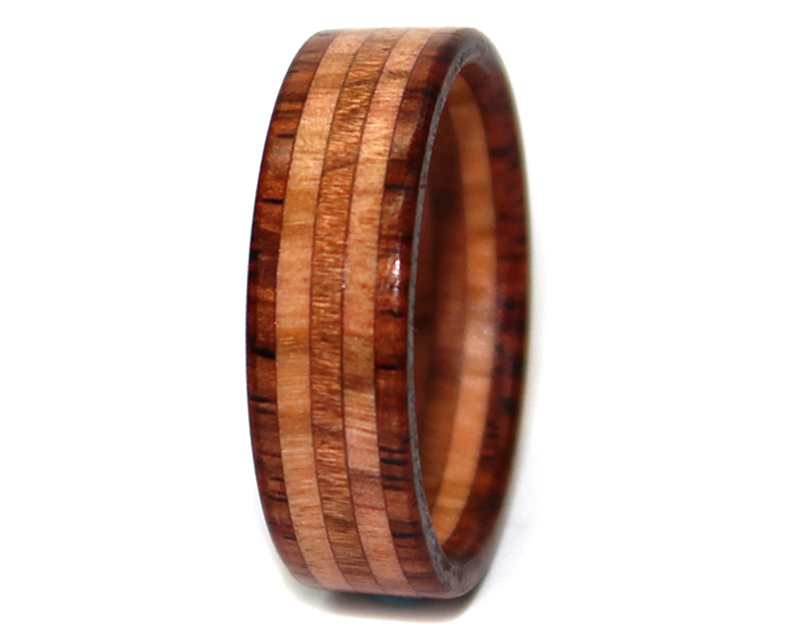 For a truly organic, hand-crafted look, layered wood rings align two or three different woods and can appear rimmed or striped. Other choices include colorful combinations of blackwood, bloodwood, maple or burl. These rings are treated with a natural beeswax finish which makes them water-resistant.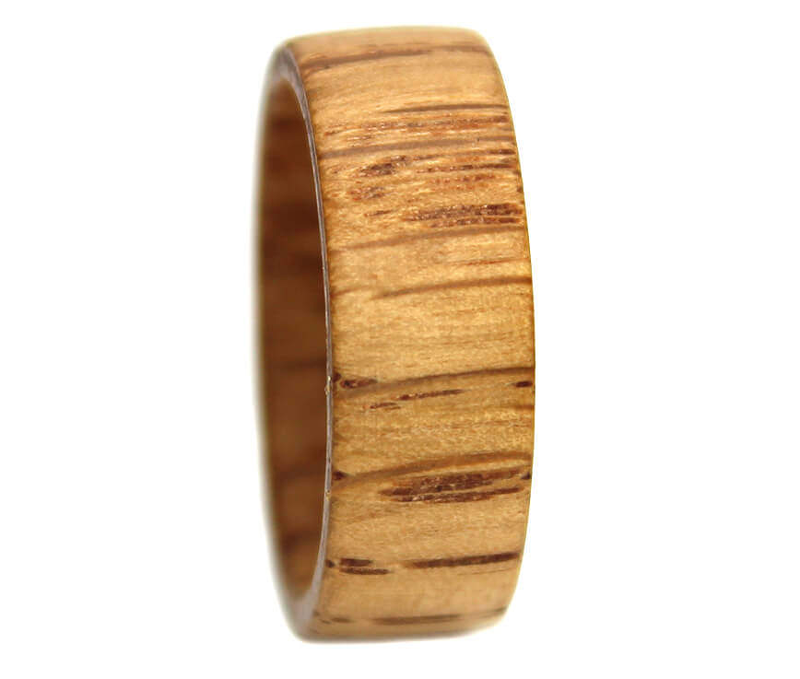 Strong like your love, a solid wood ring has a simple, yet bold appeal, which makes it a grooms' go-to. They are water-resistant by default, but a waterproof coating can be applied on request. An excellent option for couples on a budget — these all ring in under $100!
5. Rainbow Lined Tungsten Wood Ring
Tungsten carbide is one of the strongest materials on Earth, making it extremely durable and a popular choice for wedding rings. Plus, it's hypoallergenic, maintains its shine, and has a high scratch resistance. This type of ring can appear traditional on the outside, and have personal meaning on the inside, like this one paying tribute to LGTBQ+ pride. 
6. Bentwood Wedding Ring Set in East Indian Rosewood
A slim, matching wooden ring set like this offers sleek style, extra comfort, and makes an ideal choice for those who have narrow fingers or aren't accustomed to wearing a ring every day.
7. Engagement Ring with Mahogany and Birch Setting
Channel Mother Nature with this modern twist on a classic look (pictured with moissanite, but other options are available).
8. Purpleheart and 14k Yellow Gold Wooden Ring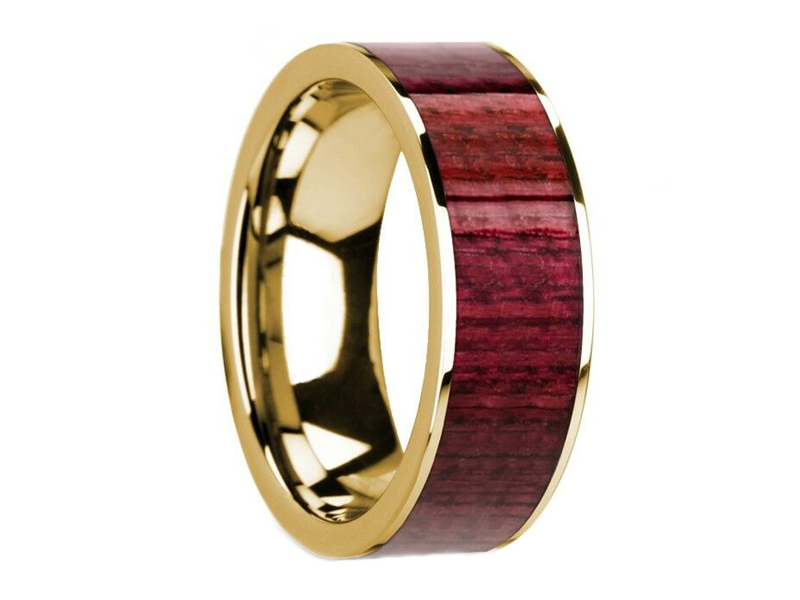 We love the idea of pairing an exotic wood like Purpleheart with 14k yellow gold for a classic, elevated look.  
See more styles at WoodenRings.com/shop. Plus, find out how you can design your own ring, too!