Behind every engagement ring is a story of love. Here, six real brides share how they got engaged, along with details about their gorgeous rings crafted by Christopher Designs.
By: Kristen Klein
-SPONSORED FEATURE-
The couple: Ashley and Andrew 
Wedding date: Originally November 7, 2020; pushed to November 13, 2021 due to COVID-19.
How we met: We met at my 21st birthday party; he came with some mutual friends and brought me a bottle of wine, but we didn't really talk much. We reconnected a few months later at another get-together; he got my number, and the rest was history. Fun fact: we just moved into a house on the same street where we met!
Our proposal story: We got engaged during a trip to our favorite city, Charleston, SC. We had been dating for almost six years, so I had my usual suspicions that he was going to propose, but all my friends told me not to get my hopes up. We run a food blog and are major foodies, and he told me that night he had dinner reservations at Husk at 5:30 p.m. (very popular and very hard to get a reservation), so it wasn't odd to me that we had a super early reservation. Upon leaving our B&B, he told me he wanted to go to a bar over near Rainbow Row/The Battery. I had never seen a bar over there, but I rolled with it just in case. We were walking along The Battery, and he walked over to the railing by the water. In typical girl fashion, I'm like, "What are you doing? Let's go!" He turned around and said "I need to ask you something," and my heart dropped!
He explained that this was the very spot where his grandfather took the next step with his grandmother and also where his dad proposed to his mom. Then he got down on one knee and asked me to marry him! A photographer swooped in, taking photos of the moment and then a photoshoot once I stopped crying and could catch my breath. The whole time, I kept asking Andrew if our parents knew and he said, "No, I haven't told anyone." So after the photo shoot, I wanted to call my sister and my parents, but he suggested we pop into one of our favorite rooftop bars, Vendue, to sit down, have a drink, and call everyone before we headed to Husk for dinner. We took the elevator up and then the stairs to the highest rooftop, and then I heard, "Surprise!" Both sets of parents, our siblings, and his grandmother (the one who got engaged at the same spot) were all there, and we spent the night celebrating. It was truly magical! 
About the ring: I have the L'Amour Crisscut, which is unique to Christopher Designs. Our jeweler describes the shape as if a cushion cut and an emerald cut had a baby. The center stone is 1.5 carats, and the halo and diamond band are 0.5 carat. I think Andrew had to wait so long to propose because he knew I wanted "bling!" We went to Diamonds Direct and worked with one of my friends. Everything she showed me wasn't my style, was too small or too expensive, until she brought out the L'Amour. Once I put it on, it was love! Andrew told me he didn't like it, but he secretly went back later and custom-designed it for me with my friend Jodi. I always wanted something unique that not every girl has, and that's exactly what I got! I also love he took the time to design it and make it perfect. 


---
The couple: Kathryn and Mike 
Wedding date: October 3, 2020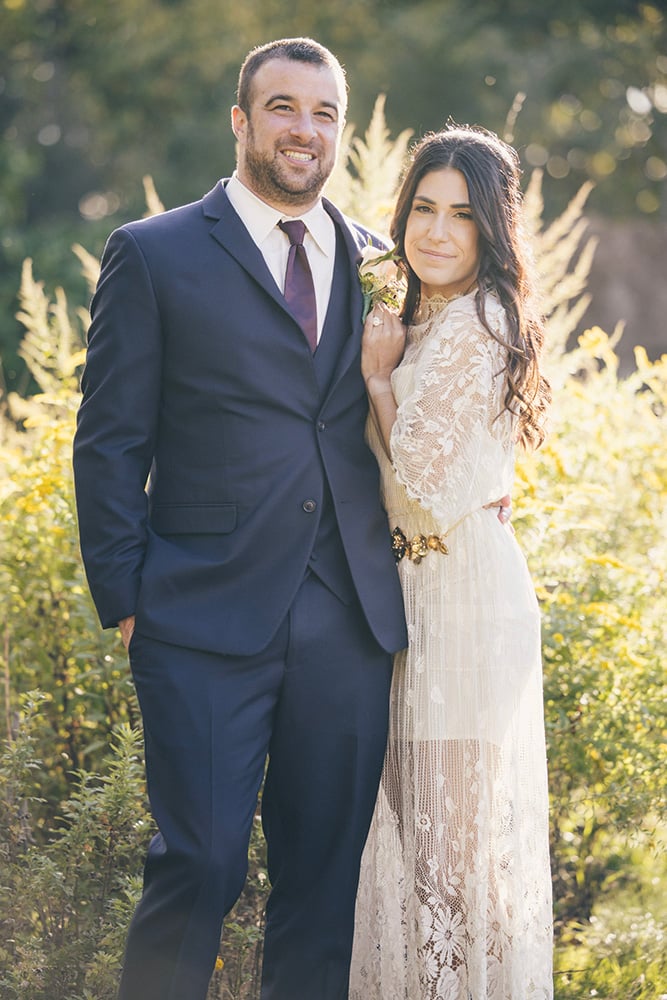 How we met: Mike and I met on a blind date, set up by our two good friends. We met for brunch, and Mike was impressed I ordered chicken and waffles on a first date. I was impressed that he listened to me talk for three straight hours without complaining once (I'm a talker). We had so much in common, and it was so easy being together. We lived a mile apart, both divorced with two kids each, sharing mutual friends; it was crazy we hadn't met earlier.
Our proposal story: While on vacation in Aruba, we had dinner reservations and the hostess led us out to a private cabana on the beach. At that point, I knew what was going on and immediately burst into tears. I just could not believe how perfect the entire set up was. While I was starting to calm down from crying, Mike gently said to me," Okay, I'm going to get down on one knee now..." Then I burst into tears all over again. He got on one knee and told me he wanted to make me his wife. He slipped a ring onto my finger, but at first I couldn't even look at it! I thought if one more good thing happened, I would explode! After a million kisses and hugs, I finally looked down at my hand. The ring was more gorgeous than anything I ever could have dreamed of; he literally knocked it out of the park with this engagement ring!
About the ring: Long ago, I told Mike that when he gets me an engagement ring, he has to visit Elyse Jewelers in Reading, MA, as the owner, Richard, is a long-time family friend. I had mentioned time and time again I love an oval-shaped diamond and rose gold; Mike and Richard took it from there. Never in my wildest dreams did I envision the ring that I have, but it is 100 times better than what I imagined! It's rose gold with a 2+ carat oval L'Amour Crisscut diamond by Christopher Designs. The sparkle of the diamond is my favorite part. I love when I'm driving and catch a little glimpse of the diamond shimmering in the light. I also love how it photographs. I have been stopped over and over again by people complimenting it — the cashier at Dunkin' Donuts, my dentist during a routine cleaning, a trainer at the gym, literally everyone. 


---
The couple: Helena and Gregor
How we met: Our story starts a couple of years ago when we lived back in Europe. We met six years ago at a festival in Croatia, and he was from Slovenia. I guess it was one of those things that was meant to be, because we've been together ever since. Four years ago, we made the decision to move across the world together and are now living and working in Canada. 
Our proposal story: We had to take an unexpected trip to Europe this year for personal reasons, but my fiancé took the situation in stride and planned a romantic proposal. He somehow managed to keep it a secret through four different countries, from Canada to Turkey to Croatia, and when he got down on one knee, it was right on the beautiful coast of Italy, a place called Portopiccolo.
About the ring: It was a little challenging for my fiancé to shop, since I work at a jewelry store called Barry's Jewellers located in Burlington, Ontario, that has some really beautiful pieces one cannot ignore. Over a period of time, he took note of my likes when it comes to rings. It was pretty hard for him to zero down on one ring because I am constantly surrounded by upscale diamonds. But he was super mindful and did amazingly well. He picked my favorite brand, which is Christopher Designs, and the most beautiful cut of diamond that works best for me, which ended up being the oval-shaped, emerald cut L'Amour Classic. It was a dream proposal, and everything about it was magical.
---
The couple: Nicole and Max
Wedding date: December 18, 2020
How we met: We met in a coffee shop in Manhattan. We were both refueling on caffeine before heading back to the office. Small talk whilst waiting for our beverages resulted in a dinner date that same weekend.
Our proposal story: On my birthday in October, Max surprised me with a trip to Prague in late December. We spent the first day exploring the city's famous Christmas markets. We ended the day with a tour of the Prague castle. I was freezing and miserable and excited to reach the end, where the tour guide brought our group to a point where we could get a view of the entire city. That's when Max dropped on one knee and popped the question.
About the ring: My ring is a Christopher Designs creation with a 1.19 carat L'Amour Crisscut center, halo design and trapezoid cut diamond sides (1 carat) set in platinum. I was looking for a ring with a unique shape as well as design. Through research, I found the L'Amour Crisscut diamond, which is an emerald cut but with softer corners. The setting was chosen by my fiancé, who knew I would love the glamorous details of the ring. My favorite thing about my ring is the size! For a ring that is only a little over 1 carat, it looks absolutely huge. The technique used to cut the L'Amour Crisscut diamond makes it look larger than diamonds cut the traditional way. I've had people approach me to ask whether my ring was over 2 carats!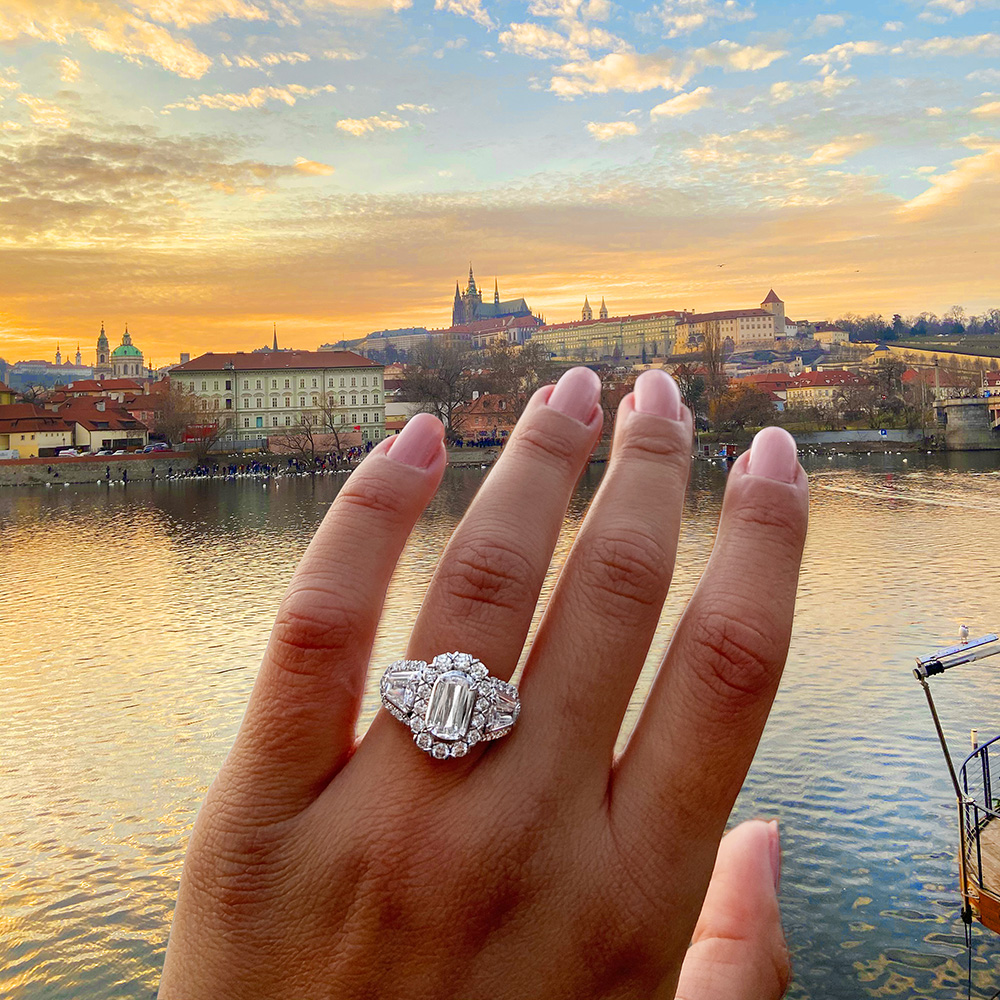 ---
The couple: Emilia and Damian
Wedding date: June 2022
How we met: We met at a house barbeque. I was friends with his younger sister and brother but never knew that they had another sibling. We started off as friends for a few months and just clicked right away. Conversations were flowing, and it was really easy to be myself around him.
Our proposal story: The day before our seven year anniversary, we took a trip to Montauk with his sister, cousin, and two best friends. Everyone dressed up in fancy dresses and button-downs with khakis because our initial stop was going to be to grab breakfast in the Hamptons. Instead, we got to the lighthouse in Montauk first, walked around the beach, and on our way back to the car, we took a trail right along the cliff. It was absolutely beautiful. Everyone was taking pictures with each other while Damian was flying his drone around to capture "the views." Eventually, he asked to take a picture together, as well as a video on the drone. While I was facing the drone, thinking we were taking a video, he was behind me on one knee. When I turned around, I could not believe that he was actually down on one knee and holding a box with a ring inside in his hand. He is the ultimate jokester, and I always mocked him that this moment would never happen. I think he was really nervous, and I was in complete shock (happy shock!). I said yes, and then we went to eat and grab drinks by the beach with our group. When we got back, my parents had decorated the house with engagement balloons and flowers. That week, our friends showered us with so much love and champagne. It was really everything I ever wanted, and I was completely blown away by how much thought he had put into it.
About the ring: The ring is an elongated cushion cut 1.05 carat with a white gold band. He went to Christopher Designs in New York City for the ring. I sent him a ton of pictures throughout the years of what I would like. I love how it shines so beautifully in the sun, and it's so delicate and flattering on my hand.
---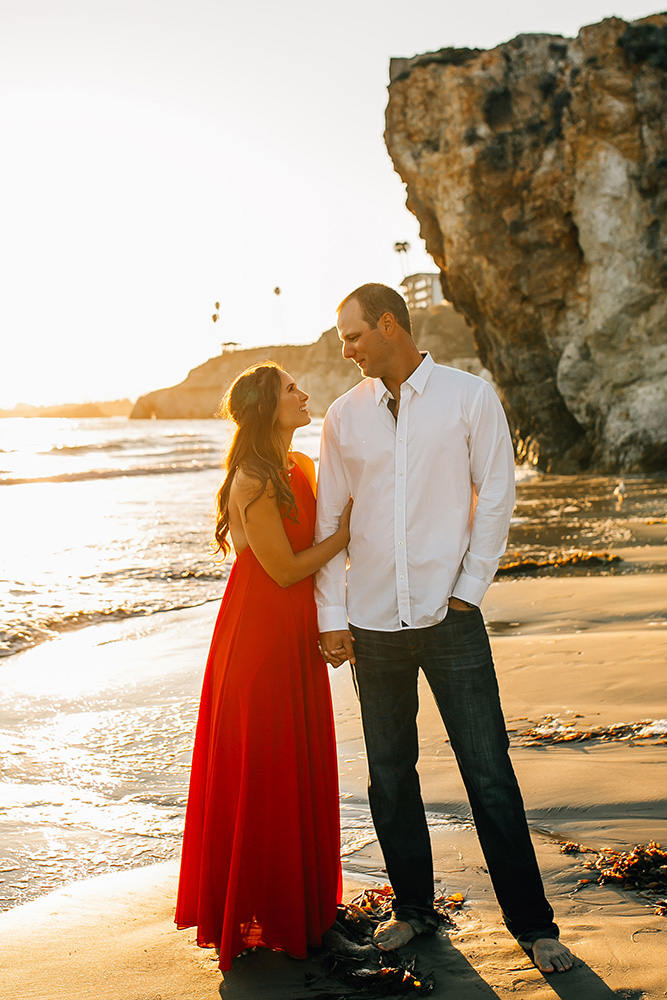 The couple: Jordyn and Matt 
Wedding date: April 24, 2021
How we met: We knew of each other through mutual friends but didn't officially meet until we were at a party in high school. This month marked 10 years of us being together! 
Our proposal story: He totally surprised me! We went to Maui with his family, and he threw me off, so I was not expecting him to propose. We went to dinner and decided to take a walk on the beach afterward. We had the beach to ourselves, and I was aloof and was taking pictures of the scenery (a luau to our right, a full moon over the water). I turned to my left and there he was, on one knee. It was perfect.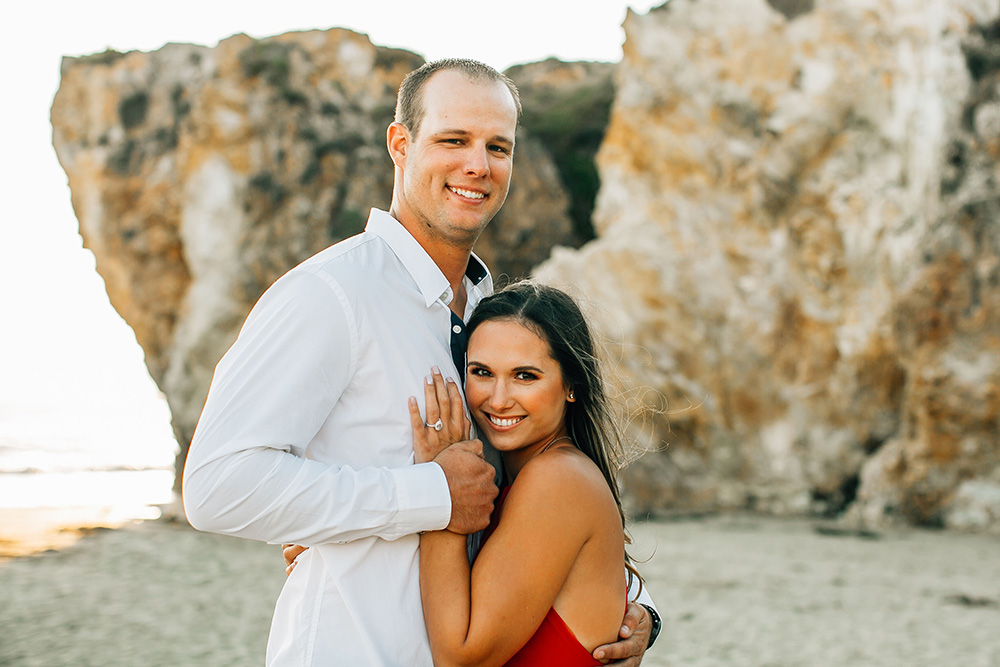 About the ring: My ring is a Christopher Designs L'Amour Crisscut set in platinum; 1.64 carat center stone, halo setting with diamonds on the band and underneath the ring. We went to our local jeweler, Ashoori and Co., and I picked out the setting that I loved (minus the diamonds underneath; Matt added that detail). I could not decide between an oval or an emerald cut, so this cut was the perfect mix. It was funny, while we were in Hawaii, I dragged Matt into a Tiffany store, and he was relieved because, yet again, I could not decide between an emerald and an oval. I love how different and unique it is. I do not know anyone else who has a similar ring with the halo setting or the Crisscut diamond. 
To see more engagement rings and diamond jewelry by Christopher Designs, visit christopherdesigns.com.