Achieve the ultimate mix-and-match look with these silhouette groups and autumn-inspired color stories curated by Bridal Guide x The Dessy Group.
By: Emily Goldman
- Sponsored Feature - 
Sapphire Sky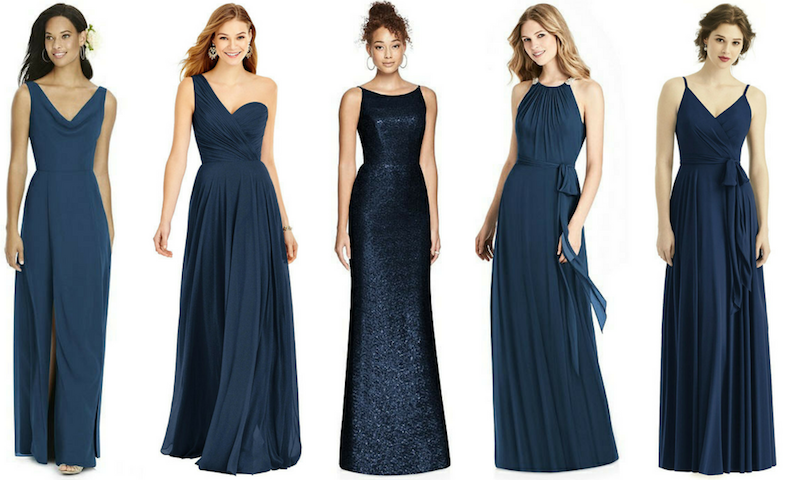 From left: Social Bridesmaids Style 8180 Midnight; After Six Bridesmaid Dress 6751 in Midnight, Dessy Bridesmaid Dress 3010 in Midnight; Jenny Packham Bridesmaid Style JP1007 in Midnight Gold; After Six Bridesmaid Dress 1511 in Midnight
Make your bridesmaids your something blue! From dazzling sapphire to midnight sky, imagine how striking a white ballgown will look next to these rich jewel tones.
Reach for a glittering number with delicate straps, or a figure-flattering wrap dress. Let your maid-of-honor sparkle in a sequined gown, while your girl gang struts down the aisle in the softest chiffon.
Park Ave Platinum
From Left: Social Bridesmaids Style 8190 in Platinum; After Six Bridesmaids Dress 6775 in Platinum; Soho Metallic Twist Jumpsuit in Silver; Studio Design Collection Style 4535 in Platinum; Social Bridesmaids Style 8183 in Platinum
Timeless and festive, shades of grey look soft and sexy for both daytime and evening weddings. Gift your favorite ladies matching silver jewelry, or mix metals for a fashion-forward look. Think: gold, glittery shoes and hair accessories that shine.
For an elevated sense of sophistication, consider a style with a low back or a high slit. Crepe and chiffon fabrics in this can't-go-wrong neutral are always a crowd pleaser. The pièce de résistance: a high-fashion jumpsuit for your maid-of-honor.
Mediterranean Olive 
From left: JY Jenny Yoo Bridesmaid Style JY502 in Clover; Dessy Collection Style 2932 Vineyard Green; Lela Rose Style LR214 in Clover; Dessy Collection Style 2970 in Vineyard Green, Design Collection Style 4505 in Clover
Go bold in earthy olive and sage. Coordinate with the colors of the season, and take your bridal party photos outside while surrounded by nature. You'll thank us later.
Dress your goddesses in Grecian-inspired silhouettes that show some shoulder. Flowy fabrics in this garden hue and hems that hit the floor will keep your girls comfy all night long.  Plus, make your maid-of-honor stand out with a crystal belt!
On the Mauve     
From left: JY Jenny Yoo Bridesmaid Skirt JYS529 in Suede Rose; Studio Design Collection style 4521 in Dusty Rose; After Six Bridesmaid Style 1504 in Lavender Garden, After Six Bridesmaid Dress 6800 in Dusty Rose; Bella Bridesmaids style BB111 in Suede Rose
A little more interesting than lilac or blush, mauve is the new fall must-have. This fashion color is muted, yet elevated. We love the idea of a floral or patterned dress for your MOH, or incorporate a few in between solids.
Feminine lace, bow details and illusion necklines give off a fairytale vibe. Your ladies-in-waiting might have to fight off a few princes.
When in Wine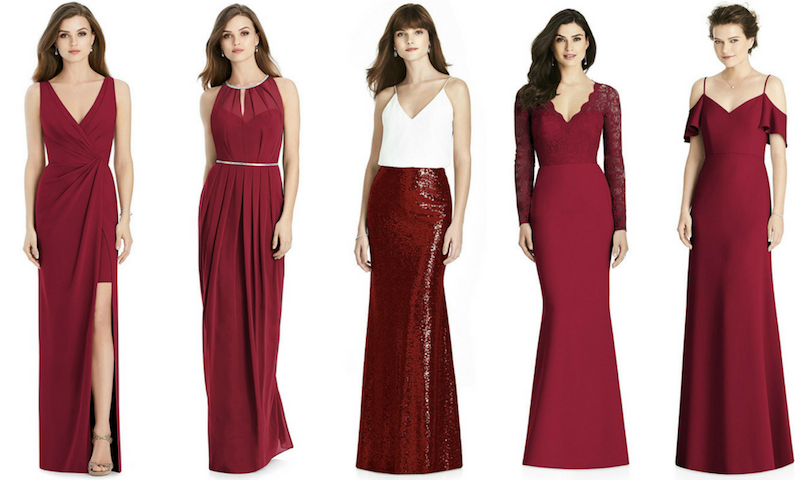 From left: Jenny Packham Bridesmaid Style JP1013 in Burgundy; Jenny Packham Bridesmaid Dress JP1015 in Claret; After Six Bridesmaid Skirt S1509 in Burgundy; Dessy Collection Style 3014 in Burgundy; JY Jenny Yoo Bridesmaid Style JY539 in Burgundy
Think: Thanksgiving dinner and cabernet. Burgundy is your go-to color for fall festivities. Have your girls give the cold shoulder or cover up in some sultry lace. 
Make your maid-of-honor feel special with a sparkling separates look. She'll be sure to turn heads.
Whether you select your bridesmaid dresses or you let them choose, The Dessy Group has every style and color you could possibly think of. Start shopping now and save at Dessy.com.