How far would you go to save money on your wedding? One Florida-based couple is trying to raise $30,000 for their big day by pitching it as the ultimate out-of-the-box sponsorship opportunity for corporate brands.

Photo Credits: SponsorOurWedding.com
Courtney McKenzie tells Buzzfeed that she came up with the idea after she and her fiancé Jamil started researching wedding costs. "When we first got engaged we knew we didn't want to have a big wedding. After we put it down on paper we knew we couldn't afford it, either," she says.
Instead, the travel aficionados decided to elope in Thailand this upcoming December. They will get married in a traditional Thai garden ceremony, followed by a private reception dinner with dancers and fireworks. The enterprising bride used her career experience as an entrepreneur and digital media consultant to devise a marketing strategy around their 11-day itinerary.
Everything from the bride's dress to the elephant carrying a "just married" sign (their getaway transportation) to the groom's swim trunks on the honeymoon will be brandished with company logos. Advertising packages up for grabs also include more traditional incentives such as branded hashtags — the couple has over 30,000 combined social media followers — email campaigns and inclusion on their website, SponsorOurWedding.com. A portion of the proceeds will go towards their favorite charities, and they aren't asking for wedding gifts.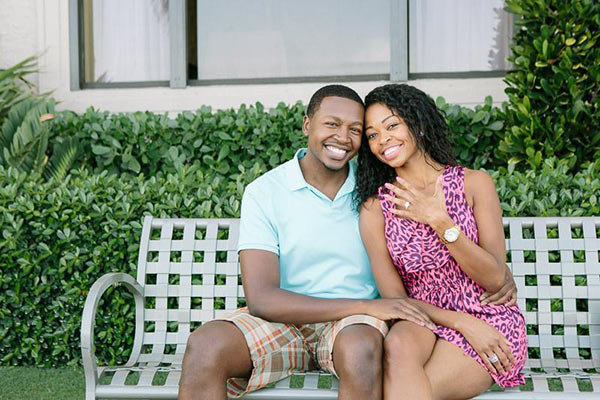 Photo Credits: SponsorOurWedding.com
Cosmopolitan.com reports that they have three major sponsors so far and they're about halfway towards their goal. Although McKenzie has gotten some flack for her creative proposal, she says the reactions have been mostly positive; in fact, she's thinking of launching a platform that will help other brides sponsor their weddings!
Tell us: Would you be willing to have a company sponsor your entire wedding in exchange for covering all of the costs?
—Stefania Sainato