From custom-made works of art to whimsical polka dots, here are some of our favorite paperie finds to announce the big day.
By: Sharon Naylor
1. Dual Designs
Monogrammed Grace in Purple from Wedding Paper Divas
Designed by Mikan Ink, these vibrant purple invites have it all: stunning visuals, a cool shade, lovely font, and a bonus design on the back of the card. These 5" x 7" cards are printed on recycled matte 110 lb. paper, made in Italy, and are among the most budget-friendly in this group (as low as $1.74 each). What's not to love about this purple passion?
(Front view of the invitation)
(Back view of the invitation)
2. Antique Scrolls
Antique Rose Scrolls from Wedding Paper Divas
This card is the ideal combo of feminine grace and formality, with the pop of yellow florals blending in beautifully with the gray details. We love how the names and locale are printed in the same butter yellow as the flowers. The price is sweet to match (as low as $1.94 each). The color you see here is "burst," but it also comes in watermelon, purple and autumn orange.
3. Chandelier Iconography
This design is a modern take on the dramatic elegance of a chandelier—a hot motif right now—with its graceful beading and crisp type.
This invitation comes in a myriad of different colors: champagne, stone, espresso, lavender, cobalt, moss, turquoise, sage, and others you just have to check out. The letterpress version comes on 100% cotton rag archival printmaking paper, which costs $6.90 each. The digital version rings in at $4.20.
4. Intricate Embellishments and Borders
Marie Antoinette would have loved this one—the Versailles-style invite is a top choice for brides who want to set a glamorous tone for their wedding. We don't know how Ceci does it, but she includes several different motifs in her paper products without ever looking overdone. And the font? Exquisitely-detailed, as if made with a quill pen.
5. Minimalism
Even subtle designs can make a statement. Case in point: this invitation featuring orchids. The handwriting-style font on the bottom announces, "dinner and dancing to follow." This 5" x 7" letterpress card costs $6.90 each and is made from 100% cotton rag archival printmaking paper. Additional paper options are available for custom orders.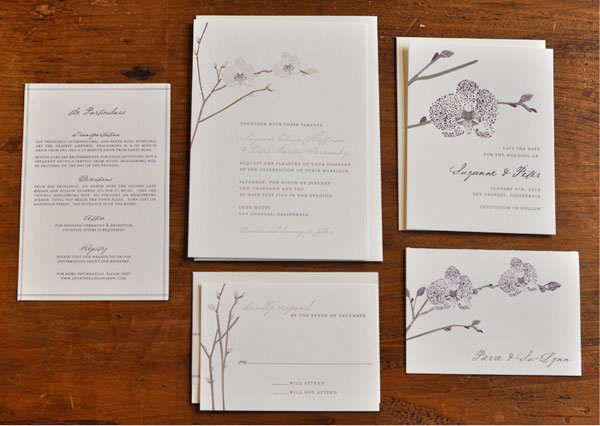 6. Custom Designs
Custom hand-painted from One Handspun Day
One Handspun Day features invitations comprised of original artwork from around the globe—the invitation below was designed by an Australian artist. For the design here, the artist used a variety of techniques, including watercolor, paper cutting and mixed media collage. 
"The other thing to note about all of my products is that they are printables, meaning that they are delivered electronically, so they can either be printed from a home computer or a local print shop," says One Handspun Day owner Christy Schnurle.
"The thing I love about printables is the creative freedom they provide couples, because they aren't restricted to white linen cardstock. They can print on 'green' paper, different textured paper (e.g. watercolor paper), or even non-paper materials such as fabric or wood if they use a professional printer or screenprinting method."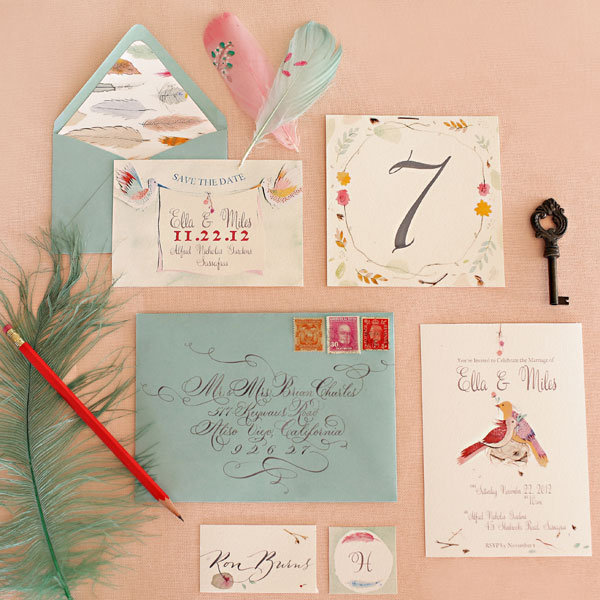 7. 18th Century Opulence 
This wedding invitation showcases baroque patterns and dramatic peacock feathers. Choose from a variety of colors, including champagne, chocolate, lavender, navy, grass, curry, papaya, berry, rose, coral and more. This letterpress 5" x 7" design costs $4.95 per card and is printed on 100% cotton rag archival paper. Custom paper options are also available.
8. Royal Redux 
Still dreaming about The Royal Wedding? The barely-there blush accents and ornate font on this invitation couldn't be more royally-inspired. The oversized font for the bride's and groom's names are the "wow" factor on this understated design, which is exactly how the royals do it.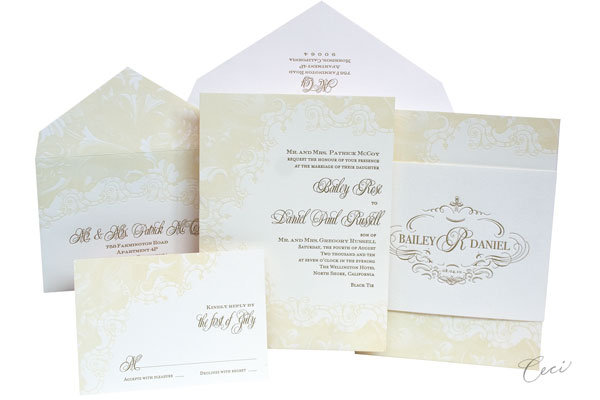 9. Eco-Friendly Designs 
Willowy Wood by Wedding Paper Divas
Eco-friendly weddings and nuptials inspired by natural motifs aren't slowing down. This woodland invitation stands out for its unique impression of texture. Designed by Night Owl Paper Goods, you're looking at the design in almond, but it also comes in bamboo and goldenrod (as low as $1.74 each).
10. Polka Dots
We saved the most playful one for last, since polka dots are one of the hottest motifs this season. Ceci New York's description sums up this product perfectly: "As fun as a glass of Bellini, playful polka dots speak to a whimsical style."
This is a fantastic choice for a less formal wedding, a destination wedding, or a post-destination wedding reception. Wouldn't this also be adorable for a bridal shower invitation?

Sharon Naylor is Bridal Guide's bridesmaid expert and Tip-a-Day columnist, as well as the author of Bridesmaid on a Budget, Your Wedding Your Way, 1001 Ways to Save Money and Still Have a Dazzling Wedding, and over 30 additional wedding books. Visit sharonnaylor.net for more information.