Pinterest always serves up an enviable treasure trove of inspiration for all aspects of your life, especially weddings. They recently released their trend report for 2018, and here are the ideas we were excited to see in weddings.
Décor
Boutique Balloons
Balloons add a whimsical touch to your wedding, and this year, we're expecting to see more "filled balloons" — with glitter, confetti, and even foliage next year.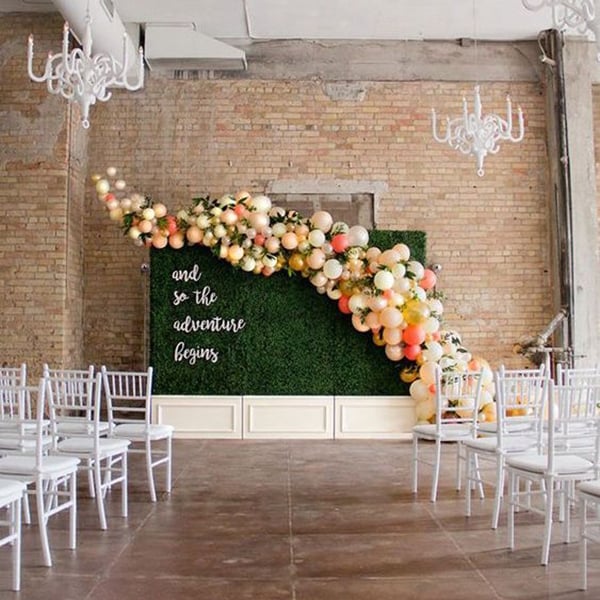 Photo Credit: Girl Friday Creative

Photo Credit: Peaches & Mint
Season-Mixing Mashups
Your desired wedding date doesn't match up with your favorite season? That's okay, according to Pinterest — one of the hottest décor trends for 2018 was to transform seasonal items for year-round use (think pink-painted pumpkins for spring, summer wreaths, and Christmas in July parties).

Photo Credit: Katie Nesbitt Photography
Mixed Metals
Using metallics is a growing trend for home décor that crosses over to weddings as well. In the past, couples would choose to accent with just one shade, but now, mixing silver, gold, copper, and rose gold is hotter than ever. 

Photo Credit: Lis Photography / Floral Design: Creative Muse Floral Design and Just Weddings
The Fifth Wall
A statement ceiling really transforms any space, whether it's your reception hall or your own living room. Draw the eyes up with lush flowers, creative lighting, draped fabric, or a statement décor piece.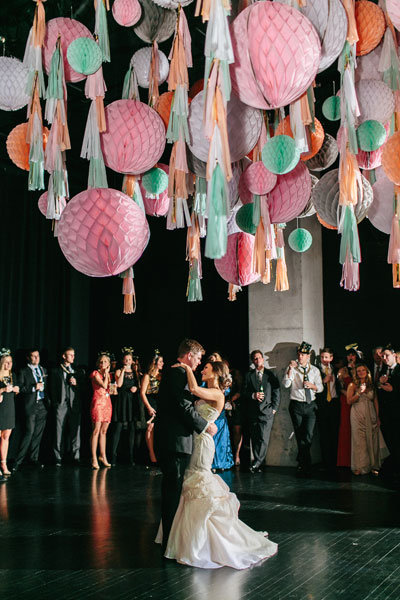 Photo Credit: Jen and Jonah Photographers
Color Choice: Sage
This soft, earthy green is the new neutral. Use it in your florals (succulents are a popular choice) or your bridesmaid dresses.

Photo Credit: Sarah Murray
Reception Ideas
Trivia Night
Trivia night is back — if you love a good game night, try adding a fun game to your reception or bachelorette party.

Photo Credit: Bryan Caporicci Photography
Modern Guest Books 
We've long been fans of the non-traditional guest book, and this trend really grew in 2018.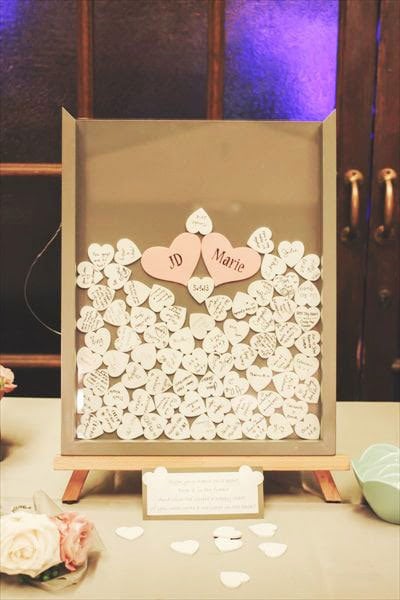 Photo Credit: Happily Ever After 
Food & Drinks
DIY Food Stations
Make your menu more interactive with do-it-yourself options, like a make-your-own taco bar or a hot cocoa station with plenty of fixings. 

Photo Credit: Pen & Paper Flowers
Mocktails
Whether you're trying to keep your wedding kid-friendly, or you just want some fun drinks that don't rely on booze, searches for virgin cocktails are up big time. 

Photo Credit: Leigh Skaggs Photography
Turn Up the Spice
Moroccan cuisine is having a moment right now. Turn up the heat with North African spices including cumin, coriander, and cardamom. 
Plus: Check out Bridal Guide's full trend report for 2018 ►
Tell us: Which of these trends will you be incorporating in your wedding?
—Kristen Klein