Very Engaging successfully reached its funding goal on Kickstarter earlier this Summer. Here, we get a peek at this relationship guidebook that's taking social media by storm and talk to the authors, Charly and Les.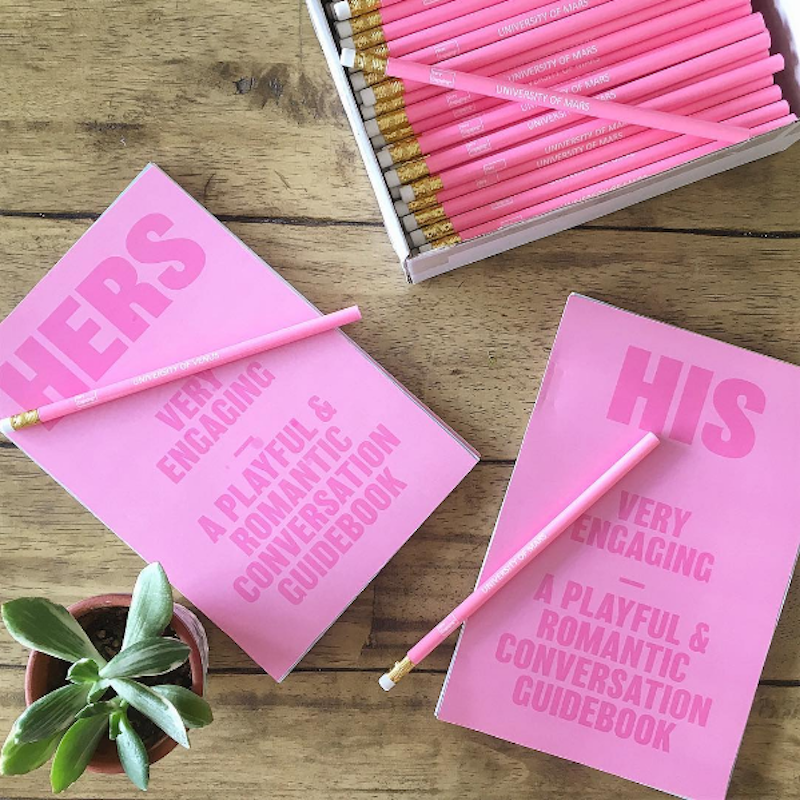 BG: What's included in the guidebook?
C + L: Very Engaging includes two complementary conversation guidebooks: titled HIS and HERS (of course, HIS + HIS and HERS + HERS book sets are also available). Both books are structured into 12 chapters, covering critical topics such as money, family, living together, and sex. The books are filled with fun, interactive conversation prompts, including drawing activities, fill-in-the-blanks, and guessing games. Each page's purpose is to create a constructive, enjoyable and thoughtful discussion between you and your partner.
BG: Who is it perfect for?
C+ L: This book is for all couples! Couples that would enjoy it most are those who are seriously dating (perhaps thinking about marriage), engaged couples (who would like to take a break from wedding planning or want something more entertaining to supplement any pre-marital counseling), and recently married couples (who are now focused on building the foundations of a loving, long-lasting marriage). It makes for a great date night — an excuse to put away the phones, turn off the TV, and connect with each other. We have had couples in all stages of relationships (dating for two years to married for five years) test the books and provide their insight and feedback. It also makes for a great engagement, wedding, or anniversary gift. While a cupcake holder or candlestick set is nice (we do love cupcakes...), Very Engaging is far more meaningful. We've succeeded in creating a communication game that asks partners to be open and honest with each other — in an entertaining (and non-threatening) environment. It helps improve communication and strengthen the foundation of any relationship — We've yet to see a picture frame that can do the same!
BG: What encouraged you to create it?
C + L: We are super passionate about helping others live happy and fulfilling lives in fun and creative ways. Very Engaging is our first real solution to the many issues we think are worth solving. As former co-workers, we spent many-a-lunch together, discussing the typical office politics, pop-culture (Les, being a closet Taylor Swift fan and Charly's unhealthy love for Justin Bieber), and the past weekend's shenanigans. When we both found ourselves newly engaged, the conversations turned a bit more serious, as we shared our experiences in pre-marital counseling and truly getting to know our partners. After going through the engagement process, we wanted to find an entertaining, alternative way for us, and other couples, to initiate these meaningful conversations on our own. So, after reflecting on our relationships with our wives, we started creating conversation prompts to help navigate some of life's most significant (and…not so significant) discussions.
There are lot of great products out there for couples to connect with each other, but there's a big missing piece in the middle — on one side of the spectrum you have pre-marital counseling, which is highly structured and more serious in tone — the workbooks that accompany those sessions are a bit dry, with black and white pages, a lot of writing and lack of a friendly voice — it's all very helpful but it just feels like work. Then on the other side of the spectrum, you have party games and card games, for example, Cards Against Humanity or a couple's journal. While certainly more fun, the only thing you really accomplish is having a great laugh or maybe answering a trivia question together. While laughing is important, these games do not really get to the heart of any meaningful conversations.
We saw an opportunity to combine the benefits of pre-marital counseling with the playful design and humorous tone of many of those games. Together, we have been working on writing Very Engaging since early 2016. While the inception of Very Engaging derives from our own personal relationship experiences, the content of the books has been developed and honed after many long conversations with marriage and family therapists and interviews with dozens of dating, engaged, and recently married couples from around the country.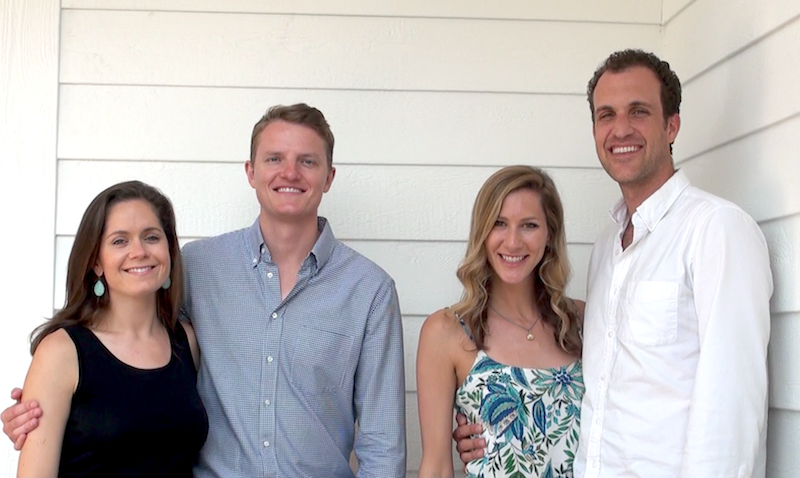 BG: Has it helped in your own marriages?
C + L: Yes, in fact, our wives helped test over 600 conversation activities when developing the book set — they were very patient with us, providing great insight and feedback on how to tweak the wording or which conversation prompts we should keep or get rid of. I think after playing through the book so many times with our wives, we now naturally reference it in the middle of conversations — many of the professional tips that we gathered from marriage therapists have really come in handy, such as avoiding phrases like "you always" and "you never" when describing each other's actions.
BG: Any advice for couples currently planning their wedding?
C + L: Remember, a wedding lasts a day, a marriage lasts forever. You've put so much effort into the big day, be sure to put at least the same amount of effort into planning for the rest your lives together. The good news is, many of the lessons from planning a wedding can be applied to marriage — be proactive, plan ahead, discuss your priorities upfront, be willing to make compromises and most importantly, listen to each other for the sake of understanding what's being said, not for the sake of responding.
BG: Anything else BG Brides should know?
C + L: These days, it seems like many people have lost the ability to articulate their perspectives and feelings in a calm and constructive manner. There is a need for more people to have empathy for one another. Very Engaging is timely in that way. This book is really the first step that a lot of people can take, not only in improving communication with their partners, but in communicating with those around them. This book creates a much-needed space in our lives to practice or develop your thoughts about future goals, your values, or other various aspects of your life with your loved one. Many of us do not have a definitive idea of what we want in a relationship until we start talking with our partner. Listening and learning to more effectively communicate with those around us, helps develop our ability to empathize with others, build consensus, and ultimately bring us all closer together.
Want to try it out for yourself? Order your set here for your next date night!