Keep your wedding rings and jewelry sparkling for a lifetime with these expert tips from Jewelers Mutual® Insurance Company!
Cleaning and Care Tips for your Engagement Ring, Wedding Bands and other Wedding Jewelry
Your wedding jewelry is made to be enjoyed, and a little extra care will help extend the enjoyment for a lifetime — perhaps for several lifetimes, if you pass it down to future generations. Use these care tips to extend the shine and sparkle, and keep your stones safely in their settings.
1. Get checkups. At least once a year, take your engagement ring and wedding bands to a jeweler for inspection and cleaning. They'll check for loose settings, worn prongs and other potential problems. Ask for tips on how to clean your jewelry at home between visits.

Photo Credit: Jewelers Mutual Insurance Company
2. Clean regularly. Clean your wedding jewelry at home to avoid dirt buildup that can increase wear, but use precaution. It is always best to use warm water and a baby soft tooth brush. Stay away from sinks and drains.

Photo Credit: RM Digital Photography 
3. Don't wait. If you see a loose stone or a prong that is worn or catches on fabric, it could lead to a lost stone. Take the piece to your jeweler and have it checked immediately. Jewelers Mutual's policy features coverage for additional preventive repairs, ensuring confidence that your jewelery will always be in the best condition.

Photo Credit: Carrie Wildes
4. Store gently. When you're not wearing your rings or other wedding jewelry, place each item in a separate soft compartment or container. Storing jewelry cluttered together can cause scratches. Never hang necklaces as that can cause them to stretch. Be careful when using ring holders or jewelry dishes as these tend to stack rings on top of each other, which can cause damage.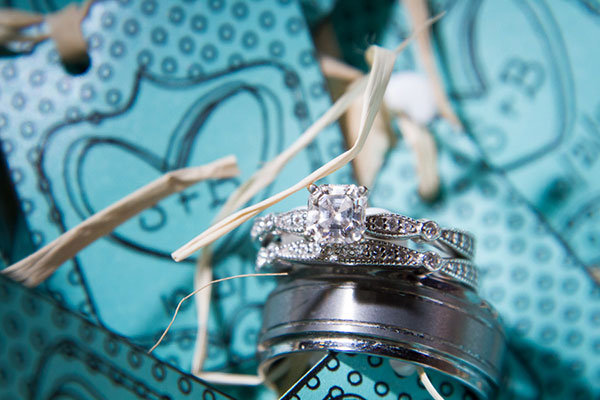 Photo Credit: Housley Photography
5. Go easy. Diamonds are among the hardest materials on earth, but they can chip if struck at the right angle. Don't risk a damaged engagement ring. For any potentially high-impact activity, store your ring safely on the sidelines.
6. Insure it. Be sure to get insurance coverage that's right for you, so if you do experience theft, loss or damage, you're covered. Jewelers Mutual has been protecting jewelry since 1913. It's all they do. Their comprehensive coverage against loss, theft, damage, and mysterious disappearance protects from all of life's hiccups. Because they strive to replace your lost or damaged piece with the same kind and quality — you can rest assured knowing you have the extra security set up for your sparkler, name-brand or otherwise.
Your peace of mind is worth it. Learn more about Jewelers Mutual and get your free quote today.
---
Sponsored By