Yes, you read that right. Check out the creativity of these ladies who just won Cheap Chic Weddings' 7th Annual Toilet Paper Wedding Dress Contest.
In this contest, brides-to-be were challenged to create dresses made entirely from toilet paper (plus glue, tape, and/or needle and thread). The winner receives $1000, with $500 and $250 going to the runners-up. 
OK, they're no friend to the environment, but you have to admire the cleverness here. Check out the designs the winners came up with: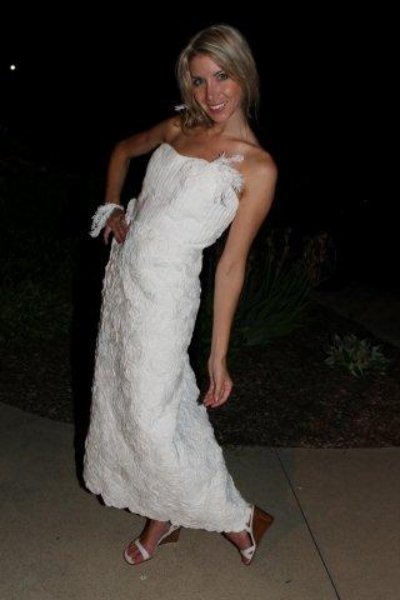 Susan Brennan, of Orchard Lake, MI, made this sleek dress from 4 rolls of toilet paper, hot glue, and packing tape. Judges loved the details—she made feathers and flowers as well, plus the bodice is pleated.
In second place, winning $500, is Laura Lee from Milpitas, CA. This dress used 5 rolls of toilet paper, duct tape, first aid tape, and spray adhesive. Love the ruffles on the skirt!
And Cynthia Richards from Marietta, GA took thid place (and $250) for her gorgeous designer-inspired dress. She used 20(!) rolls of toilet paper, duct tape, and glue, and enlisted the help of her 8-year-old daughter.
What do you think of these dresses?
—Kristen O'Gorman Klein