Whether you prefer the Disney classic or one of the modern retellings (like Mirror Mirror or Snow White and the Huntsman), this fairy tale is filled with wedding inspiration. Here, check out some of our favorite ideas.

Photo Credit: Alex M. Photography; Venue: Castle on the Lake
The Invitations
Mirror, mirror on the wall, whose the fairest couple of all? This elegant invitation by LA Lovely Ink was inspired by the evil queen's magic mirror, making it a perfect invitation for a fairytale wedding.
The Flowers
Carry a unique apple bouquet as you walk down the aisle to "Some Day my Prince Will Come." 

Photo Credit: April and Karen Yu (left); Mary Banducci Photography/via Apple Brides (right)
The Flower Girl
What's more adorable than a mini Snow White as the flower girl? Your guests won't be able to resist oohing and ahhing at this cuteness. Outfit by Blissy Couture Tutus.
For a different style, we draw inspiration from the fun and elaborate costumes in the fairytale spin-off, Mirror Mirror. Here, the evil Queen shows off an elaborate wedding gown made with angular flower petals covering the dress. This Pnina Tornai gown, with its couture blossom sleeves and full floral-inspired skirt, would measure up to the Queen's expectations.

Photo Credit: Relativity Media (left); courtesy of Pnina Tornai (right)
Lily Collins as Snow White in Mirror Mirror takes on a dwarf while styling a full-skirted ballgown dress, fit for a princess. This Pnina Tornai ballgown shows brides how to rock a full skirt like Snow White, complete with bling.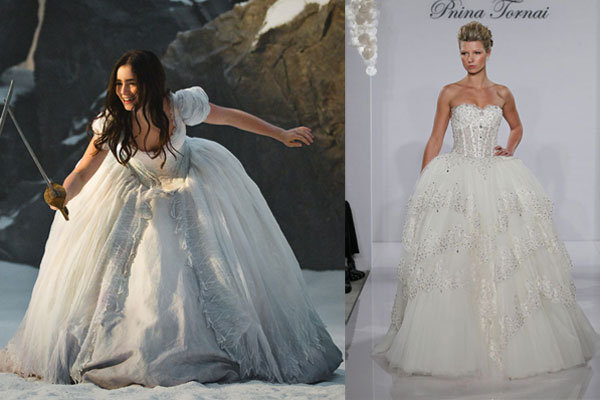 Photo Credit: Relativity Media (left); courtesy of Pnina Tornai (right)
The Décor
Apples with leaf name cards make perfect escort cards to lead your guests to the seven tables, each named after one of the dwarves.

Photo Credit: Phenom Photographers/via The Wedding Chicks
Bring your fantasy to life with elaborate woodland centerpieces, or keep it simple with apple bouquet centerpieces.

Photo Credit: Sugar and Spice Events (left); Country Cabin with Cindy (right)
The Guestbook
For a unique and memorable guestbook, have guests write thier wishes for you on an elaborate mirror.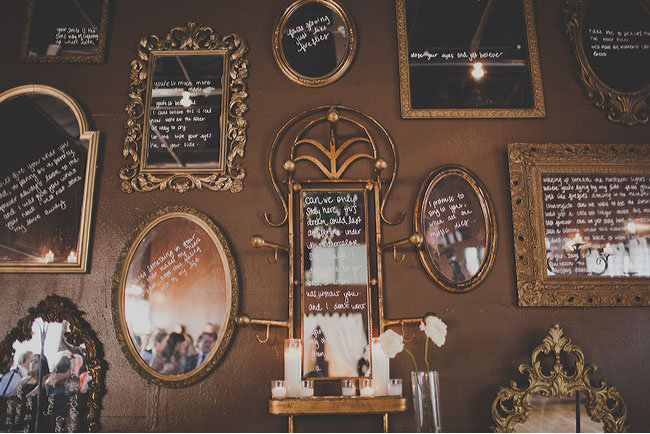 Photo Credit: Studio Castillero
The Desserts
For a traditional wedding cake, add some Snow White influence with an apply tree motif.  

Photo Credit: Planet Cake Wedding Cakes
Or, go with something different and serve a selection of pies, like Snow White made for the dwarves in the Disney classic.

Photo Credit: Simply Bloom Photography
Tell us: Would you consider a Snow White Wedding as your theme?
—Christina Hedges