Once Upon a Time co-stars Ginnifer Goodwin and Josh Dallas tied the knot on April 12 in a hush-hush ceremony in Venice, California with only 25 guests and nary a paparazzi pic to be found. Now the new Mrs. is finally opening up about her wedding to Prince Charming!
During an appearance on Jimmy Kimmel Live! last night, the actress declared that "it was the most stress-free, relaxing, beautiful day," despite an unexpected mishap — their wedding planner's car had been robbed.
Watch the interview here!
"'What could be in the car that actually would matter?' And she's saying, 'I've been on the phone with people in Israel,' and I'm like, 'Okay, the rabbi was not kidnapped.' And she says, 'I've sent people to art supply stores.' I'm like, 'Well, if my dress was stolen, I can just bring a sheet or something. I will be fine,'" Goodwin recalls.
The missing item in question turned out to be their ketubah (a religious contract used in Jewish ceremonies). In a turn of events that reads like something out of a rom-com film, two Jews were walking down the street in Hollywood and picked the paper up. They happened to be fluent in Hebrew and understood the importance of getting the document back to the rightful owners ASAP.
"They Googled who represents Ginnifer Goodwin, found my reps at home on a Saturday, and got us back our wedding ketubah," Goodwin says. 
Thankfully, they were able to go through the wedding as planned, with Goodwin walking barefoot down the aisle in a stunning gown designed by close pal Monique Lhuillier and the couple's parents in attendance. They are eagerly awaiting the birth of their first child.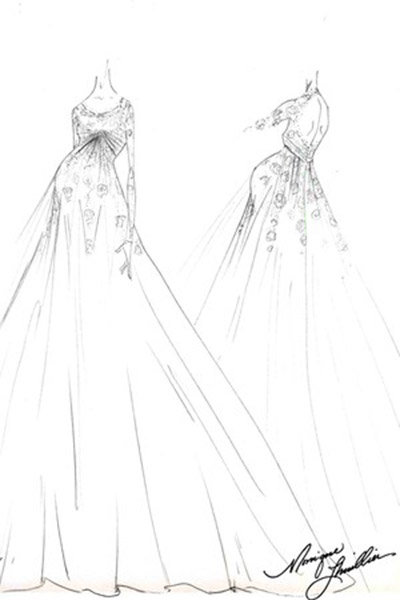 Ginnifer Goodwin's wedding sketch courtesy of designer
Tell us: Do you have any crazy disaster stories from your wedding day?
—Stefania Sainato