Groom Jordan Strauss and his bride, Andrea, made an unforgettable entrance to their wedding! At the start of the ceremony, Jordan — a guitar teacher  — pulled out an electric guitar and began playing Pachelbel's "Canon in D" with one of his groomsmen.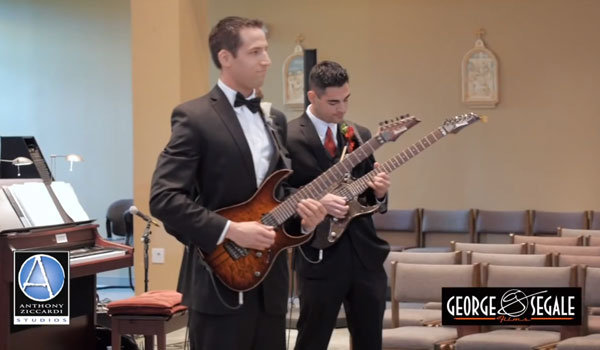 When Andrea made her grand entrance, she was also carrying a guitar and joined in!
Jordan taught Andrea how to play guitar just for the big day, intentionally keeping her part simple. "I wanted to make sure that she could focus on walking and being in the moment and not have to play something super complicated," he told the New York Daily News. "She was an easy student to teach. She's a natural. I told her that from day one," he added.
We love the expression on the groom's face as he plays to his bride! And this is such a sweet way to share in the groom's passion together during the wedding. Watch the full video here:
—Kristen O'Gorman Klein