—SPONSORED POST— 
When it comes to your dream wedding venue, there's a certain "wow" factor you can only find in New York City. The iconic landmarks and always-on city lights create a beautiful backdrop for your celebration - and any couple will tell you that when it's all said and done, the photos are some of the only tangible items left of your big day. New York Harbor is a favorite wedding location among locals and visitors alike. It's more out-of-the-box than your typical banquet hall, is accessible for guests, and provides the dramatic views that the city is known for.
One great way for you and your guests to experience the sites of New York? Charter a private yacht for the day - companies such as Elite Private Yachts provide luxurious venues for weddings and special events, where you won't sacrifice dramatic scenes of the "City That Never Sleeps" for an intimate setting. Here, we've rounded up stories from real couples who loved hosting their weddings on the water:
Down Under the Brooklyn Bridge
Sheryl and John exchanged vows almost two years ago, but this moment captured under the Brooklyn Bridge is probably never far from view. With Elite Private Yacht charters launching from both Chelsea Piers in New York and Lincoln Harbor Marina in Weehawken, NJ, you can have your pick of show-stopping vistas for your special day.
Romantic River Views
"We decided to have a sunset ceremony docked at Lincoln Harbor so we could use midtown Manhattan as our backdrop," noted Catherine and Cliff. "We could not have imagined a more perfect day— the weather was amazing; the sky was shades of pink and purple and the boat was set up exactly how we had dreamed!"
Bright Lights, Big City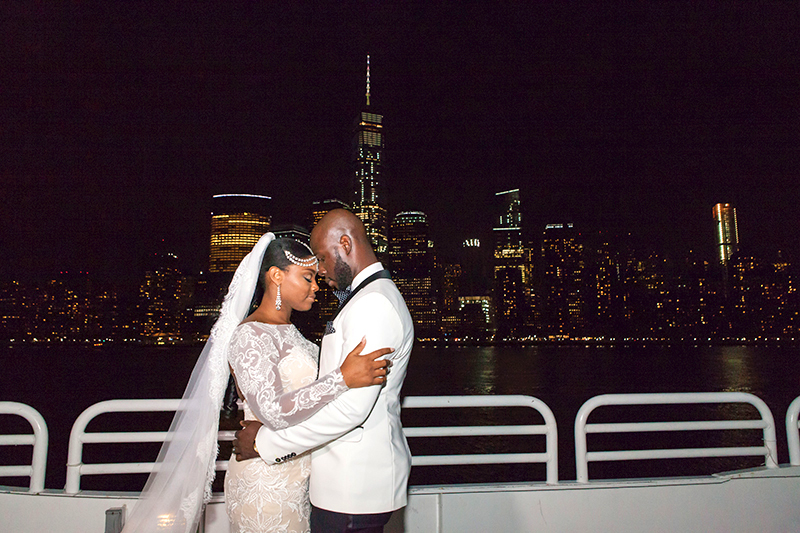 The photo ops don't stop just because the sun goes down! Tiffany and Nana captured special moments throughout the night as they cruised with their guests alongside the city's famous skyline.

Meaningful Moments
One fabulous feature of having your wedding on the water is getting a wide range of backdrops to choose from. Just imagine how powerful your "I do" moment becomes with an iconic landmark in view. As Jamie and Marshall reflected on their day, stories of past generations came to mind: "Having our wedding ceremony beneath the Statue of Liberty had so much meaning for us. It's been such a journey to get to this point, and going past Ellis Island where many of our relatives entered this country made it so magical for everyone on board."

We ♥ New York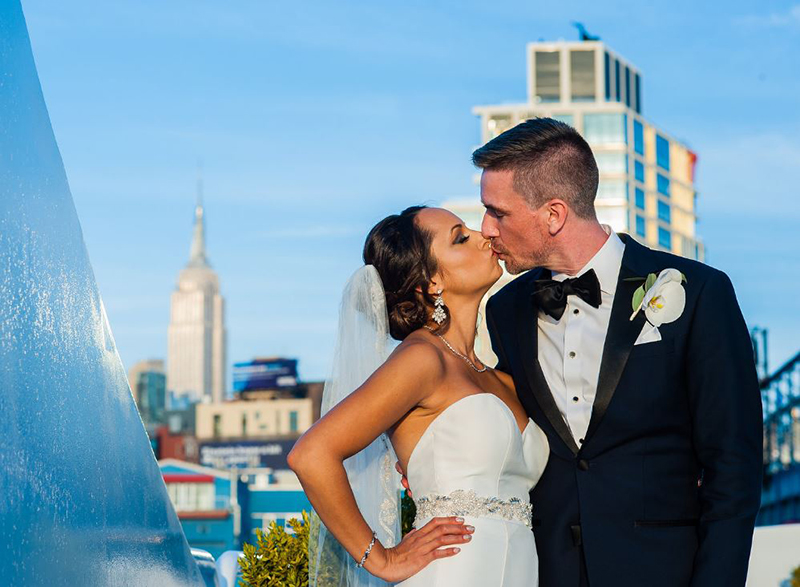 If you're as in love with the New York skyline as you are with your person, chartering a private yacht for your wedding day can make your vision a reality— and couples from all walks of life might be surprised to know this experience is totally within reach.  
Elite Private Yachts brings unique wedding ceremonies and receptions to life, year-round. You can request an event proposal here (be sure to mention Bridal Guide!) and start planning your own wedding on the water today.

By Sam McFadden