Tiffany and Chris McCasland tied the knot at Fort Lauderdale Marriott Pompano Beach Resort & Spa on New Year's Day, 2016. Their wedding theme was out-of-the-box — a déjà vu soiree that paid homage to Tiffany's parents wedding 36 years prior!
Not only did they get married in the same venue (previously known as the King Neptune Hotel), but they wed on the same day and even did their first look on the same balcony that her parents were married on. The bride recreated her mom's bouquet and placed it on a memory table, and she also wore baby's breath in her hair.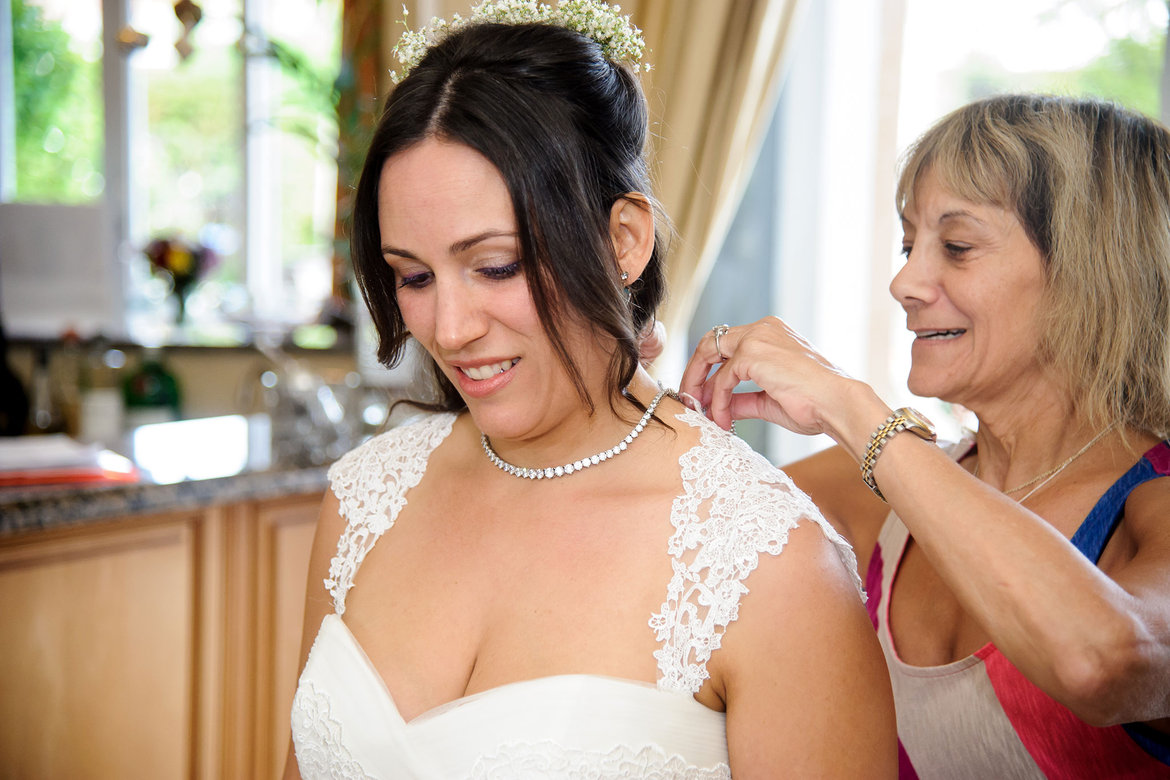 The couple's photographer, Michael Wright Photography, recreated a few signature shots from the vintage nuptials.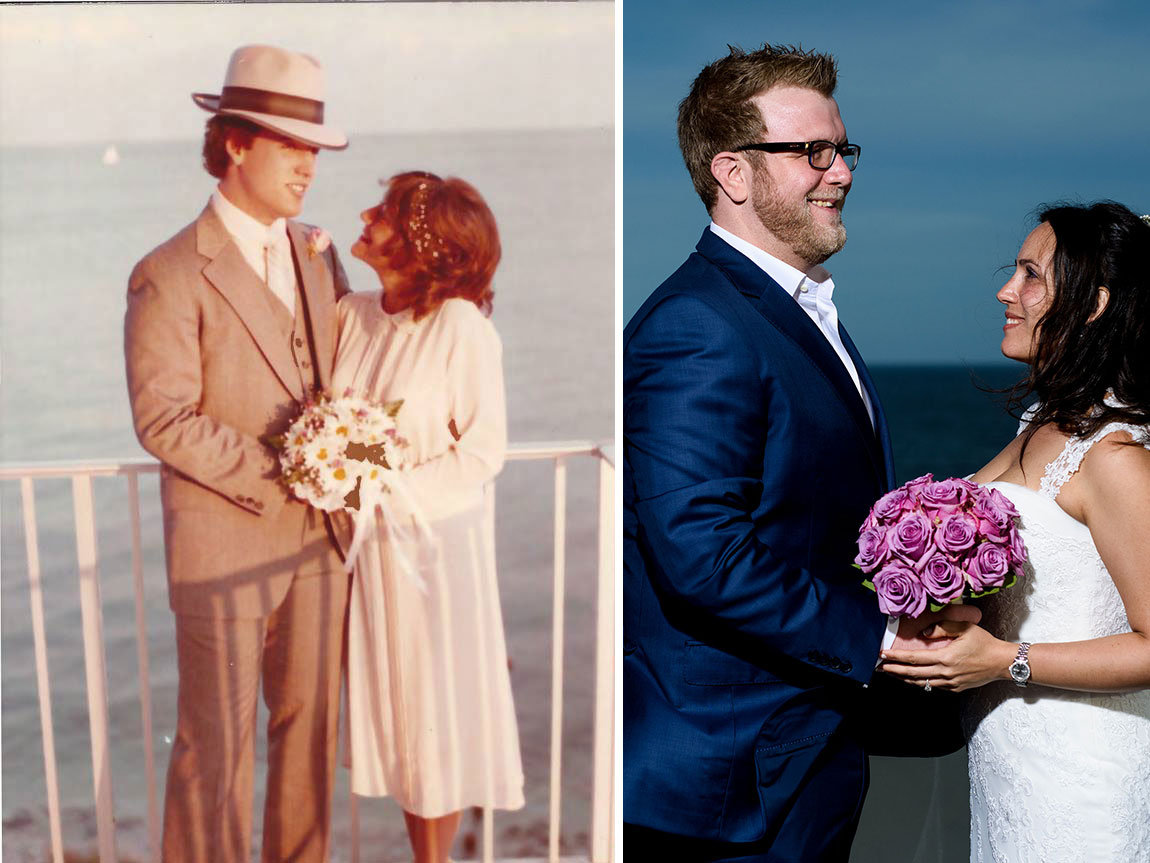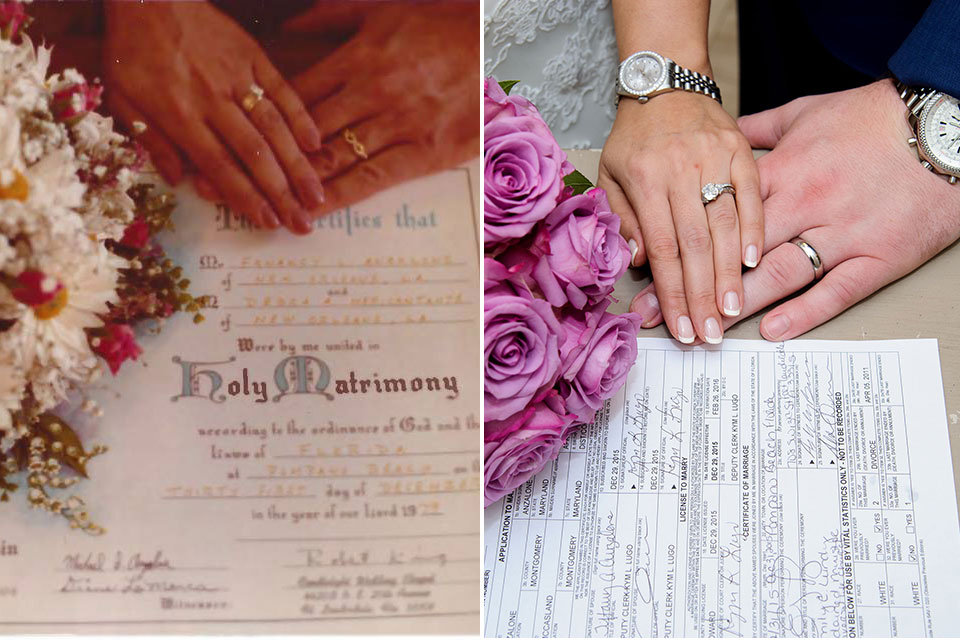 The couple decided to get married in Florida (where Tiffany's family lives) so that her sick relatives would be able to attend. They inquired about availability at the Marriott and realized the wedding date they originally wanted was taken, which turned out to be a blessing in disguise because it inspired them to follow in the bride's parents' footsteps. "We wanted to recreate the love that was present the day my parents got married. We focused on planning the ceremony and throwing a fun party to celebrate. It truly was the best day ever," the bride says.
The newlyweds also included both sets of families by having their moms and dads walk them down the aisle and stand beside them during their vows. The officiant read marriage advice that both of their parents and grandparents gave them. They told them to be best friends, never go to bed angry, always make time for romance, and continue to share similar interests. They wrote their entire ceremony with the help of their officiant, Emily Lundy (a friend of the family), and Tiffany's uncle, a Catholic priest, blessed their rings.
"My parent's marriage has served as a true example of love and commitment," Tiffany says. They've remained strong in the adversity they faced, including over 25 years of military service (Tiffany's father is a retired Navy captain and flight surgeon), and their daughter, Tracy, suffered an anoxic brain injury while on vacation in 2003. "Their romance remains alive to this day; I still give them a hard time when I catch them making out!" the bride adds. Her parents didn't know that the couple would incorporate so many of their little details into their own special day: "They were incredibly touched by our recreation of their wedding elopement and felt truly honored to take part in the ceremony."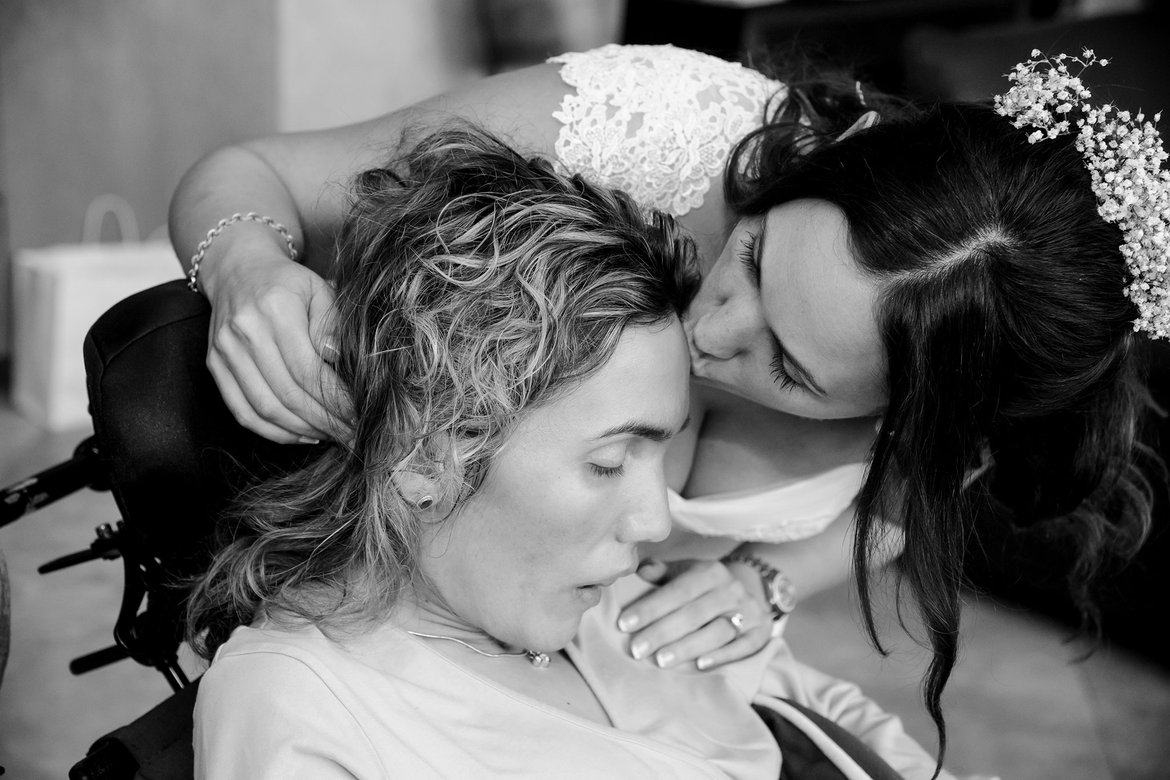 Chris and Tiffany had 70 friends and family members surround them on their special day. They had an intimate outdoor reception that included a DJ, buffet, and dancing.
The couple met three years ago while watching a college basketball game at Bracket Room, a sports lounge in Arlington, Virginia. They immediately hit it off. Tiffany was wearing an LSU Tiger T-shirt that day (she's a huge fan), and Chris would refer to her as "LSU girl" for months to come. Chris popped the question during a trip to Europe to celebrate his 30th birthday. On their first day in London, they walked the city and ended up in front of the famous Tower Bridge at sunset. While Tiffany was busy taking selfies, Chris called over a young woman from Portugal and asked her to hold their GoPro camera. It was at this moment that he got down on one knee and asked Tiffany to spend the rest of her life with him.
Upon returning from their Florida wedding, Chris and Tiffany donned their wedding gear one more time and took photos at Bracket Room, Green Pig Bistro and other places around Washington, DC where they fell in love, including the Washington Nationals Ballpark.
In a serendipitous turn of events, they found out they were expecting their first child before their big day; Tiffany's mom was pregnant with her at her 1979 wedding! Their son's due date is June 4th. Congratulations to the happy couple!
Vendors:
Photographer: Michael Wright Photography 
Cake: Dona Doce Cakes
Flowers and Décor: Panache Style
DJ: Let's Party! DJs and Event Services
Plus, check out 100 Sentimental Wedding Ideas.
— Stefania Sainato