Whether you're looking for fuller, longer, or just plain shinier strands, we have the solution for you.
By: Rachel Jacoby
Every bride wants to have beautiful hair on their wedding day--and every day after, too! We checked in with the gurus behind Lock & Mane--Creative Director Jackie Cascarano and Medical Consultant Dr. Michael Lorin Reed--for their expert advice, suggestions and tips for a magnificient mane.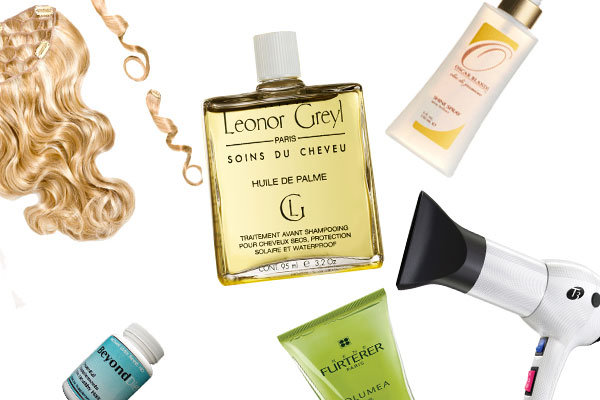 If you want fuller-Looking hair...
Good news--this is a relatively quick fix! Dr. Reed recommends using a volumizing shampoo and conditioner, followed by a body-building mousse.  "Look for very lightweight conditioners or detangling sprays to avoid weighing the hair down. Also, concentrate your shampooing efforts on the scalp to achieve extra body," he advises. For his patients, Dr. Reed always suggests starting with Rene Furterer's Volumea line. "When blowdrying, choose a dryer with ion technology that utilizes tourmaline crystals to lift and separate the hairs," he adds. Cascarano recommends the T3 Featherweight Blowdryer.
If you want Shinier-Looking Hair...
"We have so many brides coming to us to ensure that their hair looks perfect for their big day, and for super-shiny locks we always suggest deep conditioning," says Cascarano. The culprit behind lackluster locks? Usually just dryness. "The easiest way to to add shine and make the hair look healthy is simply to moisturize--a.k.a. deep condition--twice a week in the 6 weeks prior to the wedding," she adds. Cascarano is a big fan of  Leonor Greyl's Huile de Palm, which is a favorite of celebs like Penelope Cruz and Madonna. But make sure to watch out for product buildup! Dr. Reed suggests "washing your hair at least three times a week to remove excess oil and other debris." Try a clarifying shampoo once a week to ensure a clean base. After styling your mane, Dr. Reed advises the use of a leave-in product that contains micronized dimethicone (such as Oscar Blandi Jasmine Shine Spray) that lightly coats the hair shaft to reflect light waves.
If you want healthier Hair...
Most importantly, discontinue any mechanical and chemical processing--or keep it to minimum--if you want to prevent any further damage, advises Dr. Reed. Snip off any split ends to ensure future growth won't break down the line. "Try the supplement Biotin 5000, which can help reduce breakage but (unfortunately) cannot mend split ends and fractured hair shafts." A quick fix? Use an at-home shine rinse for instant gleam.
If you want longer hair...
Brides, be advised that hair "grows about half an inch every month," says Dr. Reed, so growing a a longer, stronger mane naturally will take a considerable amount of time depending on your desired length. But Dr. Reed is quick to note that there are ways to enhance the growth process, such as eating a diet high in protein and low in simple carbohydrates (which will help your waistline, too!). "You can also take supplements to aid in growth," adds Dr. Reed. Although Dr. Reed has created a multi-vitamin specificaly formulated for hair growth, Beyond Diet, he offers that you can "take any multi-vitamn with extra zinc (ideally 50 mg), as well as Super B-Complex and biotin (5000 mcg)." Cascarano offers a quicker solution: "While you may not be able to grow a new mane in six weeks, you can certainly fake it with hair extensions! The latest luxury extensions can easily be clipped in at home, without costing a fortune as salon versions will." Her favorite brand? Ted Gibson's. "They're luxurious and blend in to your hair beautifully. They also come in an array of different colors to match your natural hue."
And if all else fails...
Check out Lock & Mane's incredible arsenal of bridal hair accessories!