As a wedding guest, one of the most challenging parts is figuring out exactly how much to spend on a wedding gift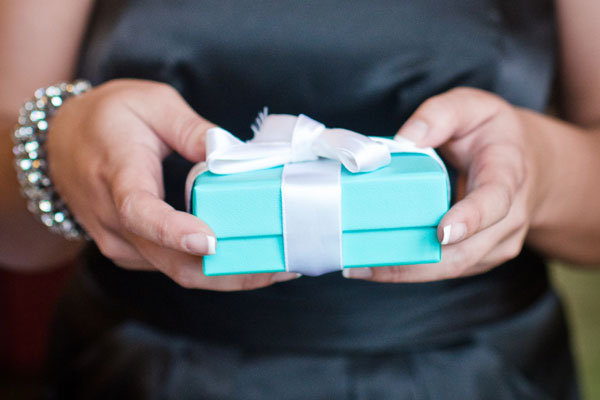 Photo Credit: Rachel Pearlman Photography [1]
As a wedding guest, one of the most challenging parts is figuring out exactly how much to spend on a wedding gift. Do you base it on your relationship to the newlyweds? Does the formality of the wedding matter (the old "cover your plate rule")? Do you have to match what they gave you for your wedding, even if you really can't afford it?
The good news: According to a recent survey by American Express, the average person spends about $100 on a wedding gift — seems pretty manageable, right? It's not quite that easy. Here, we'll break down the most commonly asked questions about gifts.
What should you give?
There's a big difference between gifting $100 worth of kitchen appliances and $100 worth of diet cookbooks. Most couples will have a wedding registry, which makes choosing a gift a lot easier. But what can you do if you waited too long and there's nothing left except for a $5 measuring cup or a $250 stand mixer? Writing a check can feel awkward if you feel like you're not giving enough. Instead, consider an experience that they wouldn't have thought to book for themselves, like a couple's spa treatment on their honeymoon. Or, give something the couple can look forward to enjoying on future wedding anniversaries, like an Anniversary Wine Box trio [2] — the box features three different bottles of wine: One for the one year anniversary, one for the five-year anniversary and one for the 10-year anniversary.
How low can you go?
Just because $100 is the average amount spent on wedding gifts doesn't mean you necessarily have to reach this figure. If you're a student, paying off huge debt, unemployed or underemployed, or undergoing any other financial hardship, it's acceptable to spend as little as $50, according to blogger Shannyn of Frugal Beautiful [3].
Consider making up for the low price tag by putting more thought into the gift. For example, you can put together a basket of little things that commemorate your friendship or the couple's relationship. This can include items like a DVD from the first movie they saw together, a pretty seashell from the beach where they got engaged, and a framed photo.
How do you balance the gift with other wedding expenses?
The cost of celebrating with a couple, from their engagement to their wedding day, can get expensive. There's the engagement gift, the bridal shower gift, attire for these special occasions, travel costs, and more. In fact, the average guest spends $539 when all is said and done — and if you're a bridesmaid, you'll spend closer to $600.
Before buying a gift for the first pre-wedding event, think about how much you're comfortable spending overall on gifts. Then, divide that number based on the events — 20 percent for the engagement, 20 percent for the bridal shower, and 60 percent for the wedding gift. Since the average engagement length is 13 to 18 months, according to Wedding Paper Divas, you'll have plenty of time to budget carefully if you plan ahead.
The bottom line: Give what you can afford. You should never go into debt giving a wedding gift — presumably, the person invited you to their wedding because they love you and want you there to celebrate with them, not because they're counting on an expensive gift from you.
—Annie Moore