At-home weddings are romantic, intimate, and always memorable, but they come with their fair share of challenges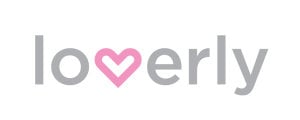 Loverly [1] is the heart of weddings: a visual inspiration search engine designed to help brides discover ideas, people to hire, and things to buy. Loverly makes finding beautiful wedding inspiration easier than ever! Their images are powered by the best wedding publishers and wedding shopping partners on the web. Find Bridal Guide on Loverly >> [2]
At-home weddings [3] are romantic, intimate, and always memorable, but they come with their fair share of challenges. Opening up your home (or the home of a generous friend or family member) means dealing with logistical considerations you wouldn't encounter at a traditional wedding venue (bathrooms, anyone?). Here are some things to keep in mind:
1. Start with the logistics.
First things first: Determine your guest list, and decide whether or not your home or yard is large enough to accommodate everyone on your list. If not, can you cut down the guest list or ask a close friend to play host? Consider whether there is enough parking for all of your guests, whether you'll need to acquire any permits (some cities require "party" or amplified-sound permits), if your homeowner's insurance covers third parties, and if there are any noise restrictions you need to know about.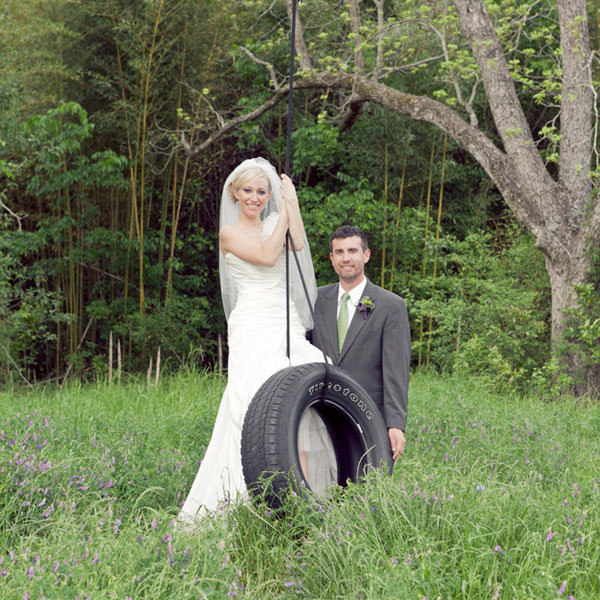 Photo Credit: Paige Winn [4] on Glamour & Grace [5] via Lover.ly [6]
Browse more beautiful backyard wedding inspiration >> [7]
2. Tell your neighbors.
The last thing you need is the neighbor's dog barking during your backyard vows. To avoid this and other related snafus, alert your block buddies of the upcoming nuptials' date and time. They'll appreciate the heads up (and might even offer their driveways for guest parking!).
3. Consider the bathroom situation.
If your wedding is small (30 to 50 people) and your home offers two to three bathrooms, you won't need to rent port-o-potties. But if your guest list is larger or you have just one bathroom in your home, consider alternatives. Luckily, you can rent some pretty fancy bathrooms [8] nowadays. Yucky plastic box, be gone!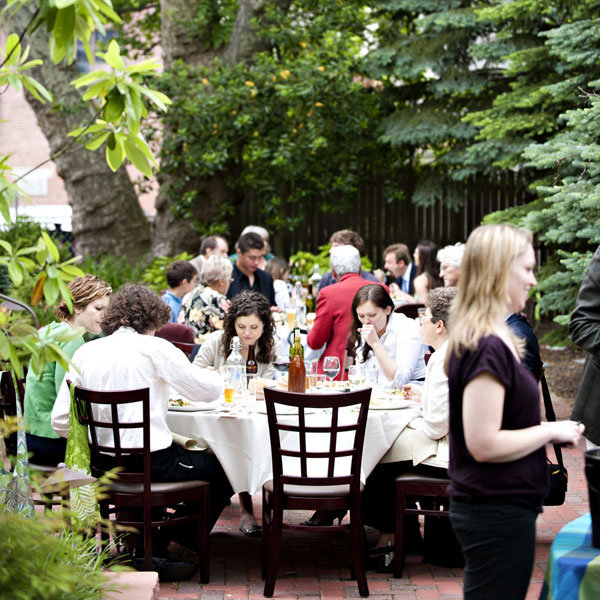 Photo Credit: Robin Nathan Photography [9] via Lover.ly [10]
Delicious dessert bar ideas >> [11]
4. Catering, home cooking, or potluck?
Hiring a caterer takes a lot of pressure off the marrying couple — you won't have to worry about cooking or handling food — but not every catering company can work in a private home. Get price quotes and details from a few caterers to find one who can accommodate. Alternatively, you could order in catered food from your favorite restaurant or ask a friend or family member to assist with the barbecue on-site. If you have wedding guests who like to cook, go the potluck route (where guests contribute dishes) for a low-key and low-cost option.
5. Decide what to rent and what to borrow.
You probably don't have a wedding's worth of dishes, flatware, stemware, tables, or chairs just lying around, which means you'll need to rent some necessities. But beware — the cost of those rentals can add up quickly. If you can borrow platters, serving utensils, vases, glasses, and other items from friends and family members, do it!

Photo Credit: Ed Peers [12] on Snippet and Ink [13] via Lover.ly [14]
Pretty little buntings for your big day >> [15]
6. Make a bad weather back-up plan.
Planning to marry in the backyard? Great! But what if rain or a freak snowstorm hits on your wedding day? You'll need a back-up plan if you're marrying outside — just as you would if you were marrying outdoors at a traditional wedding venue. Make sure you have enough space to host your wedding indoors in case of bad weather, or rent a tent to have on hand if that's not possible.
7. Consider your pets.
If you live with furry friends, consider their comfort on your wedding day. Will your dog get nervous having so many strangers in her home? Will your cat decide that your wedding ceremony is the perfect time to start yowling? You may want to consider boarding your pet for the weekend.
8. Clean up, prep, and decorate.
Tidy up your yard, paint the garage, fill the flowerpots, and string the lights. Clean your home thoroughly (or have it done professionally [16]) to ensure every room is in tip-top shape. If you're DIYing any of your décor, ask friends and family to help six weeks out. Be sure the cleaning is done and the house is decorated at least five days in advance.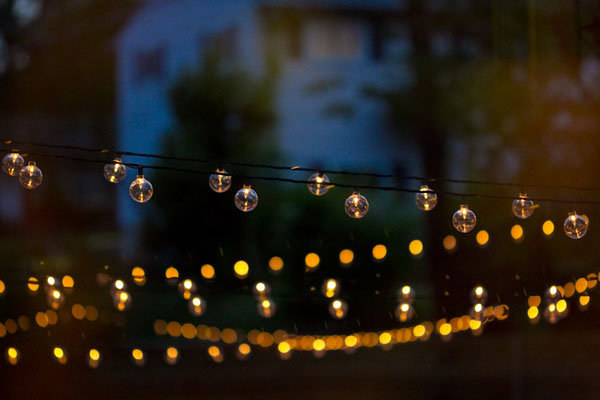 Photo Credit: Alisandra Photography [17] on Every Last Detail [18] via Lover.ly [19]
Farm fresh wedding décor >> [20]
9. Think through your event flow.
It's important to walk through the day's events once or twice before your wedding. You need to consider the timing and the flow of people from room to room, starting once guests arrive (parking, entering the house, seating for ceremony) through the end of the reception. If you're having your ceremony and reception in the backyard, how will you reconfigure the space? Will you need to hire someone to help move tables and chairs while guests are entertained elsewhere? Your guests will appreciate the ease of smooth transitions from ceremony to reception.
10. Don't forget the officiant!
It seems obvious, but you don't want to overlook this detail. Help a friend get ordained, book a justice of the peace, or ask your religious leader to preside over the ceremony.

Photo Credit: Patrick Edmiston [21] on F Dellit Designs [22] via Lover.ly [23]
Our favorite rustic wedding dresses >> [24]
11. Organize a clean-up crew.
There will be cleaning to do right after the wedding and the next morning, but you and your new spouse definitely won't want to do it. Organize a cleanup crew — whether hired or bribed! — to do the essentials immediately after the wedding.
Happy planning!
—Stephanie Hallett