Ballroom weddings can be so beautiful — but how can you make yours stand out among the rest?
Ballroom weddings can be so beautiful — but how can you make yours stand out among the rest? We asked experts in the industry what their brides have done to make their reception truly special. Check out this amazing inspiration and give your ballroom wedding your own personal touch!
1. Unlike outdoor spaces, ballrooms come with a lot of pre-set décor that can't be changed. Pull elements from the walls, trim, ceiling, etc. to create a color palette that complements the room. That way, your reception style flows cohesively with the rest of the space.

Photo Credit: Jen + Ashley Photography [1]
2. Is there a chandelier in the ballroom that doesn't quite go with your ambiance? Have your florist create an arrangement to hang from it! These florals will soften the room and give your guests something amazing to look at.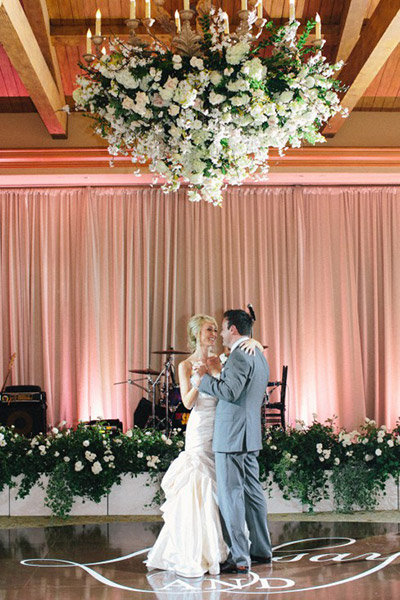 Photo Credit: Cami Jane Photography [2]
3. Ballrooms tend to have high ceilings so you have space for taller centerpieces [3]. Use budget-friendly greenery to add height and candles to add dimension to your tablescapes. You could also alternate between high and low centerpieces, which creates a rich, multifaceted look for your room.

Photo Credit: Elisa Bricker [4]
4. If you want to give your ballroom a more outdoorsy feel, bring in elements from nature. This wedding incorporated an entire tree into the design, but you can also create centerpieces with branches and greens instead of traditional florals.

Event Design by Engaging Affairs [5] / Photo Credit: Robert Isacson [6]
5. To make your uplighting stand out, hang a ceiling treatment for the light to bounce off of, like these crystal drops. This will give the room a whole new dimension and create an awesome effect.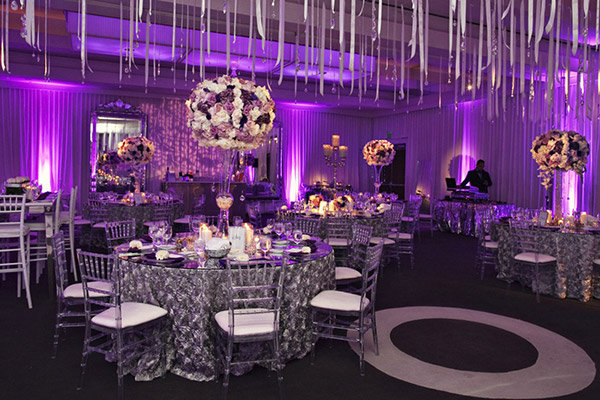 Venue: SLS Beverly Hills [7] / Joy Marie Photography [8]
6. Many times ballroom venues can provide solid linens, but to add character to the ballroom, try bringing in a unique linen like this sequined one. This ballroom has very neutral décor so the gold enhances it perfectly and the sequins add a little glam!

Photo Credit: Swanky Fine Art Weddings [9]
7. Grouping each flower type separately and using smaller vases of varying heights will give your tables the look of an abundant garden. To recreate this design, use garden flowers such as tulips, dahlias, roses, and thistle to break away from the traditional centerpiece!

Event Design by A Day In May Events [10] / Photo Credit: Jen Kroll Photography [11]
8. Family-style tables are very "in" right now. They'll make your guests feel as if they're sitting down to dinner at home to share a great meal! Rounds are more common for ballroom spaces but many venues can provide either so be sure to ask ahead of time.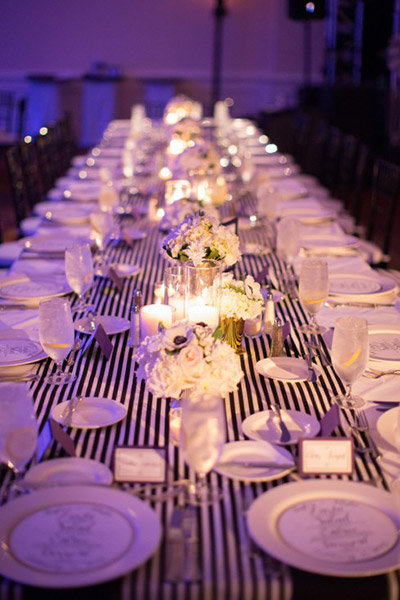 Photo Credit: Taylor Lord Photography [12]