From Kim Kardashian to Jessica Simpson to Lauren Conrad (and more!), these are the gowns we'd love to see our favorite engaged starlets rock down the aisle.
Mobile Slider:
There are so many celeb weddings to look forward to that we can barely keep count (just how long are you going to keep us waiting, Jen and Angelina?).
We can't rub a crystal ball and predict what's in store. So, we did the next best thing and asked top bridal gown designers to sketch their wedding visions for A-list brides. Check out the spot-on styles they came up with — which dress would you most like to wear for your own nuptials?
1. Kim Kardashian
Yumi Katsura [1] sketched a lavish three-part dress for the soon-to-be Mrs. West. A body-conscious silhouette flaunts the 33-year-old's famous Kardashian curves, while the geometric seams and jeweled bolero fit her new style M.O. — North's mama has been stepping out in more fashion-forward styles as of late (when she's not strapped to a motorcycle in "Bound 2," that is).
"There's no way Kim Kardashian [2] shouldn't be on the cover of Vogue. She's like the most intriguing woman right now. She's got Barbara Walters calling her like everyday," Kanye West said during an interview with Ryan Seacrest.
We think that the outspoken groom would appreciate this ostrich skirt...
...which can be removed to reveal a shorter hemline later on in the evening during dancing. After all, a live musical performance is a must (we nominate Beyoncé to belt out their first dance song!).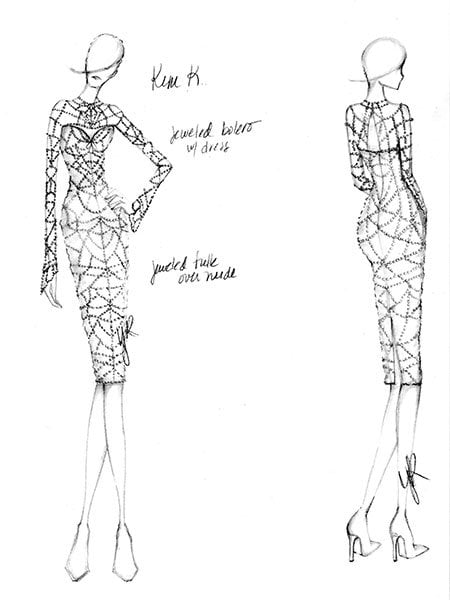 P.S. Check out this hilarious Barbie doll depiction of Kimye's wedding! [3]
Next: Jennifer Aniston's wedding dress sketch ► [4]
2. Jennifer Aniston:
"For my wedding, I wouldn't do an updo, but I think a veil is always pretty," Jennifer Aniston [5] told Marie Claire. "I like loose and natural hair because it goes against the formality of the dress. Loose, like 'I just got out of bed, maybe had a romp' hair."
OK, so she's got the hairstyle down pat, but what kind of dress will America's Sweetheart wear when she ties the knot with Justin Theroux, her actor/screenwriter fiancé? The 44-year-old actress can pull off a ballgown like no one's business (who could forget the red Valentino ballgown [6] from this year's Oscars?), but Steven Birnbaum [7] envisions her in a sleek, long-sleeved sheath on the big day.
A plunging (yet tasteful) neckline and buttons that run down the entire length of the back add sultry appeal. Don't expect any frou-frou embellishments from this less-is-more style icon.
P.S. Watch Jen get choked up about her engagement! [8]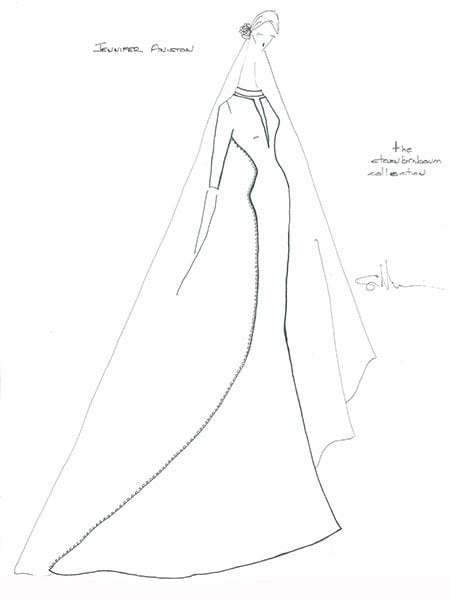 Next: Angelina Jolie's wedding dress sketch ► [9]
3. Angelina Jolie
Angelina Jolie [10] and Brad Pitt announced their engagement back in April of 2012 — could 2014 finally be the year that the parents of six decide to become husband and wife? We vote yes.
When Brangelina does get married, we think the 38-year-old philanthropic bride would feel right at home in this Eden Bridals [11] gown, featuring an asymmetrical neckline and chapel-length train. The architectural bodice is beautiful yet fierce, just like her.
Jolie's style has evolved considerably throughout the years: At her wedding to actor Jonny Lee Miller in 1996, she wore rubber pants and a T-shirt with her groom's name written in blood, which she had drawn herself. Yikes!
Next: Scarlett Johansson's wedding dress sketch ► [12]
4. Scarlett Johansson:
Scarlett Johansson [13] got engaged to French journalist Romain Dauriac with a spellbinding Art Deco-inspired ring, and we think her wedding gown will be just as unique. Her fiancé currently lives along the River Seine in the St. Germain de Pres district of Paris, and ScarJo has reportedly been spotted looking at churches in the area.
Steven Birnbaum [7]'s vision is perfectly in line with a glamorous Parisian affair: A grand halter ballgown completely embroidered with dramatic floral appliqués. The confident 29-year-old starlet can pull off the bold look, and we think there's a chance that she'll incorporate a pop of color in her ensemble as well.
Johansson's previous wedding to Ryan Reynolds took place in 2008 in a remote part of Canada, so we predict she'll take a different approach to wedding planning this time. According to CNN, she's said that "where we got married, there were bears and whales and eagles...I never thought that I'd be planning my wedding in a dark alley somewhere, but it turned out that way."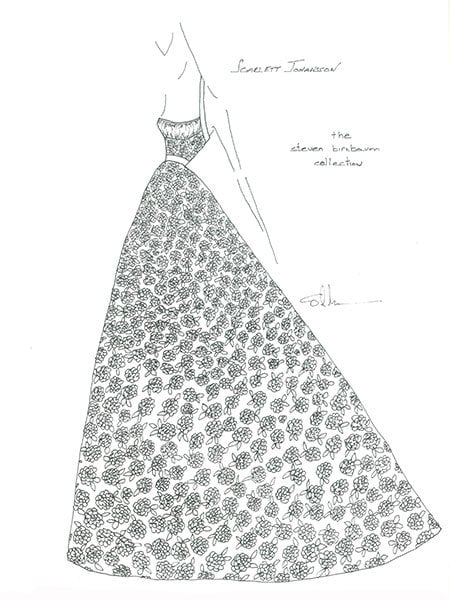 Next: Jessica Simpson's wedding dress sketch ► [14]
5. Jessica Simpson:
Jessica Simpson's wedding has been three years in the making. Since she got engaged to former NFL player Eric Johnson, she's given birth to two kids (a 15-month old daughter, Maxwell, and a four-month old son, Ace Knute), served as a judge on Fashion Star, been nominated as a Weight Watchers spokesperson. And now, she's busy working on a TV pilot for NBC based on her life experiences.
But the item on her to-do list that we're most excited about is that she's reportedly scouting wedding venue locations in Capri. We think the 33-year-old entertainer and fashion designer would love this A-line gown by Maggie Sottero [15].
Beaded embroidered lace adorns a tulle over point d'esprit and organza skirt, creating an elegant and traditional look. A Swarovski-encrusted belt fits the star's fun-loving personality. It's Southern glamour at its finest for the Texas-born star!
Next: Sofia Vergara's wedding dress sketch ► [16]
Sofia Vergara:
Sofia Vergara [17] knows what works when it comes to her fashion choices. "I still take advantage of the cleavage," the 41-year-old Modern Family star admitted to E! News. "While I have it, why not flaunt it? Who knows how long I'll have it looking this way."
When the Columbian-born beauty marries businessman Nick Loeb, she'll choose a modern yet elegant wedding gown. "I've been married before, so nothing too traditional or crazy," she's said.
The Moonlight Bridal [18] style pictured below features her favorite silhouette — the mermaid. The gown's ruffled skirt has more volume than what she normally wears on the red carpet, making it a wedding-worthy choice.
Like Jessica Simpson, we anticipate that she'll accessorize her dress with an incredible belt, along with some amazing statement jewelry. (We're still dreaming about the emerald, ruby, and sapphire earrings [19] from Lorraine Schwartz that she wore to this year's Emmys — they cost a cool $7 million.)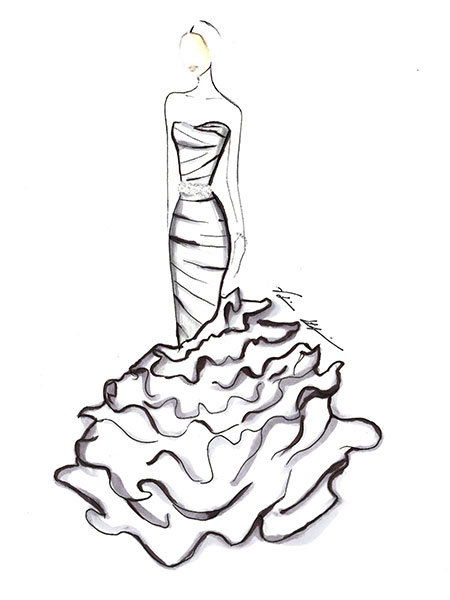 Next: Olivia Wilde's wedding dress sketch ► [20]
Olivia Wilde:
Olivia Wilde [21] takes a chic yet no-fuss approach to her everyday style. When it comes to her wedding day ensemble, the 29-year-old actress will be just as low-key, telling The Editorialist that "I just trust my eye."
She and her fiancé, comedian/actor Jason Sudeikis, currently live in New York and have professed their love for the Big Apple in numerous interviews, so we predict they'll get hitched in an intimate ceremony in their home state. They also recently announced the exciting news that they're expecting their first child together!
Given all of these factors, we think that the bride would look radiant in this soft and pretty A-line Eden Bridals [11] dress. The natural waist can accommodate a growing baby bump.
Plus, the gorgeous bodice features a Queen Anne neckline and short lace sleeves leading to a sheer back. Overall, the look reminds us of the gorgeous pearl-gray dress [22] that she wore to the 2008 Emmys.
Next: Hayden Panettiere's wedding dress sketch ► [23]
Hayden Panettiere:
Ever since her role on Heroes, we knew Hayden Panettiere [24] would be a rising star in Hollywood. Offscreen, she's a style chameleon, constantly switching up her hair, makeup and fashion looks. "I'm pretty spontaneous. I like abrupt changes — it excites me," she told People.
The 24-year-old Nashville star is engaged to Wladimir Klitschko, a professional boxer from the Ukraine, and rumors are circulating that they're planning holiday-inspired nuptials. If that's the case, then we think the Maggie Sottero [15] style pictured below would be perfect!
This champagne-hued gown is crafted from beaded tulle, Swarovski crystals, and luxurious satin, all of which complement a wintry theme. A dazzling V-neckline accentuates the petite actress' toned physique.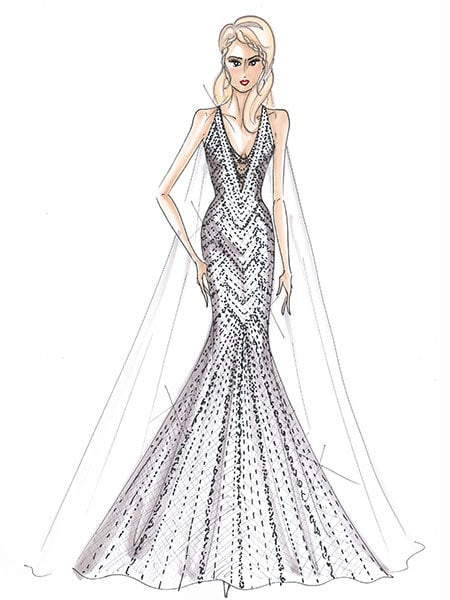 Next: Lauren Conrad's wedding dress sketch ► [25]
Lauren Conrad:
Television personality and fashion designer Lauren Conrad [26] is known for her ultra-feminine style — she's always beautifully pulled-together and on trend without looking like she tried too hard. Best of all, she dishes out relatable fashion advice on her website, LaurenConrad.com [27].
So when the 27-year-old announced her engagement to law school student William Tell, we knew her wedding dress would be a knockout. We'd outfit her in the Melissa Sweet for David's Bridal [28] style pictured below.
"It's feminine and romantic, made with a tossed lilac jacquard and delicate beading, but still sexy with a corseted bodice. It's the perfect marriage of tradition and sex appeal," said Robert Barnowske, the VP of Design for David's Bridal.
But the former reality star isn't rushing down the aisle just yet — she wants to take her time and enjoy the wedding planning process. "Enjoy falling in love. When girls get caught up in the timeline, it becomes more about the wedding than the marriage. You should be with someone with whom you could elope this weekend and be happy," she told Cosmpolitan.
Next: Snooki's wedding dress sketch ► [29]
Snooki:
It's no surprise that Jersey Shore star Nicole Polizzi [30] has said that she wants a New Jersey-fied fairy tale wedding, complete with fireworks and "a princess-type gown with a huge train." Ask and you shall receive, Snooki: Eden Bridals [11] has designed a regal ballgown for your big day!
The 26-year-old may no longer rock a hair pouf, but this gown delivers on the volume that she requested for her wedding. The tulle skirt is made with a royal duchess satin overlay draped from the hip. The sweetheart bodice is fully beaded, perfect for the sparkle-and-shine bride.
Now all that's left to do is pick outfits for Jionni LaValle (her fiancé) and Lorenzo (their 15-month old son). You're welcome.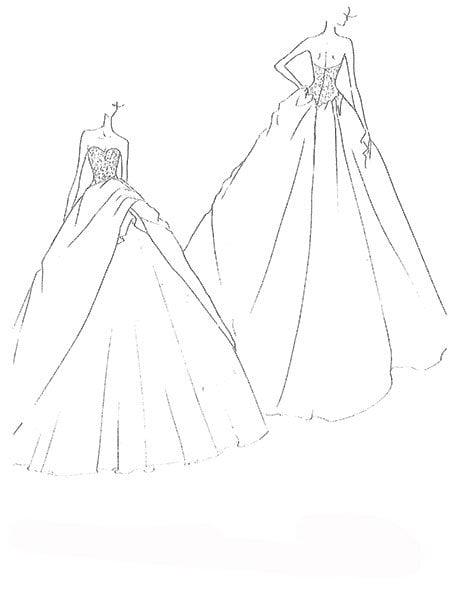 Next: Kelly Osbourne's wedding dress sketch ► [31]
Kelly Osbourne:
We're expecting one heck of a wedding dress from Kelly Osbourne [32]! The E! Fashion star and daughter of rock god Ozzy Osbourne can pull off ultra-elaborate styles and wild looks with ease. She tends to favor vintage-inspired silhouettes and details.
In honor of her amazing hair color, Moonlight sketched this purple and black gown for her wedding to chef Matthew Mosshart. (Fun fact: They first met at Kate Moss' wedding back in 2011.)
We think the 29-year-old would approve of the glamorous and goth vibe of this wedding dress, which showcases an illusion neckline and feather detailing. We can only hope that she'll honor her British heritage by wearing a fascinator!
Next: Katie Couric's wedding dress sketch ► [33]
Katie Couric:
Katie Couric is soliciting wedding advice on her website, KatieCouric.com [34]. The 56-year old is engaged to banker John Molner, who proposed on the beach in East Hampton, New York, with a spectacular cushion-cut ring.
"It's the second time around for me [sadly, her first husband, Jay Monahan, died from colon cancer in 1998] so am picturing something tasteful — sorry, no Cinderella gown!" she wrote.
Oleg Cassini for David's Bridal [35] designed a gorgeous yet tasteful dress for the veteran journalist and second-time bride. "This classically streamlined silhouette with opulent pearl embellishment gives a regal flair for a sophisticated bride...and the wrap offers chic coverage," said Barnowske.