Planning a ski honeymoon? Here's where to hit the trails in the good ole United States.
If you're the kind of newlyweds who prefer the click of ski boots gripping their bindings to the clink of two margarita glasses on the beach, the mountains may just be your ideal post-nuptial escape. From the West Coast to the East Coast, and in plenty of spots in between, we've rounded up the best places to ski, play and sleep. We've also found scenic gondola rides, terrain parks for snowboarders and tracks for cross-country skiers, among other frosty draws, all of which you can experience during ski season (which typically runs from November through April). Read on for how to put an amorous spin on a fabulous slope-side stay.
Lake Tahoe, California
Watch out, you so-called experts! The 4,000 acres of runs around the Squaw Valley USA ski area's six Sierra peaks [1] will put your skills to the test. And while the base-village may have plenty of pricey shops and a healthy dose of of attitude, there's no pretension once you get up on the mountains. Beginner and intermediate skiers will find happiness along the 3.2-mile Mountain Run, Squaw's longest cruiser. Seasoned schussers can test their abilities on bumpy Moseley's Run, or on tricky Siberia Bowl, which might be dubbed "advanced intermediate" but is far more advanced than intermediate.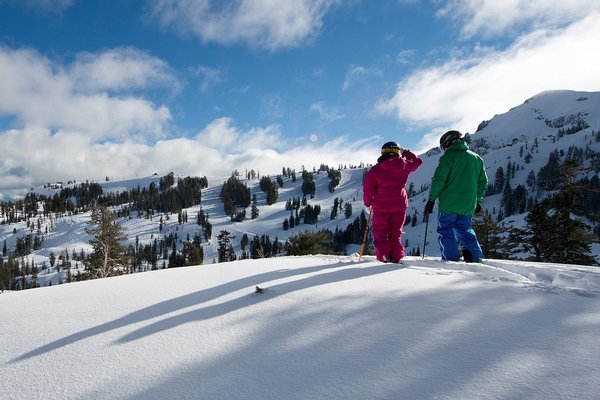 Photo Credit: Frank DeVre
Off the slopes: When darkness falls, hop back on the lift and get a moonlit view of the skiing on High Camp and Mountain Run, two trails that stay open until the night owls are ready to hit the hay. Night skiing is free with the purchase of a daytime lift ticket; even if you're not planning to do many more runs, the sight of the mountain itself, blanketed in white snow and inky darkness, is truly worth the ride.
Where to stay: When your legs have had enough, ski down to the 61-room PlumpJack Squaw Valley Inn [2], located at the base of the mountains. Have a drink at the fireplace bar, and then head to your room to dive into a pile of comfy snow-white down comforters.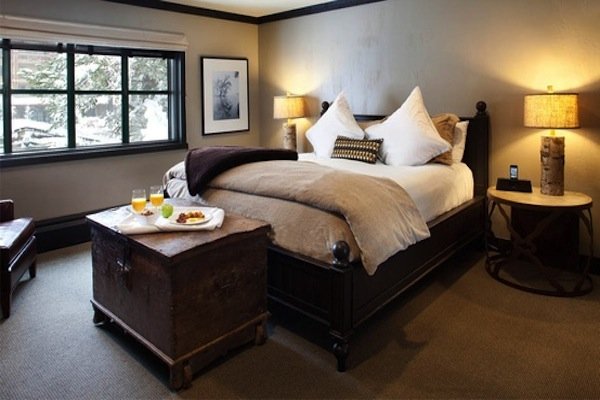 Photo Credit: PlumpJack Squaw Valley Inn
More Ski Towns:
► Park City, Utah [3]
► Big Sky, Montana [4]
► Jackson Hole, Wyoming [5]
► Aspen, Colorado [6]
► Killington, Vermont [7]
► Jackson, New Hampshire [8]
Park City, Utah
If the words "No snowboarders, please" are music to your ears, then check out Deer Valley Resort [9], a Rocky Mountain paradise. While Deer Valley may be a tad quieter than the better-known Park City Mountain Resort, just a mile away, it's no less challenging—just ask the athletes who competed here in the 2002 Olympic Games. If it's an adrenaline rush you're after, launch off of Empire Canyon's Daly Chute, which drops 3,000 feet.
Photo Credit: Deer Valley
Off the slopes: Book a table at the Viking Yurt [10], a dome-roofed tent built on a mountaintop at The Canyon Ski Resort, and a sleigh will meet you at the base of the mountain and carry you up the hillside. At the yurt, you'll find a five-course dinner and a wood-burning stove waiting for you. Dine on local game, such as Utah elk with black truffle risotto, as you warm up by the fire.
Where to stay: Hardcore skiers choose the Goldener Hirsch Inn [11] for its proximity to the slopes—from the inn, you can ski over to Silver Lake Express and Sterling Chairlift, two of Deer Valley's main lifts. Honeymooners revere this 20-room hideaway for its authentic Austrian ambience, wood-burning fireplaces and private balconies overlooking the mountains. Indoor and outdoor hot tubs will help you wind down after a day on the slopes.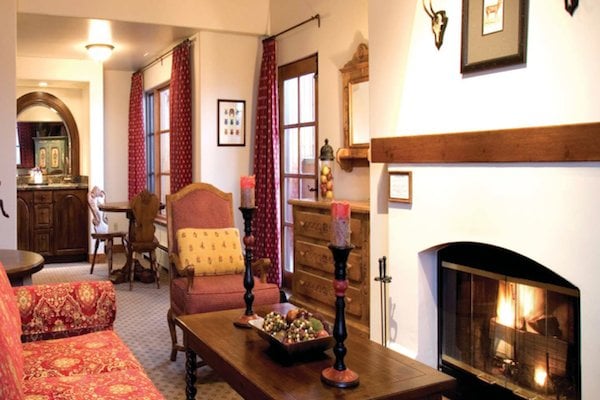 Photo Credit: Goldener Hirsch Inn
More Ski Towns:
► Lake Tahoe, California [12]
► Big Sky, Montana [4]
► Jackson Hole, Wyoming [5]
► Aspen, Colorado [6]
► Killington, Vermont [7]
► Jackson, New Hampshire [8]
Big Sky, Montana
When hordes of downhill enthusiasts crowd the runs at Jackson Hole, in-the-know Westerners pack up their skis and boots and head north to Big Sky Resort [13]. Not everyone's bold enough to brave the chilly temps (which frequently drop below 20°F), so you're likely to feel as though you have all 3,600 powdery acres to yourselves. The 150 practically deserted trails, which are spread over three mountains in the Madison Range, offer something to suit every skill level. Don't miss the run called "Mr. K," a central, easygoing trail that's as scenic as can be. At three-plus-miles long, it's the skiers' equivalent to a leisurely stroll.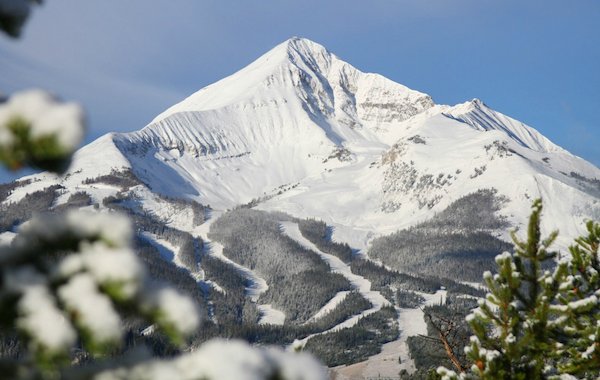 Photo Credit: Big Sky Resort
Off the slopes: Walk along, wade in and cast a few flies on the Gallatin River. Sign up for a half-day fly-fishing package with East Slope Anglers [14], and their guides will hook you up with gear, including rods, reels and waders (waterproof overalls), and lead you along the river's quiet banks to find rainbow, brown and cutthroat trout.
Where to stay: Later, head to the Big EZ Lodge [15], a luxury love nest, where Western décor reigns in the 13 spacious rooms. Here you can expect flames flickering in stone fireplaces, bearskin rugs and mountain views. Ask for the Lone Star Suite, and soak your ski bums in a whirlpool tub made for two.

Photo Credit: Big EZ Lodge
More Ski Towns:
► Lake Tahoe, California [12]
► Park City, Utah [3]
► Jackson Hole, Wyoming [5]
► Aspen, Colorado [6]
► Killington, Vermont [7]
► Jackson, New Hampshire [8]
Jackson Hole, Wyoming
Say the words "We're skiing out West," and visions of slope utopia spring to mind: massive mountains smothered in fresh, feet-deep flakes; tall evergreens separating endless runs; harrowing chutes dropping thousands of feet; and chairlifts reaching up toward the sky. In other words, the Jackson Hole Mountain Resort [16]. This two-mountain property, which is located in the impressive Teton Range, delivers the quintessential American West ski experience—plus a whole lot more. While it's most famous for challenging double-black-diamond runs, the real beauty of Jackson Hole is that there's always a quiet, out-of-the-way trail where you can make fresh side-by-side tracks.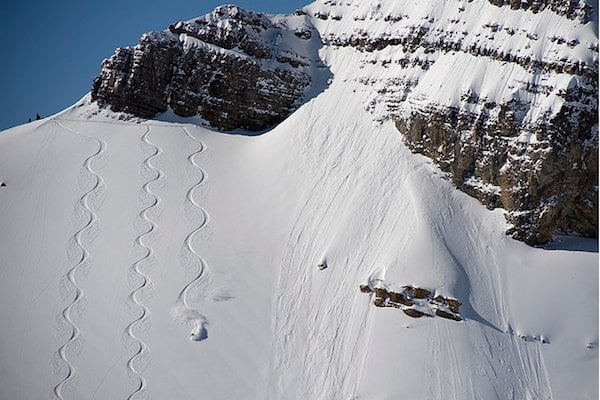 Photo Credit: Jackson Hole Mountain Resort
Off the slopes: Feeling like you need a break from the rigors of skiing? Take a day off, and heat up at Granite Hot Springs. Let a team of huskies—and a musher-guide from Jackson Hole Iditarod Sled Dog Tours [17]—lead you by sleigh for 20 miles, past moose and elk, to the steamy natural pool, which bubbles at around 103°F all year long.
Where to stay: Book a mountain-view room at the one-year-old, 124-room Four Seasons Jackson Hole resort [18], and bundle up under blankets as you sit on your terrace, watching the skiers zooming by on the slopes below. Then, grab your swimsuits and head for the heated outdoor pool, which winds around majestic aspens and large boulders and looks as natural as a hot spring—except for the waiters, circling with complementary cups of hot chocolate and fabulously gooey s'mores.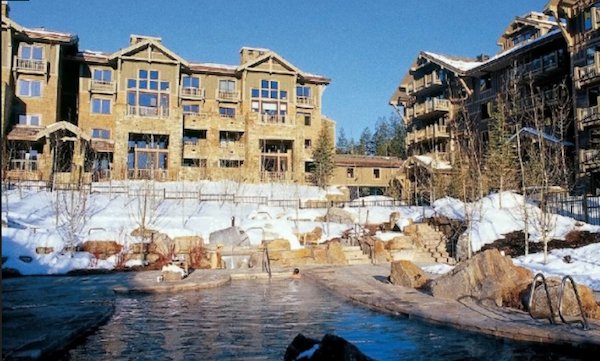 Photo Credit: Four Seasons Jackson Hole
More Ski Towns:
► Lake Tahoe, California [12]
► Park City, Utah [3]
► Big Sky, Montana [4]
► Aspen, Colorado [6]
► Killington, Vermont [7]
► Jackson, New Hampshire [8]
Aspen, Colorado
Aspen's as well-known for its tony après-ski activities as it is for the slopes themselves. Its cobblestoned streets are lined with designer boutiques (Gucci, Prada, Fendi and Chanel among them) as well as cherished mom-and-pop emporiums of Western wear like Kemo Sabe, where Goldie Hawn and Kurt Russell gear up with Stetson hats and Lucchese boots. Like the town, the skiing is first-rate. Aspen Mountain [19] (affectionately called "Ajax") is right downtown; the slopes are a mere gondola ride away from those impressive shops.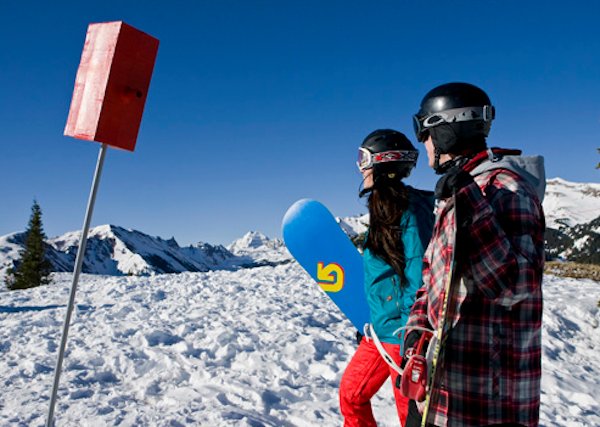 Photo Credit: Aspen Snowmass
Off the slopes: For the ultimate winter-wonderland experience, sign up for the Aspen Carriage Company's Roaring Fork River tour. You'll be picked up in an old-style French carriage, led by a palomino, and be driven near the West End's historic Victorian homes, along pine- and spruce-lined streets, to a meadow where an Amish bob sleigh awaits. There, the horse is hooked onto the sleigh, so all you have to do is cozy up under the blankets, and you're off.
Where to stay: When the 91-room Hotel Jerome [20], Aspen's oldest hotel, opened in 1889 it created a sensation with its decadently modern conveniences (think elevators and indoor plumbing). The property continues to maintain its comfortably old-fashioned atmosphere without sacrificing what rate as state-of-the-art conveniences today, including in-room CD players and comfy custom-made mattresses, as well as a heated pool and a Jacuzzi.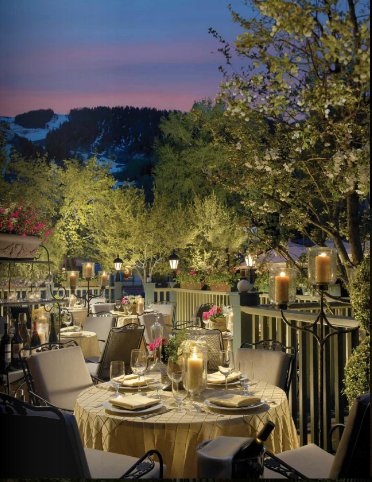 Photo Credit: Hotel Jerome
More Ski Towns:
► Lake Tahoe, California [12]
► Park City, Utah [3]
► Big Sky, Montana [4]
► Jackson Hole, Wyoming [5]
► Killington, Vermont [7]
► Jackson, New Hampshire [8]
Killington, Vermont
East Coast ski resorts always play second-best to their West Coast siblings—unless the destination happens to be Killington Resort [21], the largest ski resort in the East, and the one with the most varied runs. This sprawling property offers 200 snow-packed trails that weave around the Green Mountains and promise the most thrilling downhill rides this side of the Mississippi. Beginners can trail off on Pico Peak and Rams Head Mountain, while speed demons rip down Killington Peak. Is either of you a snowboard show-off? The half-pipes in the terrain park can entertain you for hours.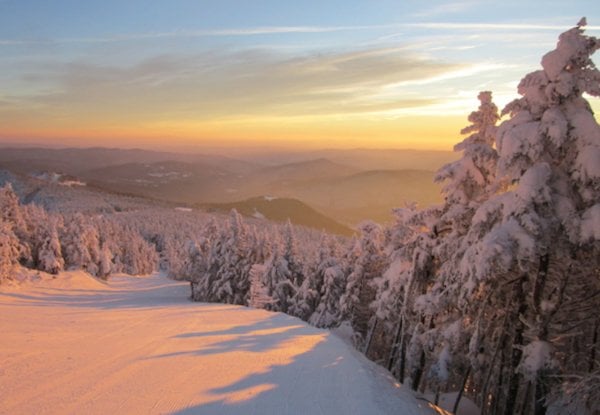 Photo Credit: Killington Resort
Off the slopes: The runs close at 4 p.m., and that's when you'll want to leave the mountain—and its pubs— to the elbow-to-elbow crowds. Drive to the Mountain Top Inn [22] in Chittenden, just 11 miles away. There, you can head out into the night on snowshoes. A hotel guide will lead the two of you a half-mile up a mountainside to a peak overlooking frozen Chittenden Lake. Once there, you'll warm up beside an open fire with Godiva hot cocoa and chocolate-raspberry vodka martinis.
Where to stay: After your snowshoeing excursion, plan to check into the Mountain Top Inn [23] and rest your bodies in the comfortable lodge. The 40 guest rooms epitomize country opulence—think beamed ceilings, leather chairs and faux-fur throw rugs. Check out the Stag's Run room, which has a king-size pine bed covered with a warm, plush suede duvet.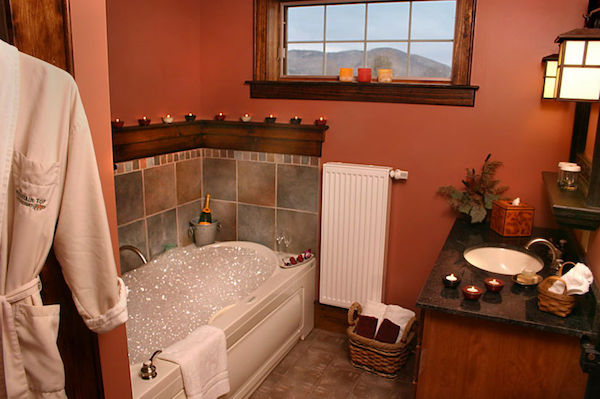 Photo Credit: Beltrami Studios
More Ski Towns:
► Lake Tahoe, California [12]
► Park City, Utah [3]
► Big Sky, Montana [4]
► Jackson Hole, Wyoming [5]
► Aspen, Colorado [6]
► Jackson, New Hampshire [8]
Jackson, New Hampshire
Jackson is to cross-country skiing what Killington is to downhill—the capital of the East. The Jackson Ski Touring Foundatio [24]n, a nonprofit organization that maintains the paths around Jackson, oversees 153 kilometers of trails that wind gracefully through storybook New England scenery. With 69 trails to choose from, you can pick one today, and get lost all over again tomorrow, as you glide through woods full of evergreens, past clapboard farmhouses, over wintry meadows and around glassy rivers.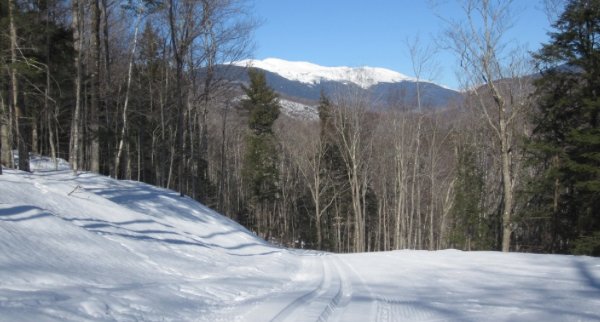 Photo Credit: The Jackson Ski Touring Foundation
Off the slopes: Not tired yet? Visit Nestlenook Farm [25] for a moonlit twirl on rink-smooth Emerald Lake. After a spin on the ice, and a demonstration of your fancy footwork, wind down with warm kisses in the gazebo.
Where to stay: At the end of the day, ski right up to the door of The Wentworth [26], a sumptuous 51-room country inn. Check into the Arden Room, where you can soak away the day's soreness in your own outdoor hot tub, and thaw out on the room's king-size four-poster bed in front of a toasty fire.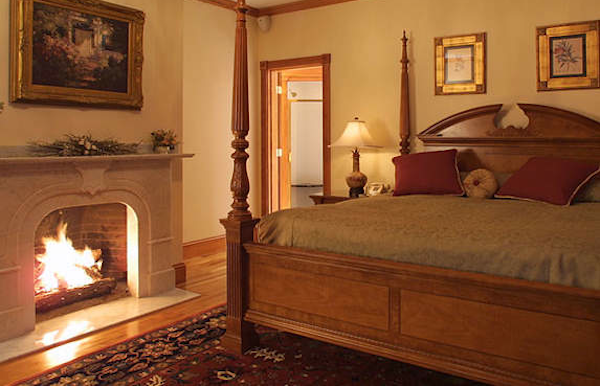 Photo Credit: The Wentworth
More Ski Towns:
► Lake Tahoe, California [12]
► Park City, Utah [3]
► Big Sky, Montana [4]
► Jackson Hole, Wyoming [5]
► Aspen, Colorado [6]
► Killington, Vermont [7]