Take a bite out of your honeymoon destination with one of these food experiences.
Sure, food feeds us. But for travelers, it does more. Food allows visitors to literally drink in the culture of their surroundings. And the experience of taste is so powerful that more and more honeymooners are selecting their ultimate destination based on their palate. For couples who cook together, learning a few new tricks in the kitchen can be almost as exhilarating as learning a few new tricks in the bedroom. Okay, we exaggerate: But there's no denying the bonding that comes with feeding each other body and soul. For duos who love to dine, these four locales serve up plenty of iconic local cuisine for honeymooners to learn about and indulge in. Bon appétit!
Thailand
Authentic Thai cuisine balances a pow-pow-bam-boom punch of flavors, from sweet to sour, salty and spicy. It's not subtle — but it is unforgettable, as are the golden temples and boat-filled rivers of this beautiful country of a thousand smiles.
Where to Go: Northeastern Thai cuisine, called Isan, is influenced by nearby Laos. And while the elephants and the mountaintop temples are a draw for many visitors, foodies flock here for classic dishes like khao soi (a red curry), som tam (green papaya salad) and sticky rice.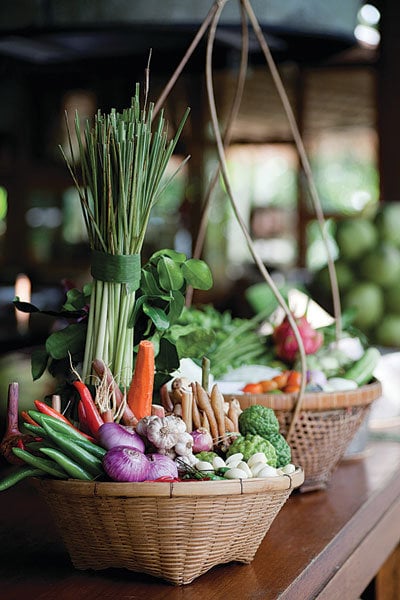 Photo Credit: Four Seasons Resort Chiang Mai
Where to Explore: The Four Seasons Resort Chiang Mai may have an awesome open-air cooking school, but the real treat here is the market tour. Start your day with a culinary lesson in regional ingredients as a translator leads you through stall after stall of produce, meat and exotic spices, picking up tastes for you along the way. The experienced — and adventurous — foodies will want to try durian, the world's most, um, fragrant fruit and a few of the crispy fried insects.
Tip: Don't leave without buying packets of the local blend of red curry powder, an ingredient that's nearly impossible to find back home. Finish the experience by sharing a wok with your new husband at your own cooking station back at the al fresco school, and whipping up an authentic meal together that will forever put your local takeout joint to shame.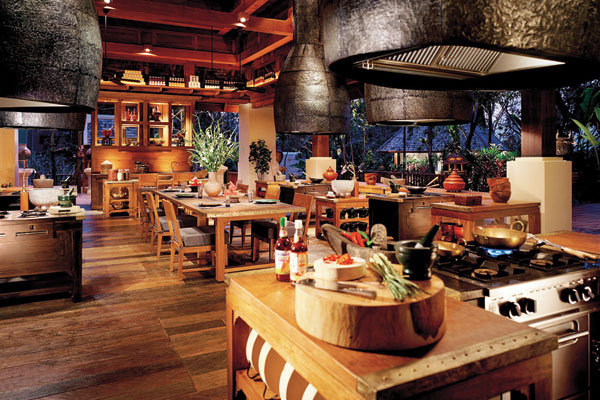 Photo Credit: Four Seasons Resort Chiang Mai
Where to Stay: The 98 rooms at the Four Seasons Resort Chiang Mai have enormous bathrooms, honeymoon-worthy curtained beds, enough silk and Siamese artwork to remind you that you're in Thailand and private outdoor space to take in the views of the misted mountains and the rice paddies (room rates start at $534 a night; fourseasons.com [1]).

Photo Credit: Four Seasons Chiang Mai
More Foodie Picks:
► Mexico [2]
► South Africa [3]
► Hawaii [4]
► In the USA [5]
Mexico
The only things more seductive than the sunsets and music of Mexico are the margaritas and flavorful cuisine. From fish tacos on the beach to huitlacoche (edible corn fungus) filled enchiladas, the variety of Mexico's flavors will forever abolish any confusion about the difference between rich Mexican food and your usual tex-Mex.
Where to Go: Ixtapa-Zihuatanejo, located on the Pacific Ocean just north of Acapulco, was once a sleepy fishing village that has transformed into a chic beachy hideaway. In addition to having loads of great places to stay, it's still a mecca for fishermen so these resorts also serve excellent seafood.
Where to Explore: At the Viceroy Zihuatanejo, the cooking class focuses on organic ingredients and a healthy take on Mexican cuisine. You'll tour the town's main mercado (market) to gather a cornucopia of fresh local ingredients, from chilies to chayote (a small green squash), jicama (a crunchy root vegetable), epazote (an herb), pineapples and cactus fruit. Then you'll return to the resort's beachfront cooking area to prepare a healthy (and purportedly aphrodisiac) meal by the sea.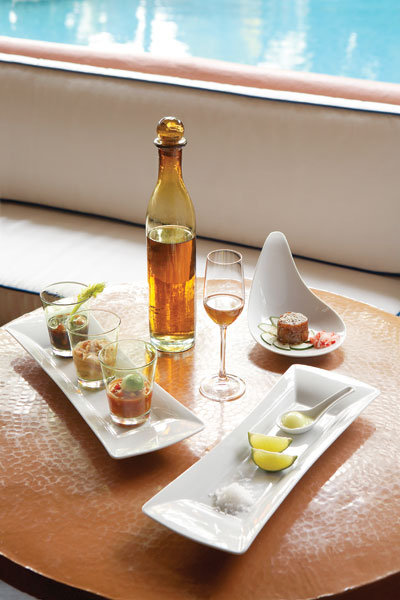 Photo Credit: Viceroy Zihuatanejo
Where to Stay: Viceroy Hotels & Resorts are known for their stylish decor, but the Zihuatanejo property is as natural and raw as it is chic. Towering palm trees are wrapped in fairy lights, the dining room is candlelit and topped with a palapa, and rooms open up to the crashing waves of the Pacific (room rates start at $180 a night; viceroyhotelsandresorts.com [6]).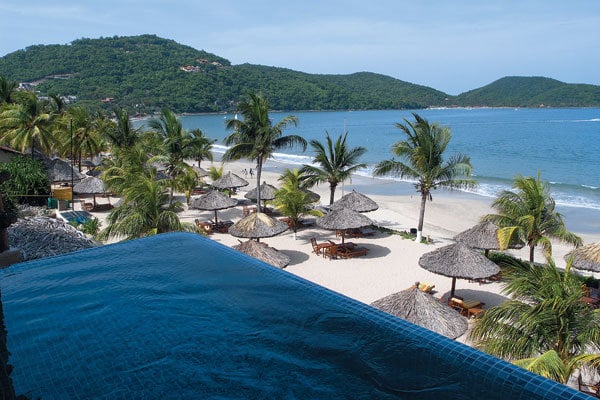 Photo Credit: Viceroy Zihuatanejo
Fun Foodie Find:
One and Only PalmIlla, Cabo San Lucas, Mexico
Let the resort arrange a private dinner under the stars, and they can organize wine pairings. or better yet, start the meal with a tequila tasting that will allow you to sample from the resort's 53 bottles. You'll learn the difference between an anejo and a reposado among other fun facts. If you've never dived into the world of small-batch tequila, this will change the way you order cocktails indefinitely (palmilla.oneandonlyresorts.com [7])
More Foodie Picks:
► Thailand [8]
► South Africa [3]
► Hawaii [4]
► In the USA [5]
South Africa
For animal lovers from around the world, African safaris are the ultimate experience. With a deep colonial tradition of comfort in the wilderness, you can choose from rustic to decadent as you tour this region's national parks and private game reserves on a search to set your gaze (and your camera!) on the big five: lions, elephants, rhinos, leopards and buffalo.
Where to Go: Many honeymooners choose to add on a few days in the cool, urban city of Cape Town and the nearby wine country as a complement to the days in the remote african bush. Don't leave without riding the cableway at Table Mountain, walking on the beach and shopping at the Pan-African market for crafts and mementos.
Where to Explore: Sign up for the Mount Nelson Chef's Table experience, and you'll be seated inside the posh resort's kitchen for a peek inside the every movement of a chef. So what will you learn to cook? The seasonal menu changes every day based on what's fresh, which might include local game like wild bird or duck terrine as well as honey-glazed springbok (a local antelope). They have a vegan menu too, if your time in the bush put you off eating meat for a while.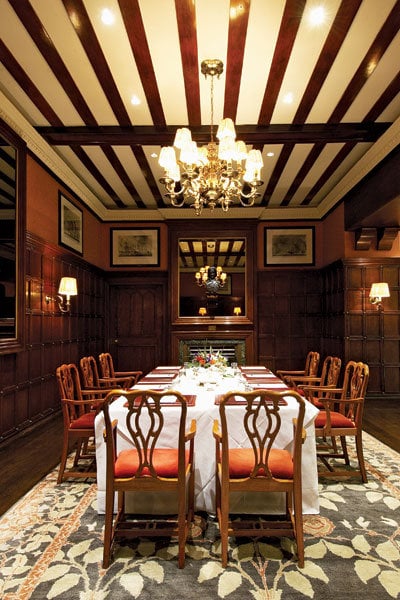 Where to Stay: The colonial-style, pink-hued, circa 1899 Mount Nelson sits between Table Mountain and the Atlantic Ocean and offers easy access to the city sights. the hotel has a distinct grandeur about it, with the type of old-fashioned formalities that royalty (and honeymooners) have come to expect. Picture waking under a goose-down comforter, afternoon tea of finger sandwiches and scones on fine china, massages and rooibos-clay wraps at the Victorian-style spa, followed by sundowner cocktails by the fireplace (room rates start at $719 a night; mountnelson.co.za [9]).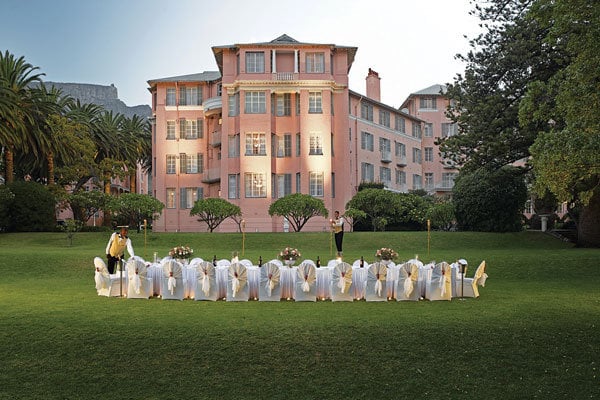 Photo Credit: Mount Nelson
More Foodie Picks:
► Thailand [8]
► Mexico [2]
► Hawaii [4]
► In the USA [5]
Hawaii
Hawaiian cuisine takes a lot of cues from Asia, and yet manages to own its unique combinations of flavors. There's the local take on tuna tartare, called poke, as well as haupia (a coconut pudding), macadamia nut-crusted everything (from fish to pancakes) and pork cooked whole in a traditional underground oven at the luaus held around the islands. Look out for the spam musubi: a combination of spam and maki roll that's beloved by many locals, and confounding to visitors.
Where to Go: Maui is a foodie's paradise, as well as being a fabulous mix of natural beauty and sophisticated modern indulgences like world-class resorts and high-end shopping. From the upcountry of the Haleakala (the island's dormant volcano peak), where you can tour lavender farms, to the shoreline that's lined with fabulous restaurants, Maui offers both barefoot experiences and chic stays.
Where to Explore: O'o is an all-natural 8.5-acre mountaintop farm that provides produce to the I'o and Pacific'o restaurants, some of the better beach-terrace eateries. Take their tour and luncheon, and you'll wander through the crops, marveling at the view as well as wonders like the Buddha Hand lemon (a citrus fruit that appears to have multiple hands). As you explore, your guide will pick treats for you, so that you can taste fresh from-the ground veggies and bright mint as you go. After lunch under a vine-covered trellis, savor a cup of coffee made from island-grown beans that are roasted on site.
Where to Stay: The Inn at Mama's Fish House has a food-lovers' dream: rooms with private terraces that come stocked with their own grills. There, the hardest question you'll have to answer is whether to dine at the hotel's fabulous seafood restaurant or whip up your own spectacular feast together (room rates start at $175 a night; mamasfishhouse.com [10]).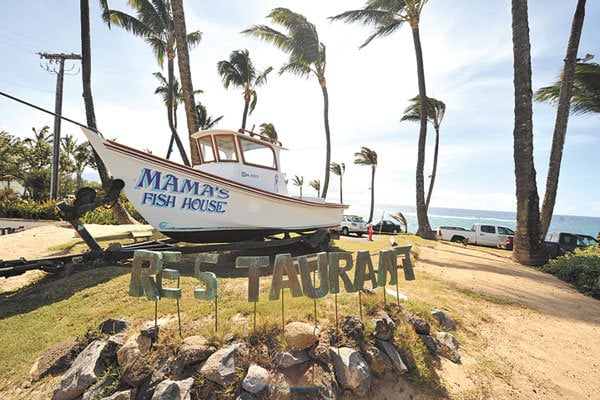 Photo Credit: Sean Hower
More Foodie Picks:
► Thailand [8]
► Mexico [2]
► South Africa [3]
► In the USA [5]
Fun Foodie Finds in the U.S.
1. Intercontinental Times Square, New York, New York
Even foodies who would have run from bumblebees a few years ago are adding to the never-ending buzz around the beekeeping trend. And while we're not personally fans of beekeeping in the city, we do have to admit that hotels producing artisan honey (with the help of a crew of 10,000 working bees) on their rooftops is a sweet thing, especially when you get to eat it on cheese trays and drink it in cocktails (ichotelsgroup.com [11]).
2. Ojai Valley Inn and Spa, Ojai, Calfornia
On weekends, the resort's chef takes interested guests on a tour of the impressive hotel herb gardens, which are used to provide ingredients for the restaurant. Join the walk and you can pick your own heirloom tomatoes for the restaurant's signature caprese salad (ojairesort.com [12])
3. The James Hotel, Chicago, Illinois
If cocktails are the modern way of expressing your foodie street cred (you prefer house-made bitters, local artisan hooch and enormous ice cubes, of course), then the James's bespoke cocktail program — with everything you need (including shakers, stirrers, ingredients, and recipes!) to become mixologists — is a must-do. Don't see the booze of choice for your libation of the moment? Just ask, and they'll send it up, along with your private bartender (jameshotels.com [13])
More Foodie Picks:
► Thailand [8]
► Mexico [2]
► South Africa [3]
► Hawaii [4]