Well, hello 2013! What's the chic look in flowers this year? And which cake flavors are in demand? Here, the delicious details.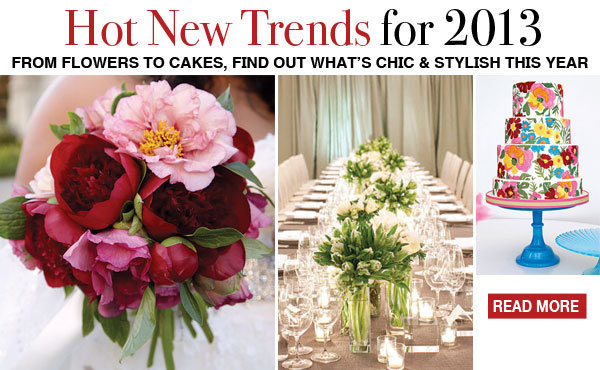 For 25—count 'em!—years, we've celebrated the most creative wedding ideas in food, flowers, decor, music and more. As a fresh year stretches before us, it's out with the old and in with the new, so if you're ringing in the New Year with sparkle on your finger, we'll continue to keep you on top of the trends with our annual coast-to coast survey of what's hot in weddings. It's going to be a stellar year to get married!
Browse the hottest trends by category:
► Flowers [1]
► Invitations [2]
► Food & Drink [3]
► Wedding Cakes [4]
► The Playlist [5]
► Going Green and DIY [6]
2013 is putting on the glitz! "It's a move towards sophistication," says Alyssa Brown of Alison Events [7] in San Francisco, the planners behind Seth Rogen's recent nuptials. "For example, we're planning an outdoor event right now, but there's crystal on the table, and gold silverware and chargers," Alyssa explains. "And black tie is playing a huge role right now. It's full-length gowns for everybody!"
Tara Guérard of Soirée [8] in Charleston agrees. She looks for modern ways to interpret the classic feel, like cream suede table linens edged with pink welting. "The welting gives a tailored look and makes the table skirt flow out like a ballgown. And the suede just feels ultra luxurious."
The palette that pairs with the new formal wedding? Neutral, neutral, neutral. "I see grey and taupe with pops of black," says Alyssa. Tara predicts that layers of blush will be big.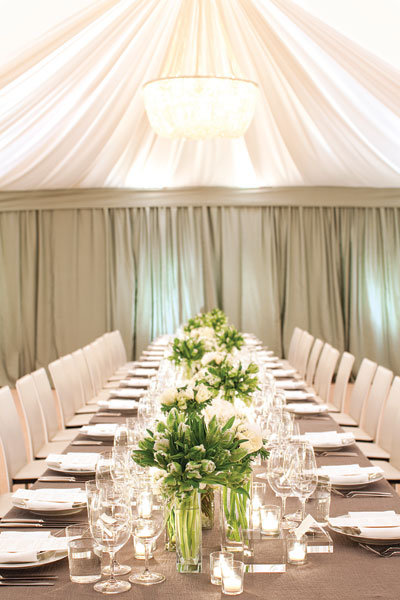 Photo Credit: Jessie Leake Photography courtesy of Alison Events;
Flowers by Brown Paper Design
Candles always have a major presence at weddings, but this year, look for them in showstopping chandeliers. "I like to incorporate chandeliers into my wedding design, especially in tents," says Ivy Robinson of Ivy Robinson Weddings and Events [9] in Charlotte, North Carolina.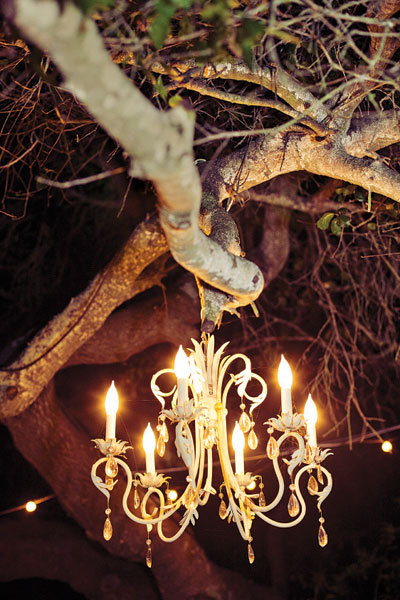 Photo Credit: Sara Kathleen
An eclectic approach is taking hold, too, combining natural, outdoorsy details with elegant elements. "I'm currently working on a party where we are using grey leather lounge furniture, tree stumps as coffee tables and antler chandeliers over the tables," says Ivy.
2013 weddings may be ultra-elegant, but they won't get too serious. A trend Alyssa sees going strong is the playful photo booth. "We'll either bring in a booth or have the photographer set up a backdrop. One look we like is different patterned fabrics."
Low-slung couches are still in the picture, but 2013 will see more inventive furniture. "For one wedding, we're having swings in the lounge area to replace where a typical chair would go," says Ivy.
The wild-card trend of the year? Camping, says Alyssa. It started with Matthew McConaughey's star-studded wedding, and now brides are loving the idea of a grown-up summer camp—hence the new term, "glamping." Imagine ultra-luxe safari-style tents with heat, electricity and high-end linens. If the idea of overnight guests doesn't work for you, some brides are using the tents as part of the reception. "You can have a tent with books and bourbon," suggests Alyssa. "Or a kids' tent."
Next: Flowers ► [1]
Flowers
What's In: The English Garden. With brides still in love with vintage but moving away from what Sayles Livingston of Sayles Livingston Design [10] in Newport, Rhode Island calls the "weedy" informal floral decor of the last few years, they're craving flowers that feel opulent but still natural. The look currently causing hearts to flutter evokes the feeling of flowers fresh-picked from the garden of a great estate. Alyssa agrees. "For one wedding, we're using old brass vessels with a gold look, and the flowers are hydrangea, garden roses, and ranunculus. The look is lush arrangements."
What's Out: "Little bud vases lined up down the table," says Alyssa.
What's In: Peonies. Drumroll for the flower of the year—the peony. Soft, lush, romantic, the peony is the most requested wedding flower for two years running now, according to both Tara and Sayles. But with the bloom available for only two months out of the year, brides need a backup. Sayles recommends the garden rose, which has the same delicate petal feeling but is much more readily available.

Photo Credit: Thayer Allyson Gowdy; courtesy Alison Events
Flowers by Brown Paper Design
What's Out: Super-tall centerpieces placed in the center of every table. "It's been overdone," Sayles says.
What's In: Garlands. 2013's brides swoon for garlands—garlands with ribbon, garlands with paper, garlands hung from chandeliers. "We just did a wedding with one long center table and a garland of peonies and hydrangea running the full length of the table. It was 48 feet of full flower," Sayles says.
What's Out: The orchid. "The bloom doesn't have that of-the-moment, freshly picked look," says Sayles.
What's In: Cascades. A vintage bouquet silhouette will make a big return, Sayles predicts. Expect to see cascades coming down aisles everywhere this year. The look is long and slender, with lush full flowers such as (no surprise!) peonies, tea roses and a few sweet tendrils of vine.
What's Out: According to Sayles, bouquets heavy on the greens will be a no-go in 2013.
Invitations
Neon. The runaway fashion look last year was the pop of color, and now you'll see eye-searing color peeking out on invitations, too. Melinda Morris of Lion in the Sun [11] in Brooklyn, NY predicts more and more neon in 2013. Don't go full neon, though: The look she recommends is a neutral invite with a hit of hot color, such as a neon orange patterned invitation liner, or a cream invitation with a neon watermelon edge.
3-D. Forget the flat card in an envelope. 2013's brides are looking to three-dimensional invitations, with pocket-folds, boxes, and embellishments, says Nashville's Amber Housley [12], a wedding planner and invitation designer. "A recent bride wrapped her invitations in vintage handkerchiefs and sent them in boxes. It really stands out to the recipient."
Pattern. We've seen them on the backs of invitations, as a border on the RSVP card or as a flash of surprise on the invitation liner—playful patterns are still a major look as we head into 2013, says Amber. She's predicting chevron, honeycomb and Moroccan patterns, or even a mix of several.

Photo Credit: Wedding Paper Divas
Illustration. In 2013, say it in pictures. This year, the chic way to capture your personal style is with a custom illustration on your invitation, says Melinda. An artist will create an image that's unique to you—whether it's a place you loved as a backdrop, a meaningful symbol to anchor your design, or even a sketch of your beloved pup as a sweet surprise on the envelope liner.
Gleam. The invitation look of the year? Foil stamping—glints of metallic gold, silver and bronzes stamped directly on the invitation. Imagine your names shining in silver against an illustration of the Brooklyn Bridge, or calligraphy scrollwork made modern in gold. "It adds a very fun pop without being too glitzy," says Melinda.
Food & Drinks
The 2013 catering trend of the year? The pros tell us it's all about a return to formality. "A major trend is to do plated dinners now," says Elizabeth Creasey of Los Angeles-based Whoa Nelly! Catering [13], the go-to foodies for Hollywood A-listers. "We're getting more requests for gold silverware, something more sophisticated."

Photo Credit: Jenn Bartell for Sam's Chowdermobile, Half Moon Bay, CA
But what about the food? Fresh and local are two of the most common requests from in-the-know brides, says Beth, who specializes in market-driven menus. "In spring we do vegetable ragus with asparagus and peas, or in the summer great corn, squash and cherry tomato succotash. And local—brides want to know that we're working with local jam producers and coffee roasters, and to see that written on their menus."
Move on over, cosmo girls—the martini bar gets a big yawn from Olivier Cheng of New York's Olivier Cheng Catering and Events [14]. Instead, he loves artisanal cocktails, like the champagne bar he did at a recent wedding. The bar featured oversized bottles of bubbly and all sorts of infusions, from lavender-lemon to candied ginger. "Make a statement with your signature drinks," Olivier urges.
With a return to gilded-age glitz, Alyssa sees a resurgence of old-school barware and cocktails. Instead of the narrow flute, she likes the vintage look of a champagne saucer. And she prefers mint juleps served the traditional way: in polished silver cups with crushed ice and a fresh sprig of mint.
Wave your flag in 2013—spotlighting your culinary heritage gets a big yes from Beth. "We do a lot of it in the cocktail hour: little banh mi (mini French baguette) sliders for Vietnamese brides or braised brisket sliders for a Jewish wedding."
The entrée of the year? Pork is having a major moment says Beth, who loves to surprise guests with a main course that veers away from more expected beef offerings. "We braise pork shoulder until it's really tender, then slice and grill it with black-beans, citrus-pickled onion, and avocado salsa." Brides are demanding unexpected, fun, and above all, restaurant-quality food.
The liquor of the year? "Tequila," says Olivier.
Those with a sweet tooth, take heart. According to Beth, dessert bars are here to stay, but now they have a formal twist. "I'm getting requests for dessert bars by color. For a white one, we just did merengues, French macarons, fudge brownies topped with powdered sugar, and lots of desserts with vanilla-bean frosting."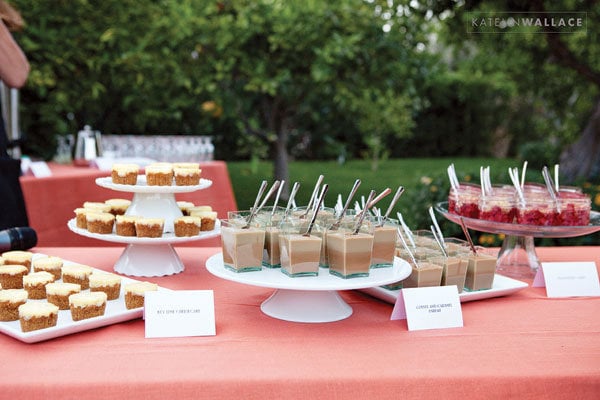 Photo Credit: Kaitlin Wallace Photography
Wedding Cakes
An oh-so-stylish wedding cake is just one easy recipe away (with a little help from baker extraordinaire Kate Sullivan of New York's Cake Power [15]).
First step: Pick your silhouette. Tall and slender is the look du jour, with a mix of single and double-height tiers.
Second step: Add a dash of flavor. Red velvet, chocolate and vanilla take the top spots, but 2013 brides will request filling with mouth-puckering tastes like mango or passionfruit. And still in style? Requesting a different flavor for each layer.
Third step: Find your look. The first cake style that dominates right now is clean and modern with just one amazing pop of embellishment such as a bow, monogram or flower. The other major look takes the opposite tack, using eye-popping color or all-over appliqués. And finally, a traditional idea has come around again: Brides are loving cakes that mimic wedding-dress details like lace.

Photo Credit: Cake Power
The cherry on top: Look to see something unexpected nestled in among the sugar flowers. Kate predicts there will be more and more minisculptures on cakes (think little hummingbirds made out of modeling chocolate).
Next: The music playlist ► [5]
The Music Playlist
Remember when you'd only hear Motown, '80s tunes and hits off the pop charts at weddings? That won't be the case in 2013 says Rob Principe of Scratch Weddings [16], one of the country's top DJ services. "It's the iPod generation now: Brides have 5,000 songs on something the size of their thumb."
The result? They're demanding a more customized music experience. "They want electronic dance music, then Bruno Mars, Mumford & Sons, sexy Brazilian house or bossa nova," Rob says. And don't be surprised if you see live musicians that play along with the DJ. "At the cocktail hour, you can have a percussionist and the DJ together—like having live music embroider the DJ's 1,000-song playlist," Rob explains.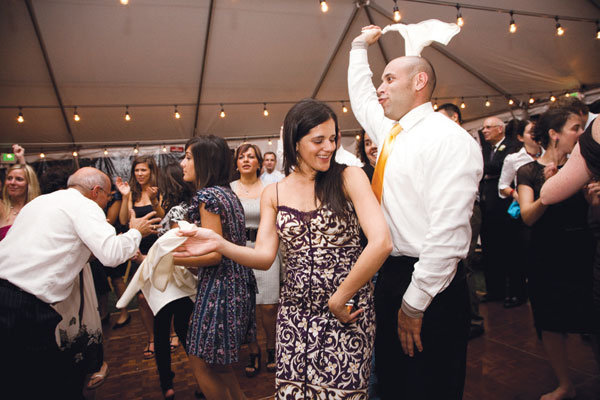 Next: Going green and DIY ► [6]
Going Green and DIY
Brides are planning green weddings in greater numbers than ever. Kate Harrison of greenbrideguide.com [17] says the easiest way to go green is with your favors and invitations. Look for recycled, plantable, or tree-free papers, or even sustainably harvested wood-veneers on which to print your invites.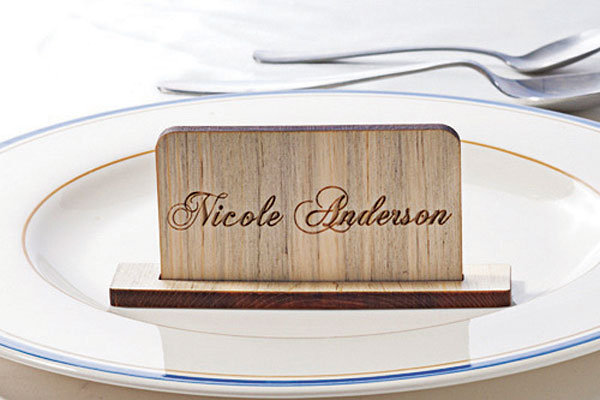 Photo Credit: GreenBrideGuide.com
For favors, Kate is seeing a lot of interest in seeds or organic edibles, and the move to skip packaging and instead put favors directly on each guest's plate.
Which came first: The DIY movement or the ever-expanding number of blogs devoted to crafty brides in search of the ultimate personal stamp for their celebration? No matter. Between retail resources like Michaels Stores [18] and Save On Crafts [19] and sites like DIYbride.com [20], it's never been easier to get crafty. More links: labellebride.com [21], ruffledblog.com [22], greenweddingshoes.com [23], weddingchicks.com [24] and, of course, bridalguide.com [25].