Get an exclusive behind-the-scenes look at Alfred Angelo's latest runway show.
Backstage at the Alfred Angelo bridal fashion show, everyone was buzzing with excitement over the limited-edition Cinderella collection that was about to hit the runway. The models and stylists make these looks seem effortless, but we were dying to know what goes into making your own wedding day look into a fairy tale. We spoke with the hair and make up stylists and they gave us the inside scoop on the inspirations for the fashion show and making your wedding day styles look runway ready.
Lead Hair Stylist: Kelia Sone
Keila told us that for the hair styles used at the fashion show they were aiming for "soft, romantic" mermaid-like styles, and each model was going to sport a different variation of this look. All of the products used on the models were made by Surface Hair, a vegan hair product line based in Canada.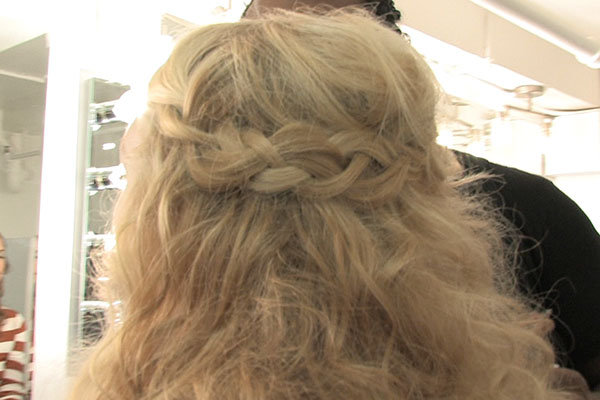 Keila's number one tip for real brides preparing for their wedding day was to keep their hair healthy. She stressed how important it was to trim and condition your hair leading up to the big day. She spoke about how often brides want to let their hair grow in preparation for their wedding hair, but this can be "disastrous."
Also important: Do a trial run of your hair before the wedding day so that you know exactly what you're going to get from the hair stylist. That way, you can avoid any surprises or disappointment on the big day.
The biggest trends right now? Messy updos and get-up-and-go looks.
Keila told us that some hair accessories being used in the fashion show included headbands, pins, and big jewels to complete the mermaid, princess feel.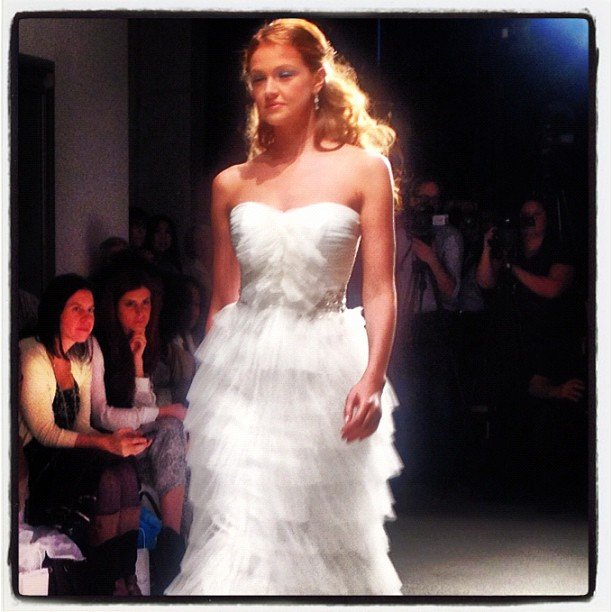 Lead Makeup Artist: Fatima Thomas
The fabulous MAC makeup artist for the Alfred Angelo runway show worked directly with the designer to maintain the Disney princess theme for the models' makeup. Fatima used sea foam greens and creamy blues to create a look that was "somewhere in the middle" between classic and colorful.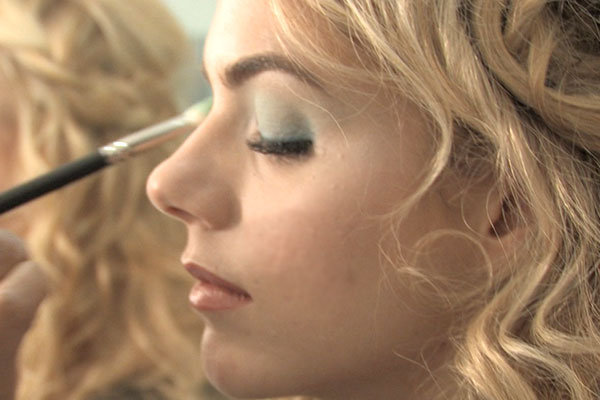 Advice for real brides? Fatima said that brides need to think about the makeup before the day of the ceremony. She pointed out how every other aspect of the big day is planned in advance, so why not your makeup? All eyes are going to be on you, so she advised spending the money and hiring a professional to do the job. She continued, "discuss what you want, bring in pictures, do a run through and stick to the plan."
Fatima also gave pointers about some specific types of products that you should be keeping an eye out for when buying your wedding day makeup. She said that "long-wearing products, pencils for the eyes, and primer" are some of the most important things to think about. She also recommends waterproof mascara for not only the bride, but also the guests!
The biggest makeup trends right now: A lot of color on the eyes, winged eyeliner, red lips with a long-wearing formula and false, long lashes.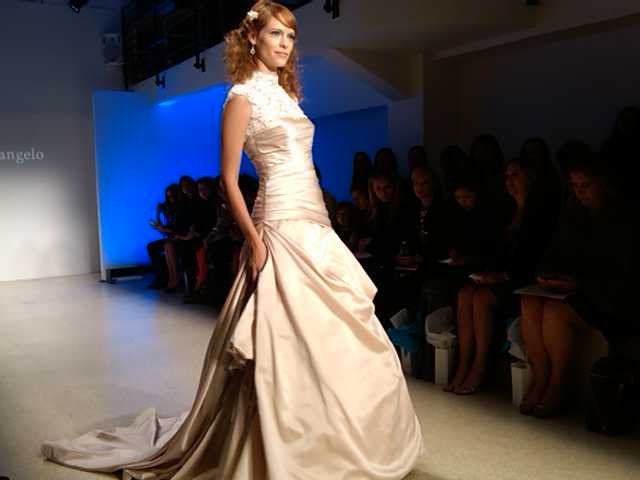 —Kelly McDermott