Although an expanding market, searching for an eco-chic wedding dress can be challenging. Here are five most wanted green wedding gowns for the perfect day.
Whether conventional or irreverent, the wedding dress is a focal point of most weddings. Brides search high and low [1], toiling over every detail to find the perfect dress: one that is flattering, stylish, and falls within budget. The green bride is no exception, except for the fact that she does not wish to add to Mother Earth's carbon footprint with yards of fabric (most bleached with toxic chemicals) for the dress, train, and other accessories.
Although an expanding market, searching for an eco-chic wedding dress can be challenging. Here, check out five of the most popular green wedding gowns, all available on greenbrideguide.com [2].
1. Organza Cotton Ball Gown
The one-shoulder ball gown with a softly dazzling feather headpiece adds subtle drama and channels Old Hollywood silver screen glamour. The Organic Cotton Ball Gown is designed with fluffy layers of organic cotton and tulle. The vintage buttons in the tulle flowers on the bodice have a quietly dazzling effect. This gown is perfect for the bride seeking a lightweight, frothy wedding dress that's oh so much fun to wear.

Organic Cotton Ball Gown, The Green Bride Guide [3]
2. Garden Dress
Pocket dresses are adorable. The Garden Dress proves that a pocket dress can balance casual and formal — perfect for the bride who likes to dash and flutter about, yet maintain simple elegance. Picture an outdoor wedding, beach or backyard affair, with hidden pockets for warmth or comfort. Pair this dress with a bright cardigan for a sweet and casual look. The garden dress gets extra kudos; the pleated skirt can be shortened very easily without losing much of its original style. Available in Organic Cotton or Dupioni Silk, as well as Hemp and a variety of blends and vintage fabrics.

The Garden Dress, The Green Bride Guide [4]
3. Polka Dot Dress
Vintage couture dresses are simply fetching, with intricate beadwork and unparalleled craftsmanship. Brides with an expanded budget and yen for '50s vintage style will adore the Polka Dot dress. The iconic design has a flouncy tea-length skirt, sweetheart neckline under sheer mesh straps, and a natural waistline with a soft silk band. Of course, in keeping on trend with the 1950s, there are polka dots; the funky vintage cream polka dot mesh drapes the shoulders to a simple V-neck. Made from organic cotton and hemp.

Polka Dot Dress, The Green Bride Guide [5]
4. The Marilyn
The bride wearing a vintage beaded bustier gown will hold court. The Marilyn Gown's silk organza full skirt makes a bold statement and is perfectly suited for a bride willing to step into the future with stately charm. Not to be overlooked, the intricate off-white pearl beading gives this dress luminous essence. It's a happy coincidence that the Marilyn gown is made from the highest quality vintage and recycled fabrics.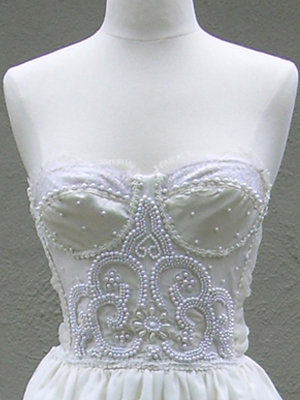 The Marilyn, The Green Bride Guide [6]
5. The Mae Skirt and Bustier
A wedding gown with black and white embellishments is very graphic; a fantastical approach to a stately wedding with a nod to Lewis Carroll. The Mae Bustier and Skirt is perfect for the bride who wants to make a statement. First, the bustier: an undergarment turned inspiration with crème hemp and silk organza. Then add black lace overlay with details like those of a master couturier. The long bias skirt is trimmed with an English net ruffle train, ideal for the bride who is confident in haute couture. The Mae goes seamlessly from day to night in statuesque elegance. Made from organic linen.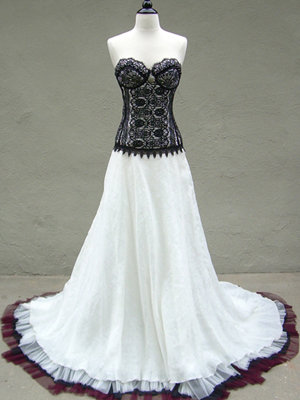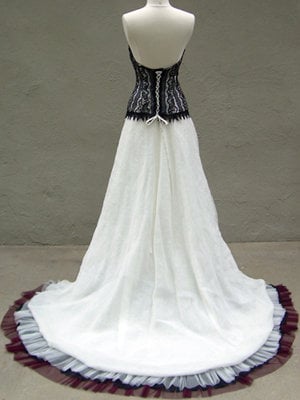 The Mae Skirt and Bustier, The Green Bride Guide [7]
—Paula Conway with Kate Harrison, Founder of The Green Bride Guide [2]