Break the bank or save for a house — your Caribbean trip of a lifetime can fit either budget.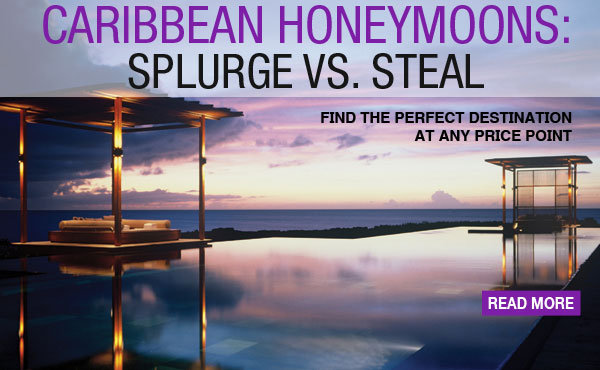 Mobile Slider:
While the old adage that you get what you pay for is true, choosing a Caribbean destination and hotel has as much to do with taste and personality as it does with budget. And cheap doesn't always mean skimping. Here, we've rounded up the best the Caribbean has to offer from hotels to activities at two distinct price points. Find one that is right for your trip of a lifetime and your wallet.
U.S. Virgin Islands
The U.S.V.I. couldn't be an easier honeymoon destination. It's a cinch to get to, because there are lots and lots of flights from U.S. cities into St. Thomas. And because it's U.S. territory, you'll recognize everything from street signs to currency and only ever need to communicate in English. And from St. Thomas to St. John, it's just a short, inexpensive ferry ride.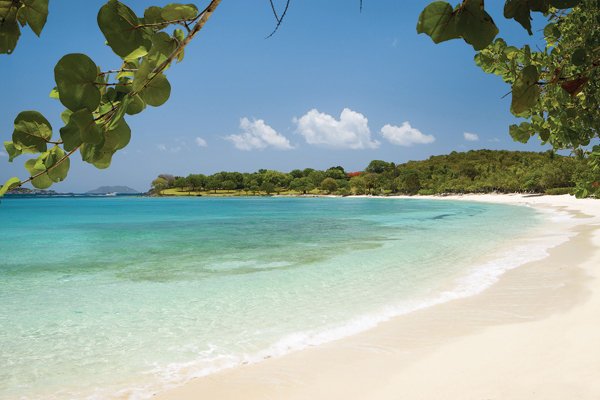 Photo courtesy of Caneel Bay, a Rosewood Resort
Save
At Concordia Eco-Resort, the ample studio accommodations come at a price that's low enough to allow you to indulge in that long, relaxing honeymoon of your dreams. Here, you can take weeks to get over the hassles of travel, shake off the stresses of the wedding, and sink into true relaxation that only time can provide. Best of all, rooms come with kitchenettes, so if you really want to save money by cooking, you could extend your time away from the real world for as long as you can get away (room rates start at $165 a night; concordiaeco-resort.com [1]).
To Do: One complaint about Caribbean islands: On the nights when you don't want to listen to music, dance and drink or just stay in, there isn't much to do. The solution? Several nights a week, after the sun sets, the Concordia Eco-Resort shows films in the breezy yoga pavilion. You can breathe in the salt air, watch the stars and make plans for the next lazy day while you wait for the opening credits.
Where to Eat: Last year, when New York-based chef Zak Pelaccio opened an outpost of his Malaysian seafood restaurant, Fatty Crab, on St. John, foodies who also love the Caribbean rejoiced. You don't come here for conch fritters: instead, look for crab ramen, green mango salad, coconut rice pork ribs glazed with fish sauce and palm sugar and brisket rubbed with calamansi (a fruit similar to lime) and chiles.
Splurge
Located on protected national parkland preserved in the 1950s by Laurance Rockefeller, Caneel Bay, A Rosewood Resort is a rare find. Quiet and unspoiled, with more than a half-dozen coconut palm-lined beaches to choose from, the resort is one of the best choices in the region for sun worshippers. The rooms are like secluded cabins and many line the shore, leaving nothing between the surf and you but the diamond-white sand (room rates start at $450 a night; rosewoodhotels.com [2]).
To Do: This is not the place for lounging by the pool with umbrella-topped frozen drinks (although you can do that too). With seven beaches and 170 tropical acres, Caneel Bay is a joy to explore. Pack a picnic lunch, your snorkeling gear, towels and camera, and set off for a day-long hike. Expect to see not only the resort's famed wild donkeys in this wildlife sanctuary, but also deer, lizards, iguanas, pelicans and even — if you're lucky — sea turtles.
Where to Eat: The Turtle Bay Estate House, the white-tablecloth fine-dining restaurant at Caneel Bay, is a rare steakhouse in the islands, and a good one at that. Classics include grilled porterhouse steak, braised short ribs in Marsala sauce, creamed spinach and even chocolate cake for dessert.
Turks and Caicos
These isles are home to the beaches of screen savers. Best known for the long stretches of sparkling sand lining clear, vivid blue water, just about every waterfront resort has its own stretch of hard-to-beat, palm-lined beach.
Save
Grand Turk Inn is the West Indies-style inn of Caribbean daydreams, with plenty of wicker deck chairs, four-poster beds and wooden staircases. There are just five rooms, all of which have air-conditioning and their own kitchens. Ask for the Conch Cottage suite, which has a four-poster bed that's enrobed in drifts of white gauze. The inn itself offers plenty of bleached out sand and hammocks that literally swing between palm trees (room rates start at $250 a night and include continental breakfast; grandturkinn.com [4]).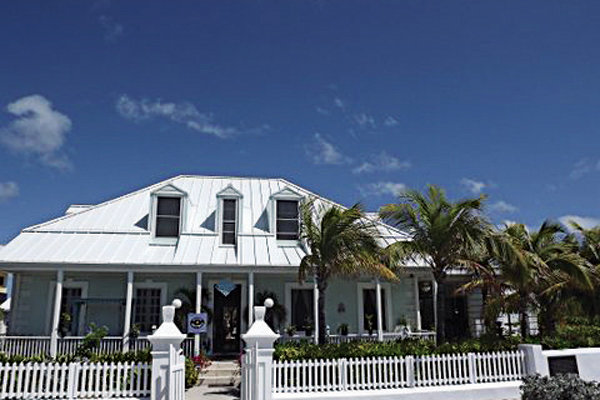 Photo courtesy of Grand Turk Inn
To Do: From January through March, you can whale-watch from the inn's sundeck, or take a boat ride around the island to check out the Caribbean Humpback whales as they migrate through the region.
Where to Eat: Da Conch Shack and Rum Bar in Provo is a must-see. This small, well, shack, serves up fish and lobster, but you come for the conch. If you've never had it before, try it in a comfortably familiar concoction, such as fried into fritters or cooked in chowder, and leave the more ambitious conch salad, conch creole, and cracked conch to the old hands.
Splurge
The first Aman resort in the Caribbean, Amanyara feels luxurious, decadent, decidedly Asian and blissfully off the radar. Picture calm reflecting pools and lounging salas (open air spaces) by the main swimming pool as well as a sugar-sand beach, an Asian-inspired spa and ultra-private villas and suites, most with their own pools (room rates start at $1,300 a night and include airport transfers, mini-bar, non-motorized watersports, some activities and yoga; amanresorts.com [5]).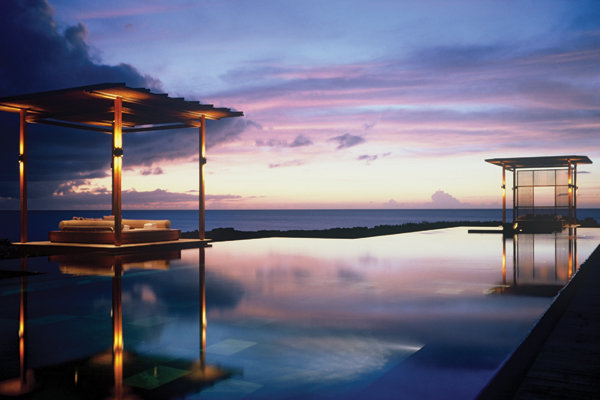 Photo courtesy of Aman Resorts
To Do: Amanyara is located on the Northwest Point of Providenciales, far from the crowded shores of Grace Bay, where resorts sit up against one another. Here, you can cocoon yourself in quiet and privacy — so why leave? From May through September, gentle breezes create the ideal climate for boating, and the resort offers complimentary Hobie Cats and ocean kayaks to explore the coastline. Don't miss the spectacular snorkeling located just off the beach. Private excursions and daily complimentary group outings offer the chance to spy loads of tropical fish.
Where to Eat: Some of the best Asian food in the region is at Amanyara. Because the Aman hotel group is based in Asia, the chefs who work here often come from the eastern properties, adding an authenticity to Pan-Asian dishes like tuna with yuzu sauce and braised pork belly with Asian mushrooms. But it's the Thai dishes — from the soups like tom kha gai and tom yun goong to curries and Phuket-style lobster with chili sauce — that steal the show. Leave space for the homemade ice cream.
St. Lucia
This lush, green island is defined by its jungly landscape and dramatic Piton mountains. For couples looking for a combination of nature and nurture, this could be just the place.
Save
Ti Kaye Village is set on the bay, overlooking the reefs that comprise the island's marine park. The view is unforgettable, but it's the space itself, with its mosquito-netted four-poster beds and hammocks, that you'll remember (room rates start at $220 a night; tikaye.com [7]).
Photo courtesy of Ti Kaye Village
To Do: The hotel has its own dive shop, Island Divers, and the guides will take you into the sunken boat wrecks near the resort as well as around the island to turtle-filled Fairyland Reef or barracuda-lined Coral Gardens. For first-time divers, there are classes, too.
Where to Eat: Take a boat ride across Marigot Bay to Rainforest Hideaway, a remote French-Caribbean fusion restaurant set among mangroves. It feels like an adventure from the moment you step onto the boat. Dishes include true blends of continental and island cuisine, such as a ham-hock terrine with pineapple and tamarind, as well as jerk shrimp with Parmesan risotto. They're served on the candlelit dock, to a serenade of jungle frogs.
Splurge
Paradise doesn't come cheap, but for those who love nature and luxury equally, Jade Mountain may be as close to heaven as a resort gets. Rooms have just three walls, with infinity pools that extend from inside the room to out. Designed around views of the Pitons, the suites bring the rainforest into the room (along with the occasional bird) and offer a sense of camping (wake with the sun, trade air-conditioning for breezes), albeit with high thread-count sheets. Fortunately, the beds are curtained with gauzy white mesh to keep out the bugs and make you feel like the only two people in the entire world (room rates start at $1,050 a night; jademountain.com [8]).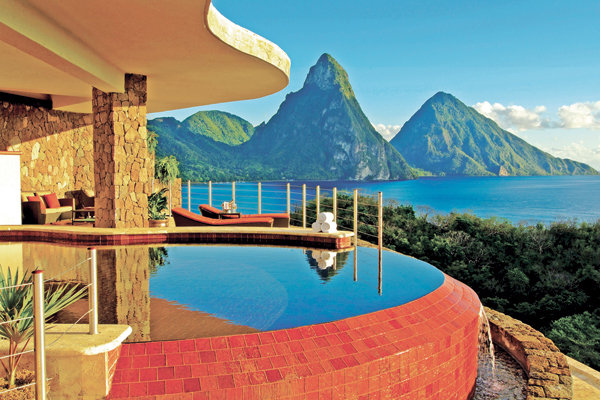 Photo courtesy of Jade Mountain
To Do: Rent mountain bikes at Bike St. Lucia and cycle high up into the mountains, down to the beach or through the jungle to hidden waterfalls, all via Jade Mountain's eight miles of beautifully maintained trails. No matter which route you choose, you'll cruise past fragrant flowers and lush fruit trees.
Where to Eat: If Jade Mountain is all about cocooning together in your own private world, then room service is the natural extension of that privacy. Except here that translates to six-course meals served, course-by-course, in your suite. Your romance may not need any fuel, but foie gras, caviar, filet and champagne certainly lend an air of specialness to the evening.
Puerto Rico
Puerto Rico's vibe is an energetic take on the Caribbean. During the day, explore the historic sites that line Old San Juan's cobblestone streets. After dark, the cosmopolitan city comes alive with a nightlife that offers everything from cool, seductive lounges to hot nightclubs with music and dancing until dawn.
Save
The Cervantes is modern and sleek, but with enough sense of place to remind you that you're in a colonial town. The marble lobby, wrought-iron terraces and double doors that lead out to them feel designed for a honeymoon photo that's the stuff of Facebook cover pictures (room rates start at $182 a night and include breakfast; cervantespr.com [10]).
To Do: A walking tour of the 16th-century old town should include (in addition to several historic forts) a visit to the beautiful central cathedral, home to explorer Ponce de Leon's remains.
Where to Eat: Dragonfly looks like the kind of sexy, cool lounge you might want to take someone to on a first date, but it's sure to add that same energy to a honeymoon as well. Served in a space inspired by an Asian opium den, the thumping music will fuel the evening as much as the seafood (imagine lobster-mango summer rolls) and cocktails (dragon rum punch — natch).
Splurge
If you're drawn to the history of Old San Juan, with its cobblestone streets and dramatic San Felipe del Morro fort, then Hotel el Convento is the resort for you. Fifty-eight rooms boast period furniture, large marble bathrooms and views of the city or bay (room rates start at $265 a night; elconvento.com [11]).
To Do: The hotel has its own beach club, and it also offers pool and signing privileges at sister hotels La Concha, in the hip Condado neighborhood, as well as Isla Verde Beach Resort, on the white sands of Isla Verde Beach.
Where to Eat: The tapas at Hotel el Convento's courtyard restaurant, El Picoteo, feel just right for a leisurely lunch. Dishes include plenty of the different cultural influences on Puerto Rico, from Spanish tortilla and beef empanadas to Caribbean-style ceviche and Mexican tres leches cake.