Cruising offers dining options, tons of activities and a chance to see various ports. Bonus: You only have to unpack once!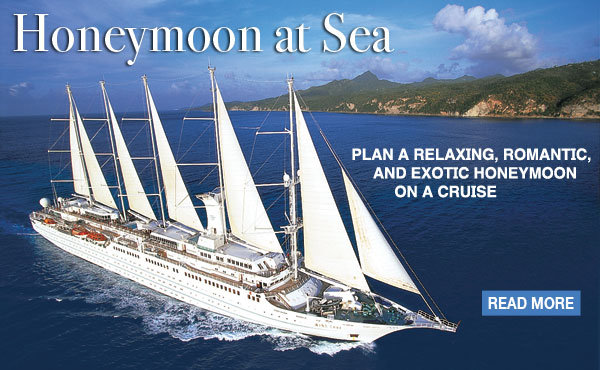 A honeymoon at sea can be relaxing, romantic and exotic, but before you book it's smart to put all fantasies aside and be practical. Choosing a cruise is a bit like buying a car: You need to know if you're in the market for a versatile SUV, a sporty convertible or a luxury sedan. Yes, cruise ships are that different. There are more than a dozen major cruise lines with over 100 ships at sea, sailing itineraries from Europe to Tahiti, and they range in size from 100 passengers to more than 5,000. Which one is right for you? Check out our selection of six romance-ready ships with a range of onboard experiences and prices from affordable to splurge-worthy and find out. Bon Voyage!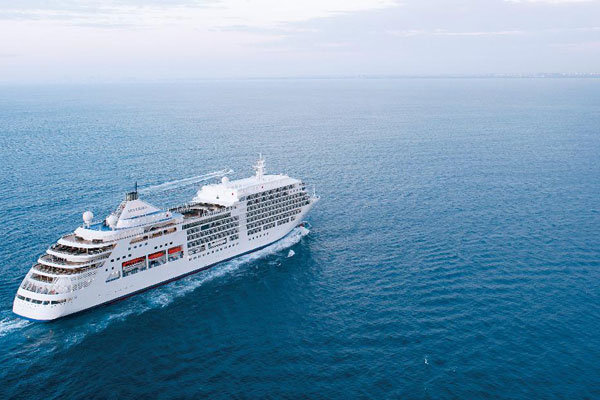 Photo Courtesy of Silver Sea Cruises
For Luxury Lovers: Crystal Serenity
Bigger ships may have more amenities—but you're also apt to find yourself elbow-to-elbow with thousands of fellow passengers as you try to enjoy them. At 68,870 tons, Crystal Serenity has a big-ship feel, but accommodates just 1,070 passengers. Do the math and it translates into exceptional luxury that offers something for almost everyone. Christened in 2003 and fresh from a $25 million renovation, Serenity sparkles with urbane energy, sophisticated itineraries, outstanding dining options and a feng shui-inspired spa. Other notable perks include a driving range and paddle-ball court, a movie theater and a colorful Seahorse Pool Deck lined with cozy circular pod beds for two and a pair of Jacuzzis.
Another great thing about Serenity is that 85 percent of its staterooms have verandas. And the striking decor inside is as chic as a designer penthouse in New York City, complete with leather, silk and velvet touches. In fact, some accommodations, called penthouses, are butler-serviced minisuites that make an ideal honeymoon hideaway. They're a major splurge. The deluxe staterooms with veranda are also more than comfortable, complete with marble bathrooms with a tub, as well as a flat-screen TV and large closet.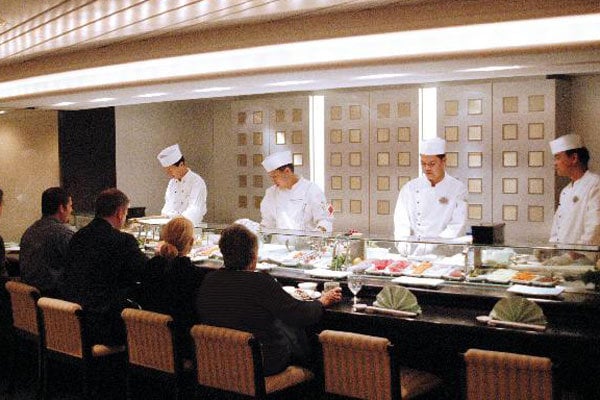 Photo courtesy of Crystal Cruises
Serenity has six restaurants, plus several cafés and bars. Favorites include The Crystal Dining Room (one of the top restaurants at sea with revolving menus of international specialties), Silk Road, by famed chef Nobu Matsuhisa, and Tastes, a poolside venue that serves amazing light fare. Good thing there's also a 360-degree jogging track—running or walking is magical just before sunset—and a fitness center.
Top Itinerary: Serenity cruises the world, but spends her summers in Europe, so this is the ship on which to sail through Northern Europe on the 10-night "Bounty of the Baltic" (summer 2013). Start in Stockholm, where the pristine waterfront is home to the Royal Palace and many museums— don't miss the Vasa, dedicated to a salvaged, circa-1628 wooden ship. Cruise on to Tallinn, Estonia, a medieval city dotted with charming turrets. In the jewel that is St. Petersburg, Russia, enjoy the artistic splendors of the Hermitage Museum and Peterhof Palace. Continue on to Helsinki, which is architecturally interesting and easy to explore on foot; Berlin (a three-hour drive from port, but worth it for its historic sights and hip art scene); and Copenhagen, home to the delightful Tivoli Gardens amusement park and an emerging gourmet food scene (cabin rates start at $6,350 per person, per 10-day sailing; all-inclusive; crystalcruises.com [1]).
Next: For Stylistas: Celebrity Silhouette >> [2]
For Stylistas: Celebrity Silhouette
From the chic martini bar to the pretty Persian Garden in the two-story AquaSpa, the newest ship from Celebrity Cruises radiates a sexy, grown-up vibe. Yes, at 122,400 tons and 2,886 passengers, nine-month-old Silhouette is big, but her interior design—which resembles a sleek boutique hotel—creates a glamorous base from which to see Europe or the Caribbean. The most unique feature: The Lawn Club, a grassy expanse (yes, it's real grass!) that's home to the cabana-like Alcoves, a bocce court, the Sunset Bar and the BBQ Lawn Club Grille. Other ship highlights include specialty restaurants, a fabulous gelato bar, and both beer and wine tasting lounges. At Cellar Masters, you can self-sample 64 wines by the glass; in Michael's Club, there's a stock of 60 microbrew labels from around the world.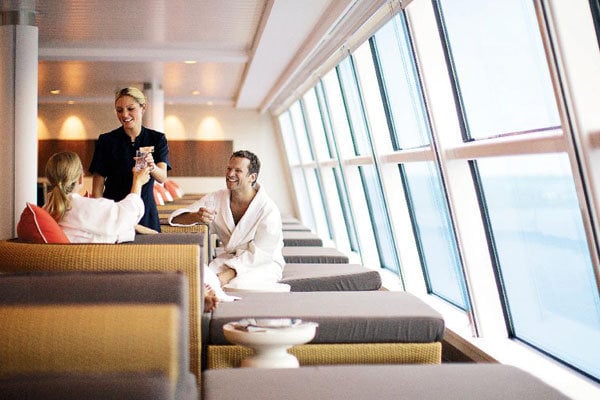 Silhouette features 11 stateroom options, all with streamlined contemporary decor. The 194-square-foot AquaClass stateroom is a good choice for couples looking to be pampered. It comes with a veranda, priority seating in the healthful- but-delicious Blu restaurant, and unlimited access to the nearby spa's soothing Persian Garden, which features aromatherapy steam rooms, saunas and heated tile recliners and panoramic relaxation room. For a larger bathroom with a tub, and veranda, book a Sky Suite, which comes with butler service and daily evening hors d'oeuvres.
Speaking of food, before boarding make reservations for Qsine, one of the most innovative specialty eateries at sea, serving tapas-style small plates that are as visually inspired as they are yummy. For romantic ambience, Murano serves wonderful continental fare (as at Qsine, there's a $30 perperson surcharge).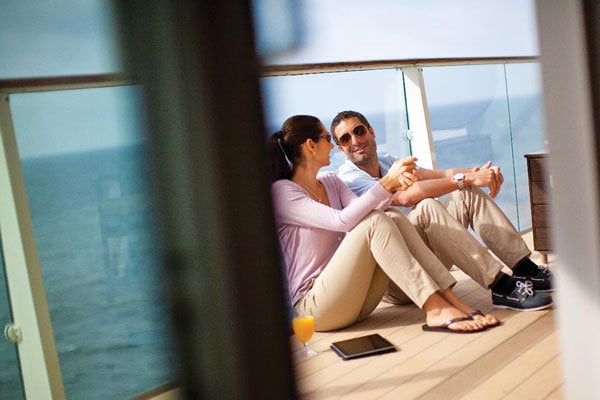 Top Itinerary: Silhouette sails around Europe from May to November and throughout the Caribbean from December to April. A great option for a lengthy, sun-kissed honeymoon is the 12-Night "Adriatic Cruise." Begin in romantic Venice and continue to nearby Dubrovnik, Croatia, where you can circle the medieval Old Town on foot atop a centuries-old wall. Another spot is Split, a beautiful Adriatic city centered around the Roman Palace of the Emperor Diocletian. More historic and scenic gems are in store in Kotor, Montenegro, a fortified city tucked against a mountain at the end of a stunning fjord, and in Valletta, Malta, the capital of the sunny Mediterranean island nation with 7,000 years of history (cabin rates start at $1,099 per person, per 11-night sailing and include meals and some activities; celebritycruises.com [3]).
Side note: A key feature of Silversea's Silver Spirit is that all staterooms are butler-serviced suites and 95 percent have teak verandas.
Photos courtesy of Celebrity Cruises
Next: For Foodies: Silversea's Silver Spirit >> [4]
For Foodies: Silversea's Silver Spirit
If a yearning for culinary satisfaction dictates your vacation choices you'll feel deliciously at home on this sophisticated small ship, where fine dining is the cornerstone of the experience. The newest ship in Silversea's luxury fleet, 36,000-ton Silver Spirit set sail in late 2009 and accommodates 540 guests. Service is stellar and the ambience is classically elegant with contemporary touches.
A key feature of Silver Spirit is that all staterooms are butler- serviced suites and 95 percent have teak verandas. Each has a marble bathroom with separate shower and full-size tub, a walk-in closet and a sitting area with flat-screen TV. Veranda suites, at 376 square feet, are super-comfy, but trading up to a 742-square-foot silver suite is a splurge you won't regret. Another Silver Spirit plus is that the tariff is all-inclusive, meaning beverages, wine and champagne by the glass, as well as onboard gratuities are included. However, shore excursions, spa treatments and a meal at the two specialty dining venues are extra. Those two specialty venues—in addition to two main restaurants, a poolside grill and a tapasstyle supper club—are not to be missed: Le Champagne for a six-course haute French experience and Seishin for extraordinary Asian fusion fare. You can work off all the extra calories in the fitness center. At the adjacent spa, wind down your day with a soak in any of the four hot tubs.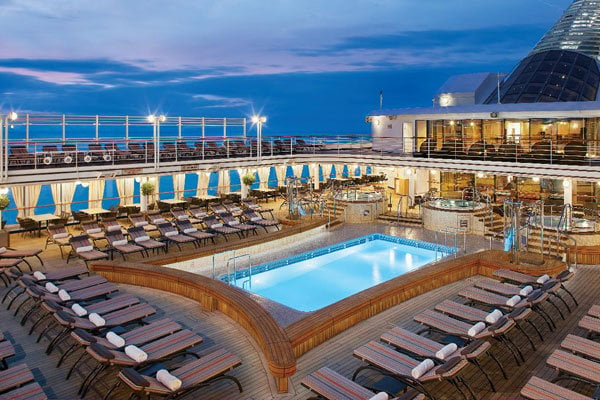 Photo Courtesy of Silversea Cruises
Top Itinerary: Silver Spirit spends April to October in Europe on a variety of seven-night itineraries—a favorite is Athens (Piraeus) to Istanbul. Begin with a visit to the hilltop Acropolis (the three-year-old New Acropolis Museum just below is also wonderful) and other remnants of the ancient Greeks before exploring the iconic beaches and whitewashed cliff villages on the islands of Mykonos and Santorini. Enjoy the fascinating Knights of St. John and Minoan history on Rhodes and Crete, before ending your time travels in Istanbul, home to the exquisite Blue Mosque and Hagia Sofia and the must-visit Grand Bazaar with its 4,000-plus shops (cabin rates start at $4,199 per person for 7-night sailing, all-inclusive; silversea.com [5]).
Next: For Free Spirits: Wind Surf >> [6]
For Free Spirits: Wind Surf
Cruising is one thing, but sailing is another. And even though this 312-passenger, five-masted sailing yacht mostly relies on its motors to get from port to port, when the sails are hoisted and the ship slips off into the sunset—to the Andrea Bocelli/Sarah Brightman duet "Time to Say Goodbye"— you'll feel spiritually one with the sea. Wind Surf's intimate size and unstuffy vibe also mean it attracts a sociable clientele keen to explore smaller ports, such as Cinque Terre and Corsica in the Mediterranean, and Dominica and Jost Van Dyke in the Caribbean. The ship dates to 1990, but is in the midst of its latest refurbishment (staterooms are complete and now feature leather headboards and linen wall coverings, while common areas will be done by November 2012). If you've always wanted to cruise, but feared the big ships may be too over-the-top, this casual luxury ship delivers superb food and service without an iota of neon.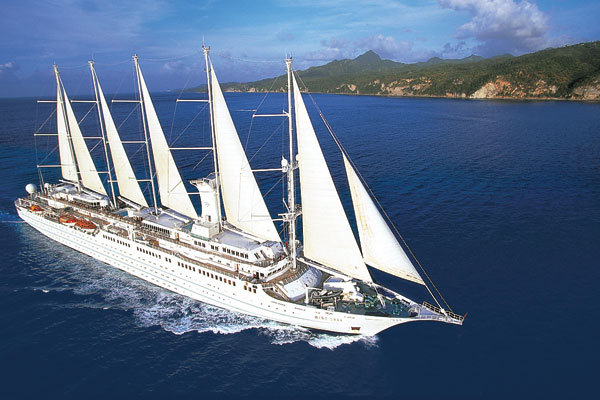 Photo Credit: Windstar Cruises
Here, the stateroom choice is simple: Category A and B Cabins are, at 188 square feet, identical except for location (Bs are on the lowest decks). While compact, they are exceptionally well designed, especially the bathrooms, and feature queen-sized beds and flat-screen TVs. Suites boast separate sleeping and sitting areas and two bathrooms. None have verandas—but you can find many teakdecked spaces with wonderful views to enjoy sail-away time. Two favorites are the aft pool deck and bar with its small pool and two Jacuzzis, and Compass Rose, an indoor/outdoor bar serving up cocktails, conversation, music and panoramic views.
For such a compact ship, dining options abound (all included, but most beverages, with the exception of coffee, tea and iced tea, are extra). Wind Surf has five restaurants including The Veranda, where the breakfast and lunch buffets are divine and The Restaurant, which offers dinner. Reservations-only Degrees serves wonderful Mediterranean cuisine, while two small alfresco specialty venues, Candles and Le Marche, serve steak and seafood, respectively. There's also a small spa and fitness center, a lounge (with a great cover band belting out hits from five decades) and a watersports platform, from which you can kayak, snorkel, play water polo and yes, windsurf!
Top Itinerary: Wind Surf splits its time between the Mediterranean (April to October) and the Caribbean (December to March). A romantic voyage is the seven-night St. Maarten itinerary. From the capital of Dutch St. Maarten, sail to Antigua (home to 365 beaches and the historic Nelson Dockyards) and then on to the sublime British Virgin Island of Jost Van Dyke, which is famous for its ramshackle beach bars. Then it's on to Tortola where you can explore picturesque Soper's Hole harbor. And on Virgin Gorda, there's snorkeling amid the famous boulders at The Baths. Finally, spend a delightful day on St. Barts, a small slice of Southern France in the Caribbean (cabin rates start at $1,499 per person, for a 7-night sailing and include meals and some activities; windstarcruises.com [7]).
Next: For Can't-Sit-Still Types: Royal Caribbean's Allure of the Seas >> [8]
For Can't-Sit-Still-Types: Royal Carribean's Allure of the Seas
If you love superlatives, this new 5,400-passenger ship is just bursting with them! At 225,282 tons and 1,187 feet in length, it's the world's biggest cruise ship and it features seven distinct neighborhoods (including the open-air "Central Park" and a "Boardwalk" with a hand-carved carousel), 25 restaurants and eateries, four pools, 10 hot tubs, 24 glass-walled elevators and 456 slot machines— and even the first Starbucks at sea. Yet its sheer size and open design somehow make it feel less crowded and less maze-like than some other megaships. And activities abound: choose from a zipline, the surf-simulating Flow- Rider, a climbing wall, a skating rink, the musical Chicago and a fantastic water show, among other offerings. Obviously, Allure of the Seas is popular with families, but high-energy couples will find plenty of adult-only havens, such as the Vitality Spa, the Solarium with its pool and hot tubs, and the Rising Tide Bar (which rises and lowers in the Promenade). Accommodation selections are just as plentiful—Allure of the Seas features a slew of categories, from a cozy 150-square-foot inside stateroom to a two-story, 1,724-square-foot royal loft suite, complete with a baby grand piano. Our pick is the balcony stateroom; if you want a splurge, upgrade to junior suite, which has a bathtub rather than just a shower.
Photo Credit: Royal Caribbean International
Dining-wise, there's a smorgasbord of 25 options (13 of them included in the cabin rate, although beverages aren't). There's a fun selection of internationally inspired hot dogs at the Boardwalk Dog House, an enormous buffet and à la carte breakfast, lunch and dinner in the main dining room. For an extra fee (about $20-$25 per person per meal), you can dine at specialty restaurants that include Samba Grill Brazilian Steakhouse, Giovanni's Table Italian restaurant, and the romantic, fine-dining option, 150 Central Park.
Top Itinerary: Allure of the Seas sails year-round from Fort Lauderdale on seven-night cruises to the Eastern Caribbean (Nassau in the Bahamas, St. Thomas and St. Maarten) and Western Caribbean (Labadee, Haiti; Falmouth, Jamaica; and Cozumel, Mexico). Choose Eastern if you love to shop and explore cities. Colonial Nassau bustles with duty- free shops, and yet soft white sand is only a short taxi ride away on Paradise Island.In Charlotte Amalie on St. Thomas you can reach new heights on the Paradise Point Tramway, before dropping serious dollars on jewelry and electronics downtown. On St. Maarten, if you're tired of shopping you can zipline, snorkel or rent a car to explore this dual Dutch-French isle and have lunch on Orient Beach (cabin rates start at $749 per person for a 7-day sailing and include meals and some activities; royalcaribbean.com [9]).
Next: For Romantics: m/s Paul Gauguin >> [10]
For Romantics: m/s Paul Gauguin
Two of the world's most seductive travel experiences—small-ship cruising and the islands of the South Pacific— come together in one memorable package aboard this just-renovated ship named for the French painter eternally associated with the beauty of Tahiti. At just 19,200 tons, 332-passenger m/s Paul Gauguin not only has an intimate, couple-centric ambience but also the ability to slip into and out of the shallow lagoons of the region's most iconic islands, from Bora Bora and Moorea in French Polynesia to Aitutaki in the Cook Islands. For honeymooners, this means unpacking just once and yet getting to sample the unforgettable scenery of 5 to 10 islands (with overnights on Bora Bora, allowing two days to soak in its unparalleled beauty) over the course of 7 to 14 days.
Photo Credit: Paul Gauguin Cruises
The m/s Paul Gauguin features 116 staterooms, 70 percent with balconies and all transformed by a $7 million facelift in January 2012. The new decor, in shades of ecru, warm brown and pale blue, is lighter and sleeker than before, making even the 239-square-foot balcony staterooms seem roomier. Bonus: Most have full-size bathtubs. If you can splurge, the 358-square-foot veranda suites are notably roomier and also come with a butler. And with the spectacular
scenery in the South Seas, you'll want to have a private balcony where you can enjoy sunset cocktails. Adding to the ship's romantic allure are its renowned service (the staff to guest ratio is 1 to 1.5) and culinary offerings that mix French and Polynesian infl uences. You can dine on garlic-andbutter- coated escargot one night and local grouper in a fl avorful orange sauce the next, accompanied by complimentary fine wines and spirits in your choice of three restaurants. The Deep Nature Spa offers massage lessons for couples. Off the ship, enjoy a motu (small islet) picnic (don't miss the ceviche-like local favorite, poisson cru) and Polynesian entertainment, or an overwater massage with hypnotic monoi oil, a blend of coconut oil and fragrant tiare blossoms. There's also a water-sports marina at the ship's aft offering kayaks or windsurfing boards, as well as PADI scuba certification. When the sun sets, you'll be enthralled by the Gauguines, a troupe of Polynesian performers, and by cruise's end, you'll be shaking your hips like a true Tahitian.
Top Itinerary: m/s Paul Gauguin sails the South Pacific year-round on 7- to 14-night voyages throughout French Polynesia, the Cook Islands, Fiji, Tonga and more. A great romance-meets-adventure journey is the 10-night cruise across the Society Islands and Tuamotus. You can swim with stingrays and sharks on Bora Bora, parasail above a shimmering lagoon on Moorea, or drift dive Rangiroa's Tiputa Pass with its adrenaline-spiking currents. Slow the pace down a bit with a visit to a pearl farm (Tahitian black pearls make beautiful souvenirs) on Taha'a and stroll along the pristine beaches of Fakarava (cabin rates start at $4,297 per person, per 7-night cruise and include roundtrip airfare from Los Angeles through December 2012; pgcruises.com [11])
Plus, find out the ins and outs of cruise safety [12].