Spread the joyful news that the wedding is finally (almost) here with an announcement that is just as fun and personal as the two of you.
Home Page Abstract:
Spread the news about your wedding with one of these creative save-the-dates.
Mobile Slider:
Season's Greetings
To add a sentimental touch, take your photo right after getting engaged. Or, if you're having a longer engagement, consider shooting your save-the-date snapshot a year or two prior to the wedding during the season that you're getting married.
Follow this foolproof formula: A few simple props + the great outdoors + baked goods (to bribe your most photo-savvy friend to take the shot) = simple, yet eye-catching save-the-date nights. Don't forget to seal it with a kiss...foot lift optional.
Photo Credit: w+e photgraphie [1]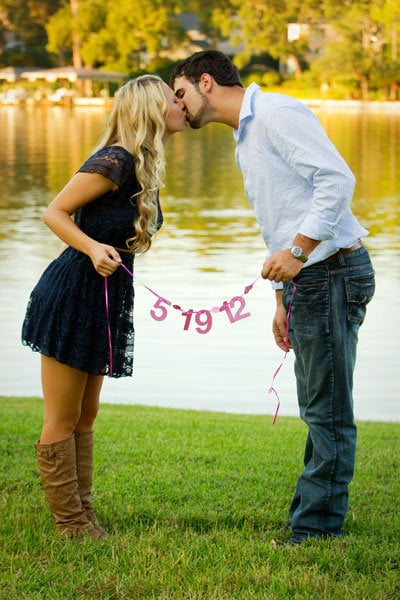 Photo Credit: East Hill Photo [2]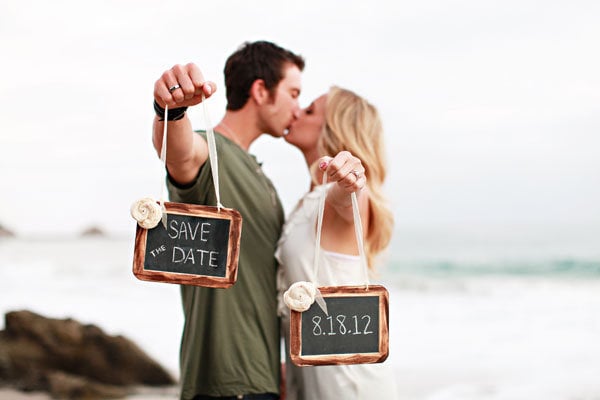 Photo Credit: Brittany Janelle Photography [3]

Funny Faces
Unconventional, yes, but hilarious nonetheless. If you're the kind of bride who yawns when you receive yet another saccharine notice in the mail, then this cheeky save-the-date should strike your fancy. No kissing this time—you don't want the writing to smudge.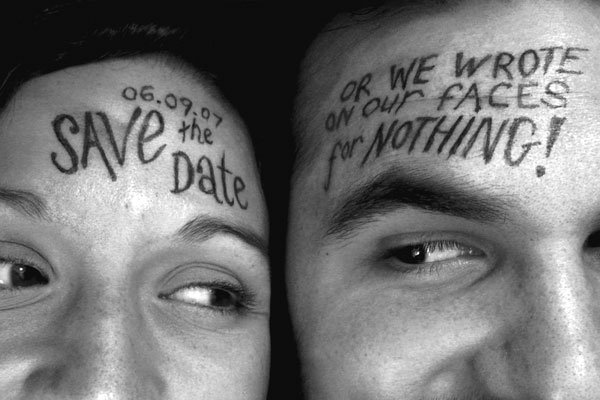 Photo Credit: Justin Pocta [14]

Start a New Chapter
For couples who already have a favorite photo of all-time, consider this book-themed option from Wedding Paper Divas [15], which uses a text overlay. This grand save-the-date is elegant and practically does all the work for you. Best of all, it will only set you back 94 cents per card.
Photo Credit: Wedding Paper Divas [16]

Words with Friends
Wordsmiths, spell out your love story with Scrabble tiles as a tribute to your favorite low-key dates (or app addiction). Triple points for a vibrant dress in a cheery hue, like the one this lovely bride is wearing.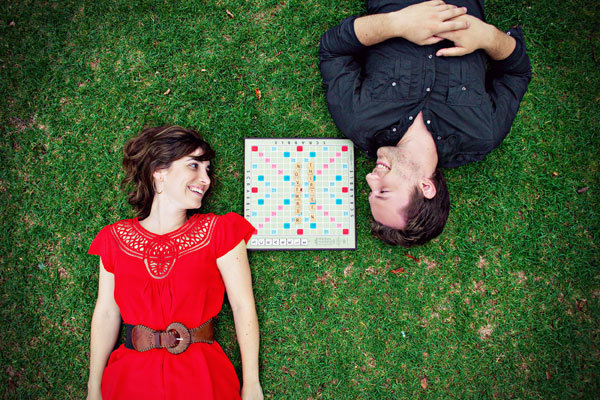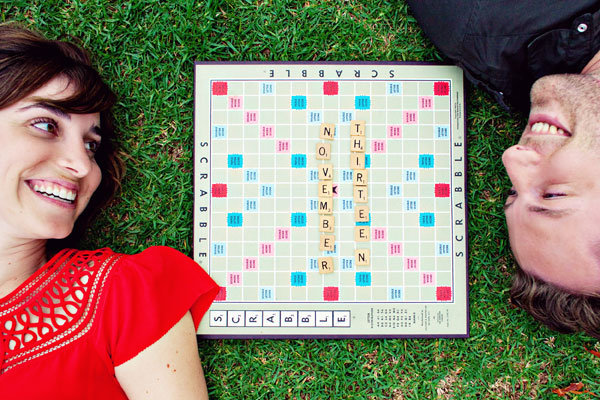 Photo Credit: He & She Photography [17]

Team We're-Getting-Married
After realizing how one-sided planning can be, groom-to-be Tommy Gaynor used his save-the-date as an opportunity to get more involved in the wedding planning with fiancée Shaina. He came up with the idea to pay homage to one of the couple's favorite obsessions.
"I was shocked when Shaina actually bought into the concept and began looking for football jerseys to order. I had to promise to pose for a few beach and boardwalk shots along the way, but it was worth it," said Gaynor.
When the couple presented the plan to their photographers, Debbie and Denise at art+life photography [18], they turned their idea into a romantic Friday Night Lights remake. They created exciting, impactful shots that were a big hit with friends and family.
"With a March wedding planned at a golf resort, I can't help but think I made out pretty well with the wedding planning. Of course I did, I found my teammate for life," said Gaynor.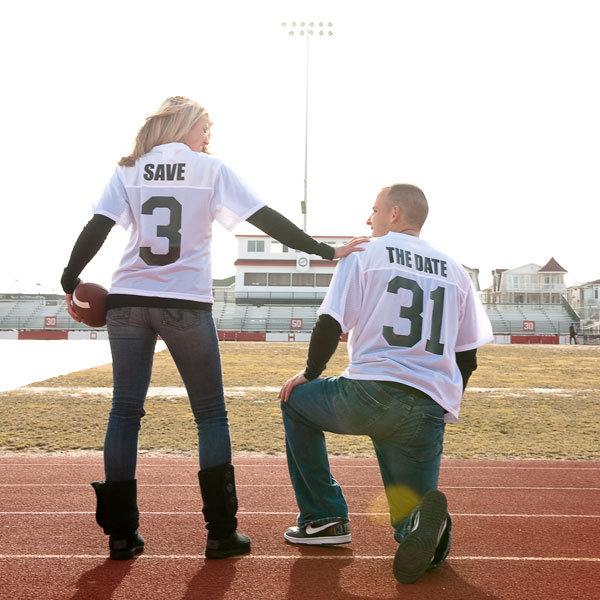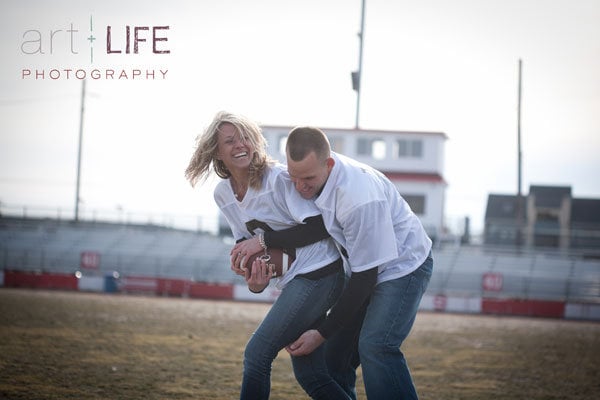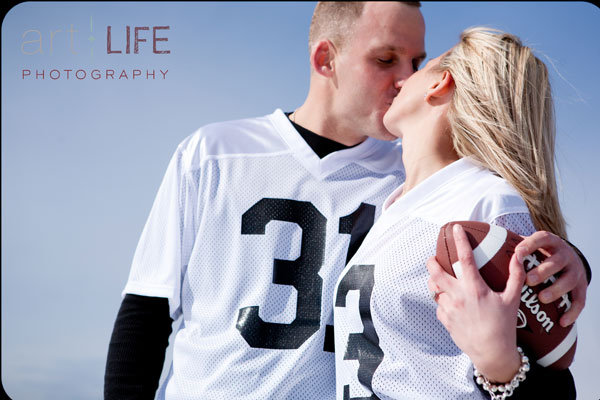 Photo Credit: Art + Life Photography [18]

The Jet Set
Throwing a destination wedding? Recreate that giddy vacation-is-finally-here feeling you get as you board the plane with this stop-motion shoot. Lay on the floor and have a photographer snap your profiles from above. Leave the sweats and Ugg's at home—only your finest travel duds are allowed aboard.
Photo Credit: Lauren Ross Photography [19]
Or take flight with a flock of charming chalk-drawn balloons, instead!
Photo Credit: JP Beato III Photography [20]

Paint a Rosy Picture
Sometimes devising a noteworthy save-the-date really is as simple as painting-by-the-numbers. If you can't decide on just one image to feature, compile a DIY photo filmstrip (check out this free template [21]) with multiple action shots so guests can see the entire story unfold.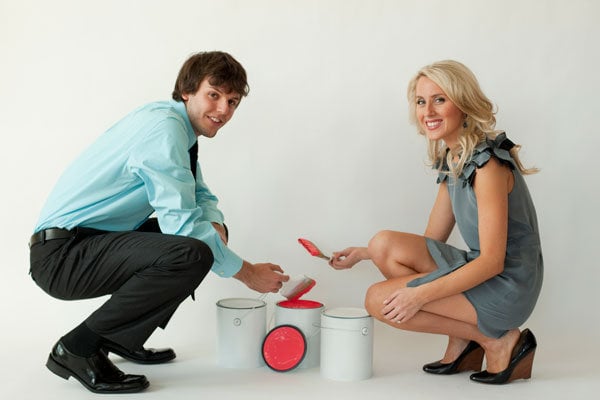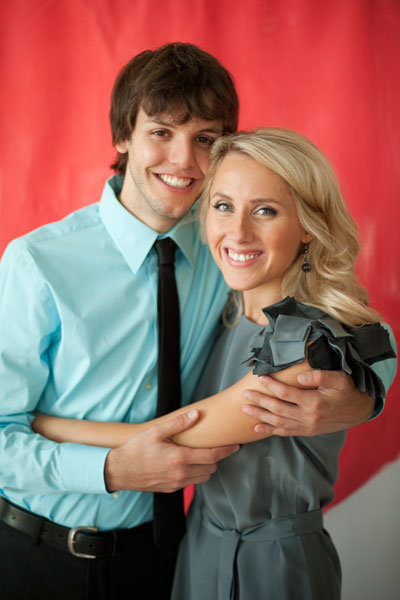 Photo Credit: Studio This Is [22]

Marquee Magic
You've fantasized about your wedding day playing out before your eyes in slow-motion, perhaps even since you were a little girl. Now's your chance to announce your upcoming nuptials for all the world to see! Create a splashy impact with a marquee spelling out you and your husband-to-be's names and date.
Photo Credit: Mi Belle Photography [23]

Bring Your Favorite Film to Life
Movie-themed nuptials and engagement shoots are gaining momentum (This Harry Potter-themed wedding [24]is one of our most popular articles of all time!). Brides, we're begging one of you to try this for your save-the-date (because who doesn't melt when they see a Ryan Gosling-lookalike?).
This romantic engagement shoot was inspired by The Notebook: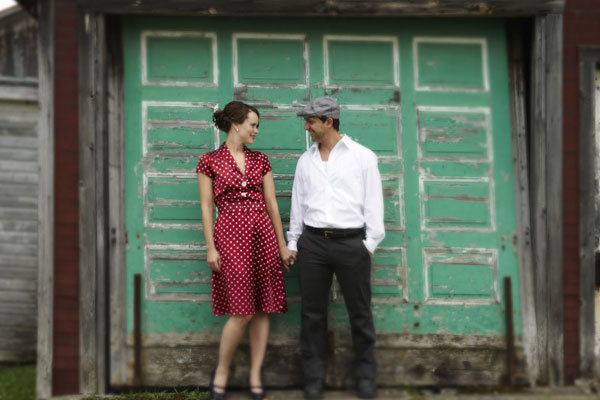 Photo Credit: Blushing Bride Studio [25]

Take the Plunge
Don't try this at home: A daring couple managed to make deep-sea diving and bubble-blowing look like a haute couture shoot worthy of the pages of Bridal Guide. Replicate the concept with an image of you and your beau diving off a dock or swimming in the ocean.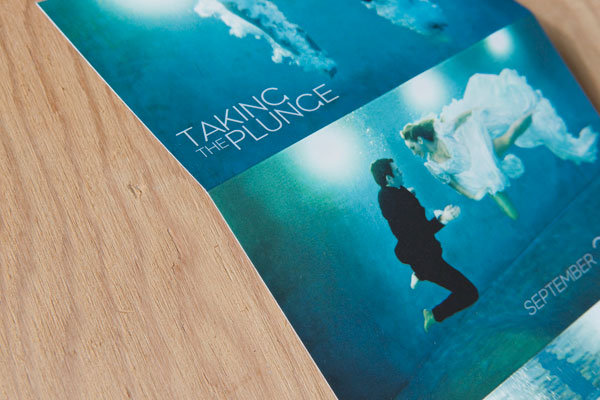 Photo Credit: Steep Street Photography [26]