Our favorite places in the sands of the Caribbean.
Home Page Abstract:
Explore our favorite places in the sands of the Caribbean.
When it comes to describing the most romantic beach, we've found there's no single perfect setting. One couple's action-packed "perfect" beach may be someone else's worst-case scenario, while an endless stretch of deserted sand might be heavenly to some and boring to others. Here, our picks that can top anyone's list.
For Long Walks...

1. Low Bay, Barbuda
For many, the holy grail of beaching is a serene strand fronting a perfect sea. Low Bay's 17-mile stretch of blush-pink sand borders the crystalline turquoise water—and there's nary another soul in sight. Only one resort stands on the entire beach, the Lighthouse Bay, with just 10 suites. The resort is all-inclusive and all-indulgent (room rates start at $1,099 a night and include all meals, drinks and helicopter transfers; lighthousebayresort.com [1])
2. Grace Bay Beach, Turks & Caicos
With talcum-soft white sand, and water so aquamarine it's been spotted by astronauts in orbit, this famous beach is celebrated throughout the islands. But even perfection has a downside: Luxury hotels and high-end condo complexes sit high on the dunes all along the 12-mile stretch.
For Party Lovers...

3. Pinney's Beach, Nevis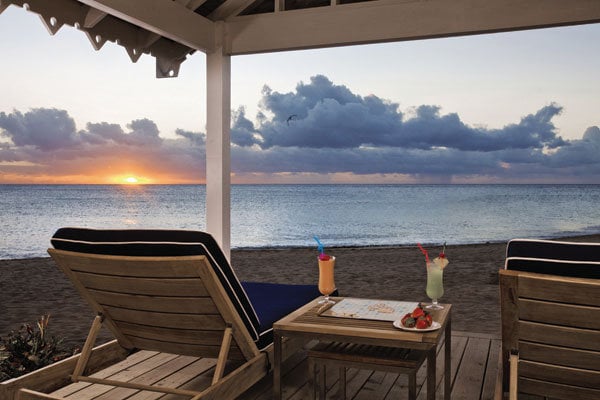 Photo courtesy of Peter Pierce
Hurricanes have hit Sunshine's Beach Bar & Grill eight times, but this hardy little outpost keeps bouncing back. Expect grilled lobsters and chicken served alongside ice-cold tropical concoctions with names like Killer Bee. Sunshine's shares the beautiful beach with the Four Seasons Nevis. Stay here or at one of the island's sugar-plantation guesthouses. We love the historic Nisbet Plantation Beach Club for its old-world romance and oceanfront location (room rates start at $383 a night and include WiFi; nisbetplantation.com [2]).
4. Bay East, Anguilla
It's hard to imagine a more perfect combo of powder-white sand and turquoise sea than this sun-dappled stretch. And when you add in the island-style jump-up at legendary Uncle Ernie's—an open-air beach shack serving tangy BBQ ribs, icy drinks and hot island music—this strand becomes the quintessential Caribbean party spot. On Sundays, there's live music.
Next: Our best honeymoon picks for serenity seekers >> [3]
For Serenity Seekers...
5. Frenchman's Cove, Jamaica

Photo courtesy of Jim Smith; The Jamaica Tourist Board
Located on the east coast, Port Antonio is Jamaica's secret haven, a hideaway that in-the-know travelers and paparazzi avoiding celebs have long treasured for its low-key ambience and quiet celebration of the good life. And the family-operated hotel of the same name is an idyllic spot for enjoying it all. There's a small but pristine swath of white-sand beach where, just offshore, a rainbow-colored coral reef lies waiting for snorkelers. The resort is modest and gracious, with several rustic cottages tucked in a tropical garden setting. A Great House offers 10 guest rooms, along with the hotel's lounge areas and an open-air restaurant (room rates start at $95 a night and include breakfast and WiFi; frenchmanscove.com [4]).
6. Saltwhistle Bay, Mayreau, the Grenadines
Come to this curve of white sand that hugs a bay of luminous blue water, and you'll feel you've discovered a deserted treasure. Splash in crystal-clear water, lounge in the shade of palm trees and spend the day lazing on the brilliant sand. Beyond the dense thickets of palms along the edge of the beach, you'll see some low-slung stone cottages. This is the Saltwhistle Bay Club and, just like the pristine beach, this intimate hideaway is naturally understated (room rates start at $360 a night and include two meals. Three night minimum stay; saltwhistlebay.com [5]).
For Underwater Adventurers...

7. Bloody Bay, Little Cayman
The legendary Bloody Bay Wall, which was dubbed one of the finest dive sights in the world by Phillipe Cousteau, is located just off the coast of Little Cayman, sister island to well-known Grand Cayman. The mile-deep underwater cliff, patrolled by eagle rays, is lush with gardens of sea fans and coral. For your time ashore, Pirates Point, an informal beachfront boutique hotel, is the place to be. Food here is awesome, thanks to the owner/manager, a Cordon Bleu chef who loves to cook for divers and to time meals around their schedules (rates for the seven-day Dive Package start at $1,995 and include accommodations, all meals, activities; piratespointresort.com [6]). (Photo courtesy of Cayman Islands Department of Tourism)
For Wave Runners...

8. Soup Bowl, Barbados
Surf's up in Barbados. Monster swells reach as high as 15 feet at the legendary Soup Bowl. Thanks to the island's isolated location at the outer edge of the Caribbean archipelago, the dependable waves place Barbados among top surfing spots like Puerto Rico, Oahu and Australia. But it's not only for pros—there are plenty of beginner breaks, as well as instructors and rental gear.
Next: The best choices for both laid-back daytrippers and frisky types >> [7]
For Laid-Back Daytrippers...
9. White Bay, Jost Van Dyke, B.V.I.
What's a perfect beach day? In the British Virgins, cruise over to the islet of Jost Van Dyke, anchor in the translucent bay, dive overboard and swim ashore. Then hang up your wet cash to dry at the Soggy Dollar Bar, grab a hammock and sip a signature Painkiller—a potent rum drink. Before long you'll be blissed out on the beauty of this classic Caribbean setting. If you just can't bear to leave once the sun sets, there's a tiny hotel, the Sandcastle, set a few yards away with a couple of simple cottages on the water's edge (room rates start at $130 a night; soggydollar.com [8]).
For the Windward Waves...

10. Cabarete Beach, Dominican Republic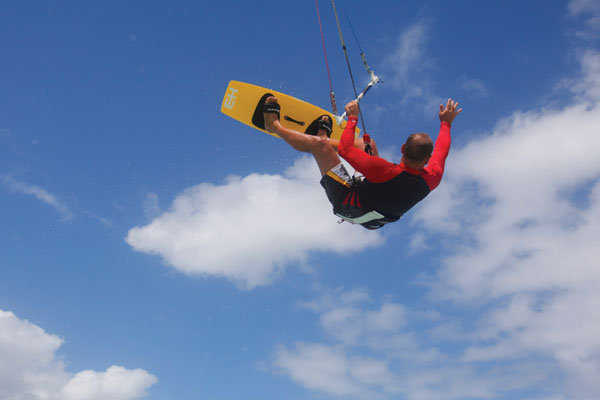 Photo courtesy of Sunshine's Beach Bar and Grill
The Dominican Republic's blustery Atlantic coast is one of the world's best windsurfing spots. Cabarete Beach—the hub of it all—is lined with board centers offering rental gear as well as instructors. (The teaching methods are so sophisticated that newbies get immediate feedback from their instructors through radios in their helmets.) International competitions are common, as are eateries in the sand. For romance, the beachfront Casa Colonial Beach & Spa gilds a hip vibe with old-world elegance. Enhance your by-the-sea time with dinners at Laveranda Restaurant or an evening couple's massage at the spa—both are located on the golden beach (room rates start at $286 a night; casacolonialhotel.com [9]).
For Animal Lovers...

11. Salt Cay, Turks & Caicos
This tiny isle, with only a few guesthouses and even fewer residents, boasts a slew of natural charms. The pristine landscape is trumped only by the superb bird watching and snorkeling— perhaps the biggest draw is whale watching. Here, in the winter months, humpbacks breach, blow and tail-slap so close to shore that you never need to leave the comfort of your beach chair. 12. Jumby Bay, Antigua This exclusive island is home to the upscale Jumby Bay, A Rosewood Resort, and a collection of privately owned villas. Pasture Beach is a safe haven for endangered hawksbill sea turtles that return every year to lay their eggs. Eagle rays and pretty reef fish swim just offshore. The island is also home to some curious creatures: sheep. Descendants of a flock brought here by Spanish settlers in the 16th century, the docile animals wander the beaches freely.
For Frisky Types...

13. Orient Bay, St. Martin
Some beaches are so secluded that you won't see a soul, so should you dare to bare, who's to care? Others, such as St. Martin's Orient Bay, are designated as clothing optional. Here, the Club Orient Naturist Resort offers villa-like accommodations on a long stretch of sparkling white sand. Fun fact: The resort's motto is "Nothing is better" (room rates start at $275 a night and include WiFi: cluborient.com [10]).