Explore the tropical islands of Maui, Lāna'i and Moloka'i and discover the destination your love deserves. Presented by the Maui Visitors and Convention Bureau
Home Page Abstract:
Romance lives on Maui, Lāna'i and Moloka'i.
Mobile Slider:
Maui
Small enough to feel like a world of your own, large enough to offer all the experiences you've dreamt of sharing together, Maui is made for romance. Where else can you greet the dawn holding each other close on the summit of mystical Haleakalā, then spend the next day exploring waterfalls and other wonders on the almost impossibly lush Road to Hāna?
Everything you need for an unforgettable wedding, honeymoon or romantic escape is here. Maui offers beach resorts known the world over at Kapalua, Kā'anapali, Wailea, Mākena and Hāna. There are charming restaurants and shops to discover, spas where you can indulge in a couple's massage, championship golf courses, horseback riding and, of course, mile after mile of gorgeous beaches.
With experienced, professional staff waiting to help you with your arrangements, Maui makes it all easy. And the Magic Isles of Maui also include two sister islands just a short ferry ride away: Lāna'i and Moloka'i.
Next: Lāna'i >> [1]

[2]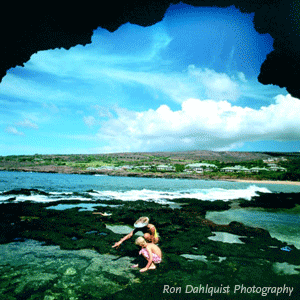 Lāna'i
Lovely Lāna'i proves you can get away from it all without roughing it. Visit the island's luxury mountain lodge and linger over Afternoon Tea, enjoy a civilized game of croquet and try your hand at English sporting clays. Or go to the sole luxury beach resort, where you can snorkel pristine waters as pods of spinner dolphins frolic nearby.
You can also venture off on your own to take in the views of Pu'u Pehe (Sweetheart Rock), experience the changing colors of nature at Keahiakawelo (Garden of the Gods) or find a deserted beach of your own.


[2]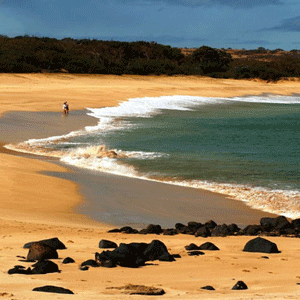 Moloka'i
For an experience far outside the ordinary, consider a romantic escape into nature on Moloka'i. This small, decidedly rural island reveals Hawai'i the way it used to be. You can take it slow and simply soak in the atmosphere or get an authentic taste of adventure.
Visit real working farms that grow taro, coffee and macadamia nuts. Kayak miles of pristine barrier reef. Hike through Hālawa Valley to the refreshing Mo'olua Falls. Descend 2,000 feet by mule into Kalaupapa, the historic site of Saint Damien's ministry to patients with Hansen's Disease. It all awaits on Moloka'i.

[2]