Thinking about getting married in an exotic location? Explore 10 exciting resorts with beautiful wedding chapels.
Home Page Abstract:
Find a place to wed no matter your destination.
Caribbean and Mexico
Pueblo Bonito Sunset Beach [1]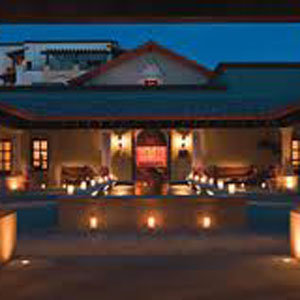 If you have your heart set on a destination wedding but still want the grandeur of a church ceremony, look no further than the Sunset Chapel at Pueblo Bonito Sunset Beach in Cabo San Lucas, Mexico. The exterior of the chapel is gracefully understated, with white columns and a red-tiled roof in the classic hacienda tradition. Inside, the chapel glows with vivid religious paintings, gilded chandeliers and a jewel-hued altarpiece inspired by the lavishly adorned churches of Spain, Italy and Latin America. Adjacent to the Sunset Chapel, the Salón Monasterio provides ocean-view seating for up to 140 guests. Professional wedding planners and complete wedding and reception services are available.
Situated on 50 acres of the spectacular Baja peninsula, the all-suite Pueblo Bonito Sunset Beach overlooks the Sea of Cortés, one of the most diverse bodies of water in the world and home to more than 800 species of fish. Naturally, the waters off Cabo San Lucas offer terrific deep-sea fishing, boating, whale watching and water-skiing. Snorkeling and scuba diving trips are also easily arranged at the resort. On dry land, enjoy golf, tennis, horseback riding and eco-tours throughout the varied environments of mountain, desert and beach that surround Los Cabos.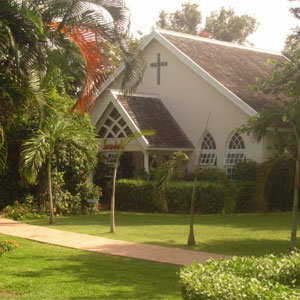 At Sandals Montego Bay in Jamaica, a pathway bordered by lush tropical flowers and a floral trellis welcomes you to the delightful butter-yellow chapel, the perfect setting for your Caribbean wedding. As one of the pioneers in destination weddings, Sandals has abundant experience in arranging flawless seaside ceremonies and receptions. The basic Sandals wedding package is free with a seven-night stay, but you can also choose any one of the four distinctive wedding packages exclusively designed for Sandals by "wedding planner to the stars" Preston Bailey. All weddings at Sandals include the assistance of a personal wedding consultant to make sure your day goes off without a hitch.
One of the premier all-inclusive resorts in the Caribbean, Sandals Montego Bay offers the longest private white-sand beach in Jamaica, six specialty restaurants and another Sandals exclusive -- personal butler service in select suites. Guests also enjoy "dine-around" privileges at two neighboring Sandals resorts for a total of 11 restaurants.
With its soaring whitewashed façade and bell tower, the Spanish mission-style wedding chapel at One&Only Palmilla will make you feel like the stars of a south-of-the-border romance -- perfectly fitting since this sumptuous resort in Mexico's San José del Cabo has been a hideaway for movie stars and millionaires since the 1950s.
Today, One&Only Palmilla continues to roll out the red carpet for A-listers like John Travolta and Oprah Winfrey and is ready to give you the star treatment on your wedding day. Horse-drawn carriage rides, a candlelit dinner on the beach and wedding-day indulgences at the on-site spa are just a few of the celebrity-worthy delights.
Set high above the ocean with easy access to the beach below, One&Only Palmilla skillfully blends world-class luxury with the unspoiled beauty of wild Baja. The hacienda-style resort offers many unique amenities, including a private sportfishing fleet, a yoga garden and a vast indoor/outdoor spa. And while they can't guarantee celebrity sightings, you never know whose elbow you might rub while you're hitting the links on the Jack Nicklaus-designed golf course or just lounging beside the palm tree-shaded infinity pool.
Next: Hawaii >> [4]
Hawaii
Hilton Hawaiian Village Beach Resort & Spa [5]
"Picture perfect" is the term that comes to mind when you see the newly opened Ocean Crystal Chapel at Hilton Hawaiian Village Beach Resort & Spa. This very-first freestanding wedding chapel in Waikiki is nestled amongst lush landscaping complete with cascading waterfalls and a lagoon, and the chapel's floor-to-ceiling windows make the most of the oasis-like view. Up to 70 guests can share in the exchange of your vows; after the ceremony, both ballroom and beachfront locations are available for unforgettable receptions.
The 22 expansive acres of Hilton Hawaiian Village offer the widest stretch of beach and largest swimming pool in Waikiki, a beachfront lagoon, lush gardens, exotic wildlife and even a notable collection of Hawaiian art. Nightly entertainment is available and you especially won't want to miss Friday night's King's Jubilee, a weekly celebration of Hawaiian music and dance that ends with a spectacular fireworks display on the beach. There are 22 restaurants and lounges to enjoy, and the on-site Village boasts more than 90 unique shops and a full-service spa.
Sheraton Kona Resort & Spa [6]
On the Big Island of Hawaii, the Bayside Chapel at Sheraton Kona Resort & Spa may be one of the Kona Coast's most picturesque wedding locations. You're likely to agree when you see the charming green-and-white chapel and neighboring gazebo set between luxuriant greenery and the brilliant blue Pacific. The chapel can accommodate up to 75 guests and the adjacent Bayside Wedding Gardens are the ideal setting for your wedding photos. A variety of venues are available for receptions, ranging from formal ballrooms to the outdoor Paakai Point which offers a dramatic view of Keauhou Bay.
From sweeping ocean vistas to authentic luaus, Sheraton Kona provides a true Hawaiian experience to you and your wedding guests. The open-air Ho'ola Spa offers Hawaiian treatments along with international therapies. And complimentary historical and cultural tours and activities enhance guests' sense of place. In addition to the full range of tennis, golf and water sports, you can experience the one-of-a-kind adventure of a nighttime snorkel or scuba dive with the famous manta rays of Keauhou Bay. For more information visit sheratonkona.com [7].
Next: The Continental United States >> [8]
Continental United States
Bellagio [9]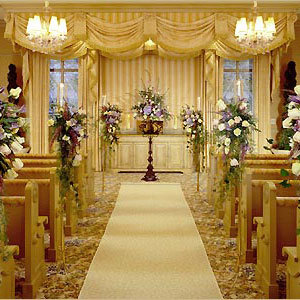 Blend the excitement of Las Vegas with the romance of a wedding in Tuscany at Bellagio, one of Las Vegas's most lavish resorts. Exchange vows on Bellagio's stunning Terrazza di Sogno (Terrace of Dreams), an Italian-style balcony that overlooks the resort's Tuscan landscape, Mediterranean-blue lake and renowned Fountains of Bellagio. For a dramatic touch, the fountains will soar to the sky at the exact moment of your first kiss as husband and wife. Bellagio also offers two elegant indoor chapels, a full staff of professional wedding coordinators and enough wedding packages to suit all tastes. And if he hasn't quite popped the question yet, the Terrazza di Sogno can also set the stage for a wildly romantic proposal that includes everything from rose petals to champagne.
Even in a town known for amazing hotels, Bellagio is a standout. This European-inspired resort features its very own fine art gallery and botanical gardens, while the shops of Via Bellagio bring the best of Fifth Avenue and Rodeo Drive together under one roof. Award-winning restaurants vie for attention with a spectacle as sweet as love itself -- the 27-foot chocolate fountain at Jean-Philippe Pâtisserie, the very first of its kind in the world.
The Mission Inn [10]
If every bride is queen for a day, surely she deserves her own castle -- and the chapels at Southern California's remarkable Mission Inn more than fit the bill. This National Landmark Historic Hotel offers two exquisite wedding chapels that reflect the gilded opulence of Spanish style. Ornate wooden doors welcome you to the St. Francis of Assisi Chapel, whose 18th-century, 18-karat gold-leaf Rayas Altar and Tiffany stained-glass window will be a stunning backdrop for your ceremony. The St. Francis Chapel can accommodate up to 150 guests, but if you have a more intimate setting in mind, the ornate St. Cecelia Chapel can accommodate up to 15 people in a standing ceremony. The Mission Inn can host receptions in any of its unique banquet rooms.
The Mission Inn features 239 elegant guest rooms and 28 suites, wifth no two rooms alike. There are five restaurants to choose from, ranging from a casual sidewalk café to one of Southern California's premier steakhouses, and Kelly's Spa offers a complete assortment of spa and salon services. Golf courses, wineries and other attractions are conveniently located nearby.
The Inn at Palmetto Bluff [11]
Traditional Southern charm meets modern luxury at South Carolina's The Inn at Palmetto Bluff, where the Waterside Chapel awaits your wedding on the banks of the May River. The simple chapel is designed to highlight both the natural beauty of the surroundings and the gracious ambiance that can only be found in the South. Inside the chapel you'll find seating for up to 82 guests and generous views of the tranquil river and Spanish moss-draped trees. Receptions may be held outdoors beneath the ancient oaks or in the River House's refined ballroom.
Whether you marry or honeymoon at Palmetto Bluff, you'll experience authentic South Carolina Lowcountry hospitality. Accommodations range from splendidly outfitted cottages to multi-bedroom rental homes (perfect for guests), and all include delightful touches such as fireplaces, screened porches and luxury bed linens. The Inn at Palmetto Bluff also offers sumptuous dining, a blissful spa and plentiful activities including golf at the May River Golf Club, considered by many links-lovers to be one of the finest golf courses in the region.
South Pacific
InterContinental Bora Bora Resort & Thalasso Spa [13]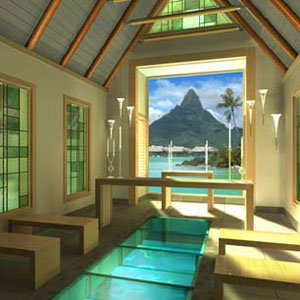 Imagine exchanging vows in a serene wooden chapel with nothing but the shimmering waters of the South Pacific beneath your feet. Sounds like a dream? The dream becomes reality at the InterContinental Bora Bora Resort & Thalasso, where a unique over-water wedding chapel opened in September 2006. Featuring a transparent glass floor and striking views of nearby Mount Otemanu, the chapel is the first of its kind at any hotel in the world and can accommodate up to 20 guests for an intimate ceremony.
The over-water chapel is only one of many firsts. The resort is the first hotel in French Polynesia with all over-water villas that feature such deluxe amenities as private outdoor showers and terraces that open right onto the water. The resort also offers the first spa in the world to use mineral-rich, deep-sea water extracted from 2,500 feet below sea level. And if you're an eco-minded couple, you'll be happy to know that the innovative, earth-friendly air-conditioning system has no impact on the environment. Of course, you may be even happier to forego the a.c. altogether and just let the warm tropical breezes drift through your private villa as you while the island days away.
Sofitel Fiji Resort & Spa [14]
Basking beneath the languid Fijian sun, Sofitel Fiji Resort & Spa's wedding chapel captures the essence of South Pacific romance. The gracious simplicity of the white, red-roofed chapel takes its inspiration from the island's quaint traditional churches and seats up to 40 guests amidst gorgeous ocean and garden views. Wedding coordinators are available to plan every aspect of your day and a variety of customizable wedding and reception packages are available.
With a blend of French sophistication and laid-back Fijian luxury, this privately located resort also has plenty to offer you and your wedding guests. All rooms and suites are graced with ocean views, private terraces or balconies, native art and luscious personal care products. A pure white, private beach and the largest lagoon-style pool in the Pacific are available for relaxation. If you crave excitement, the resort's partnership with Adrenalin Fiji brings you a full range of water sports and leisure activities, including skydiving, snorkeling and sunset cruises. Five diverse restaurants and the Mandara Spa, featuring private treatment bungalows, round out the plentiful amenities.