The traditional white wedding isn't what it used to be. Here, three takes on a perennial classic.
Home Page Abstract:
The traditional white wedding isn't what it used to be. Here, three takes on a perennial classic.
Gold & White
The gorgeous décor from Ivanka Trump and Jared Kushner's [1] wedding is a perfect fit for a cold-weather wedding. After the ceremony and cocktails, the glittering assembly of guests was escorted into a white-on-white tent dreamed up by event designer Preston Bailey.

The Flowers: Long tables were set for a fairytale feast. Preston worked with Ivanka to design three different tablescapes, each with a scented garden of all-white flowers: lilies of the valley, hydrangeas, orchids, ranunculus, roses and gardenias. The first tablescape featured white ceramic topiaries filled with lush bouquets of roses and hydrangeas. For the second, Preston built small ponds with floating gardenia blossoms, and for the third, he created towering custom-made crystal candelabras, topped with masses of blooms and white pillar candles.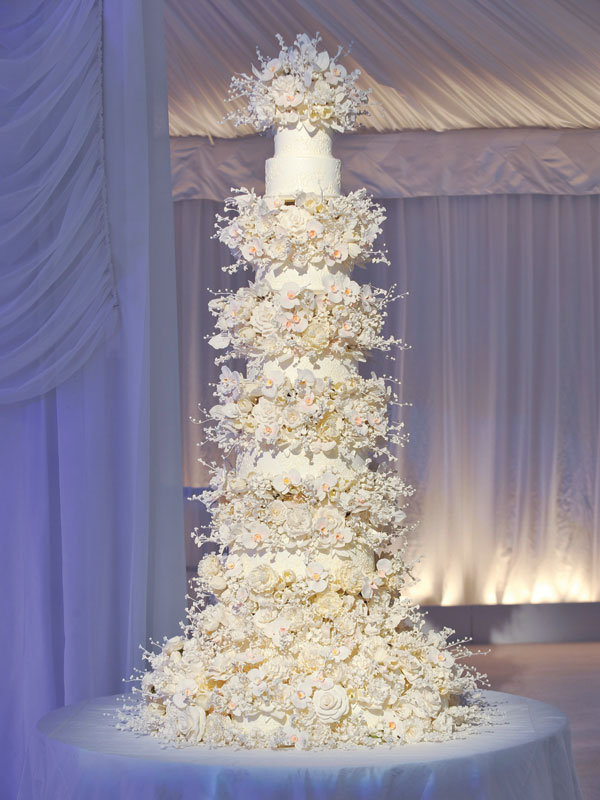 The Tent: Preston used endless yards of ethereal white fabric in the dinner tent. "It was important to choose the right white, not too bright and not too dull. This white tent was a seven on a scale of one to ten." White weddings lend themselves to playing with light projections, so throughout the evening, the lighting changed every half hour, to keep the momentum building. The white dance floor had its own projection—the bride and groom's monogram.
The Tables: The flowers weren't the only focal point on Ivanka's tables. Crystal candlesticks lent the room glitter and glow. Instead of plain linens, Preston created depth by designing a special white-on-white box pattern that felt clean and modern. "When you are doing all white, you need to create textures and layers to make it exciting," he advises. The settings had gold-accented crystal chargers, goblets and place cards. Topping each setting: baby roses and a white linen napkin embroidered in gold.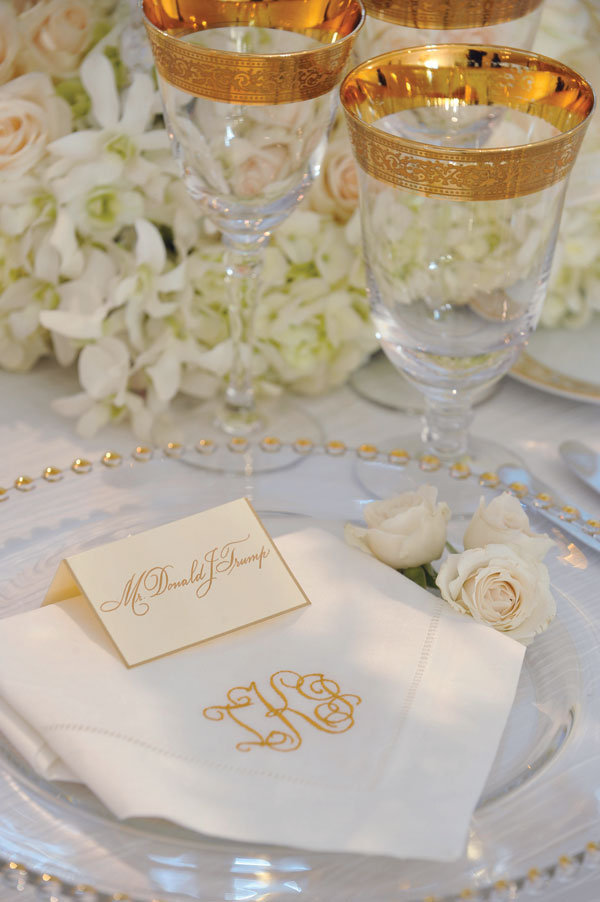 Planner's Tip: "You have to be careful with an all-white wedding not to make it boring," says Preston. "Our high and low arrangements gave the room motion. Be sure your tables aren't all the same."

Photography: John Labbe
Silver & White
The gleam of silver on white sets the stage for a San Francisco winter wedding with a sleek and sexy feel. Sasha Souza, celebrity event coordinator and author of the wedding design book Signature Sasha, tells how to add polish to traditional white.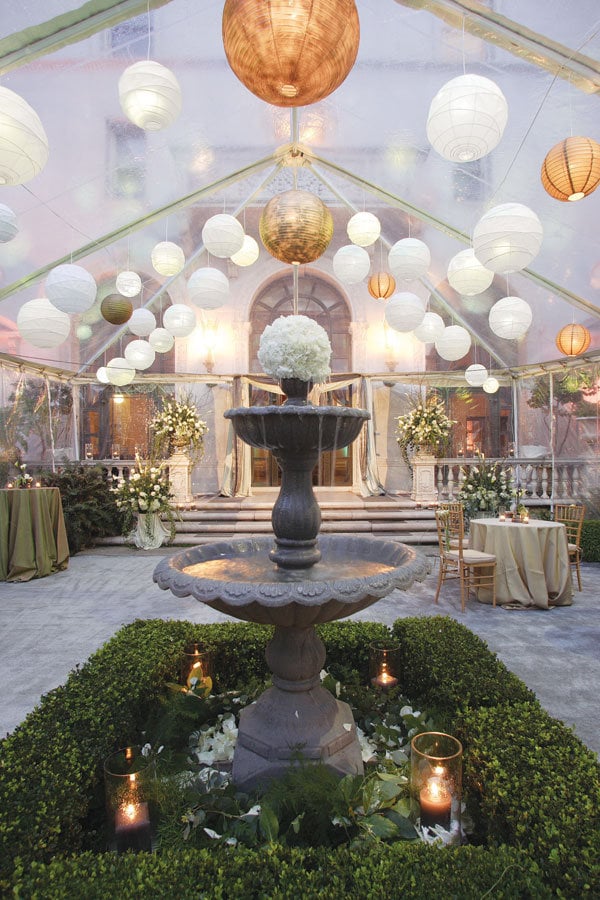 The Cocktail Hour: A clear-topped tent enclosing the entrance to the reception site—a stately San Francisco mansion—made a dramatic statement about the celebration to come. The tent also served as the perfect setting for a sophisticated cocktail hour. Glowing globes in white and platinum were suspended from the tent ceiling, while small votives and larger hurricane lamps cast shimmering light and flickering shadows. A trickling stone fountain, topped by a pure-white hydrangea ball and surrounded by pillar candles, created a focal point for the scene. White-jacketed waiters served an array of hors d'oeuvres with white sauces, including tender asparagus with a drizzled cream dip. But the early-evening scene stealer? An ice bar elaborately carved in the mansion's Victorian style, branded with the couple's new monogram.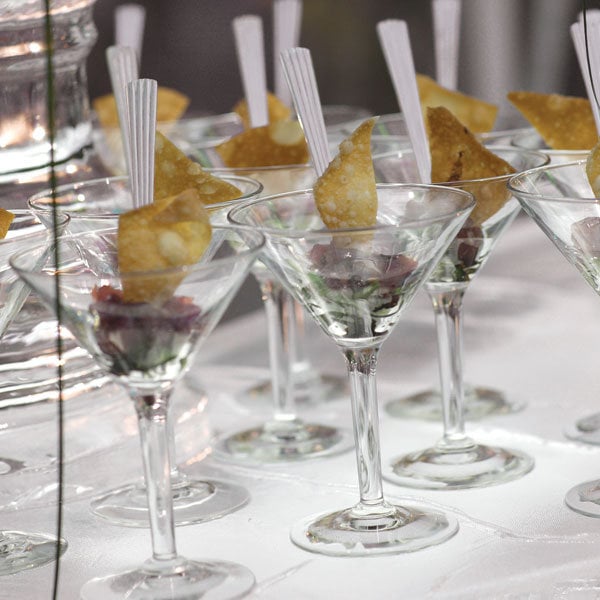 The Dinner: The mansion's impressive double doors were flanked by four urns filled with branches, bear grass, white roses and tulips, as well as variegated ivy shot through with white. Inside, an escort table was heaped with velvety moss and bright white orchids, calla lilies and ranunculus—a fleeting glimpse of spring in winter. Round dinner tables, dressed in platinum taffeta, filled the hall; the white linen napkins were also edged in platinum taffeta. Oversize chargers in brushed gunmetal gave each place setting extra shine. The chairs? Delicate charivaris in burnished silver.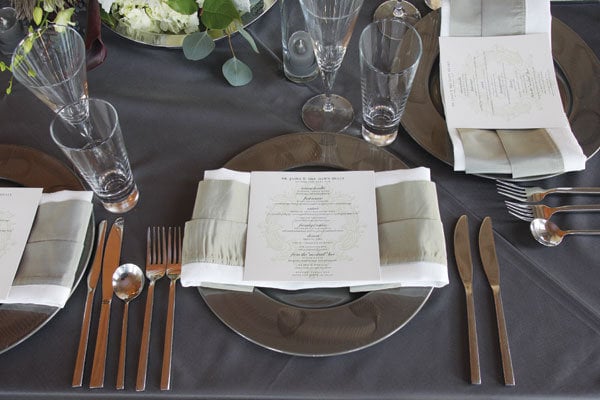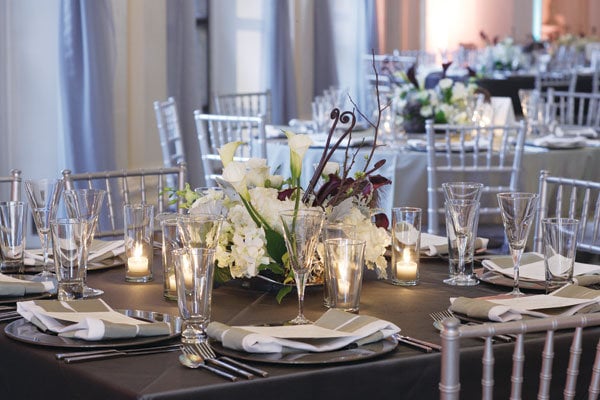 The centerpieces were a study in contrasts. The flowers—orchids and tulips—were white, accented by the occasional deep plum of a calla lily or the black of a fiddlehead fern. The greens, dusty miller and lamb's ear, both have a silvery sheen; soft, sultry gray ostrich feathers provided one last surprise. With all this drama, Sasha decided to keep the vases and the candles simple. "We had clear glass candlesticks with white candles, so what you really noticed was the flame," she says.
An intricate fall foliage pattern was beamed onto the ceiling. Platinum and white was the color scheme for the wedding cake as well, of course. "We used silver and opal dust all over the cake, so it was very shiny!" says Sasha.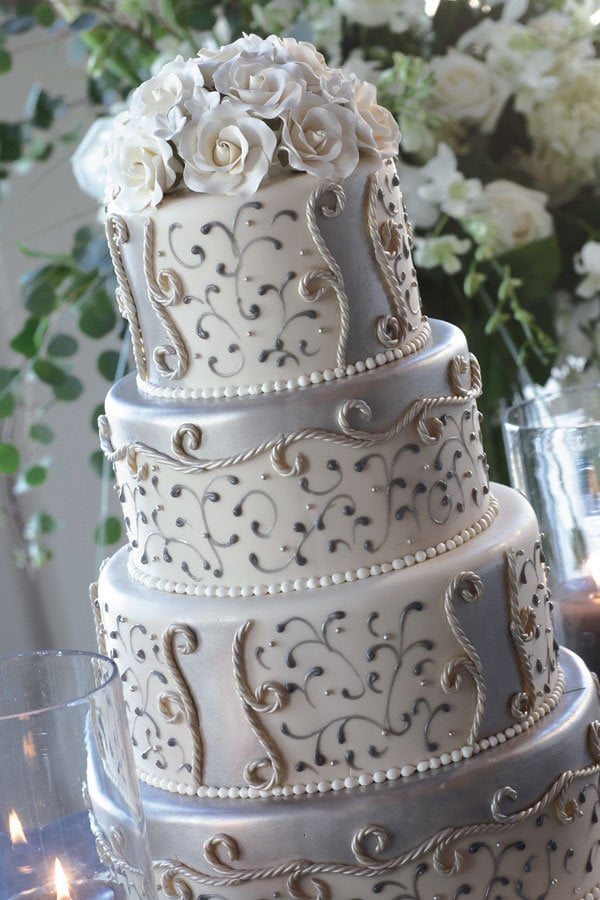 A Final Touch: The couple's getaway was the coup de grace of the night. The bride and groom made their moonlight escape in a white 1945 convertible Packard with the top down. For her ride into the future with her new husband, the bride wore a flowing white cape over her wedding dress. The last thing guests saw was the couple's faces, framed by a garland of white orchids draped across the trunk of the vintage car.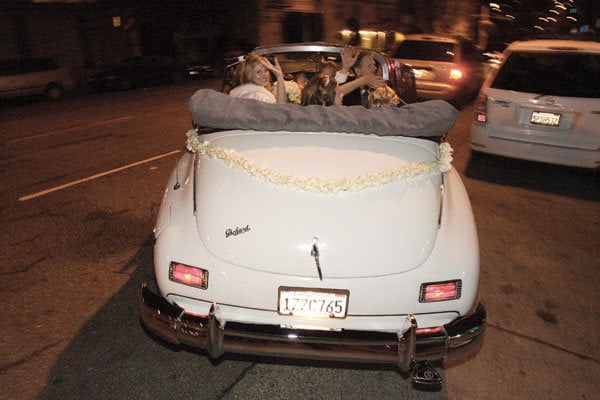 Planner's Tip: Sasha Souza found the glamour in white by pairing it with a gleaming metallic. She advises brides to keep this in mind: "White is not one color; it's actually a hundred tones. It might be diamond white, pearl, antique, eggshell—I could go on and on. That's why it makes the perfect background for a high-style wedding: Every color pops beautifully against white."
Photography: Sherman Chu
Pink & White
Creamy-white with feather-light touches of pale pink made this Deep South wedding look as pretty as a petit four. Tara Guérard, of Soirée Charleston in Charleston, South Carolina, and the author of Weddings by Tara Guérard, tells how to make this vision come true.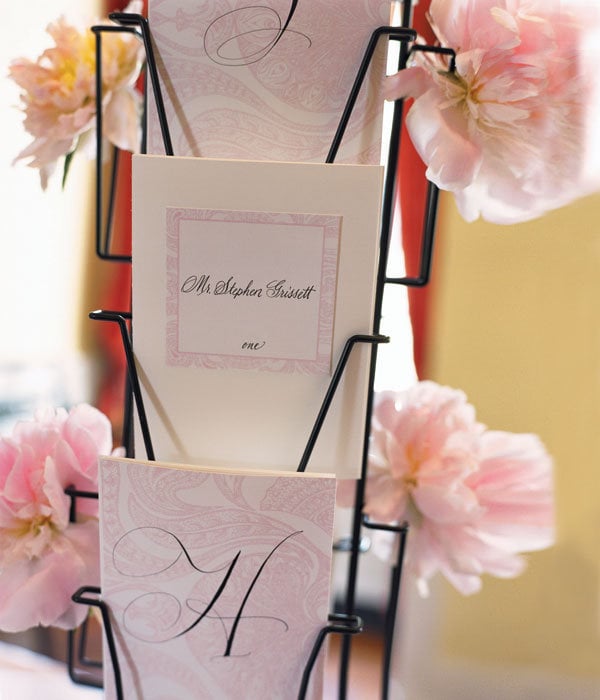 The Invitation: Traditional letterpress in black on thick white card stock provided the details of the wedding day. On the other side of the invitation, however, the planner chose to display the wedding's primary motif: a distinctive pink-and-white paisley design. The inner envelope echoed the paisley, while the outer envelope was kept plain. This subtle mix of traditional choices and unexpected touches was repeated throughout the wedding: very simple yet very distinctive.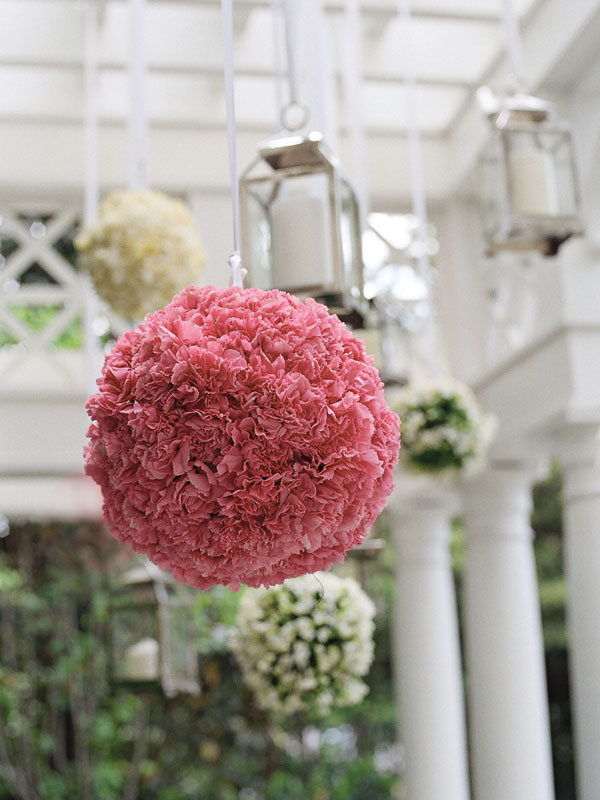 The Cocktail Hour: White trolleys brought guests to the reception site, the William Aiken house, one of Charleston's famous historic homes. Pale pink and white peonies and gardenias adorned the wrought-iron gates, and antique urns flanking the main doors were planted with pink and white blooms. Cocktails were held in the garden, where waiters in white jackets and gloves passed drinks and hors d'oeuvres that carried through the pink and white theme. Guests were served crab soup in white espresso cups, tuna tartare with ginger sauce, smoked salmon and cream cheese on buckwheat blinis, oyster shooters and pink-skinned new-potato halves with dollops of caviar and crème fraiche. Highballs also had a shot of the color scheme—the wooden stirrers had a single pink-and-white paisley design.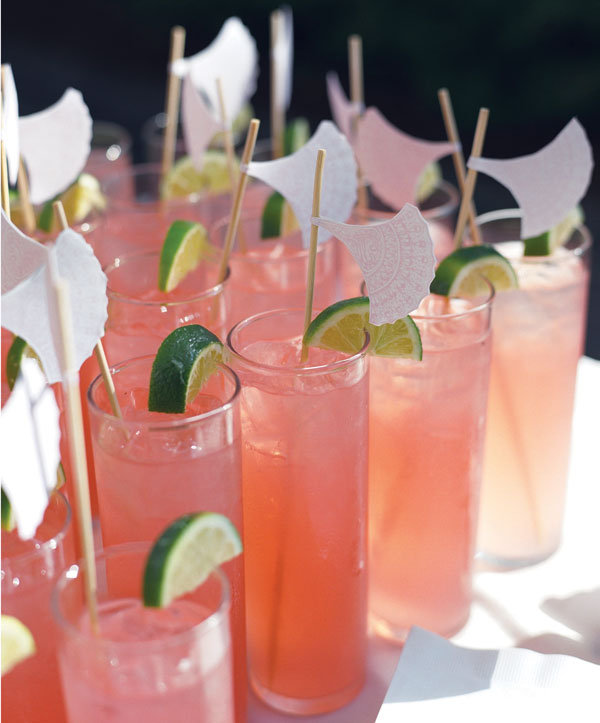 The Dinner: After cocktails, guests made their way inside for a formal sitdown dinner, stopping to find their escort cards on wrought-iron holders festooned with lush pink peonies. The tables were set with crisp white linens hemmed with pink, and each place setting had that hallmark of Southern entertaining: a white hem-stitched napkin bearing the bride's new monogram, and tied with a white ribbon attached to a paisley-designed seating card. Table arrangements were white ceramic vases filled with pink and white peonies, sweet-smelling gardenias and roses; the table glowed in the soft light of hundreds of votive candles. The chargers? White, of course.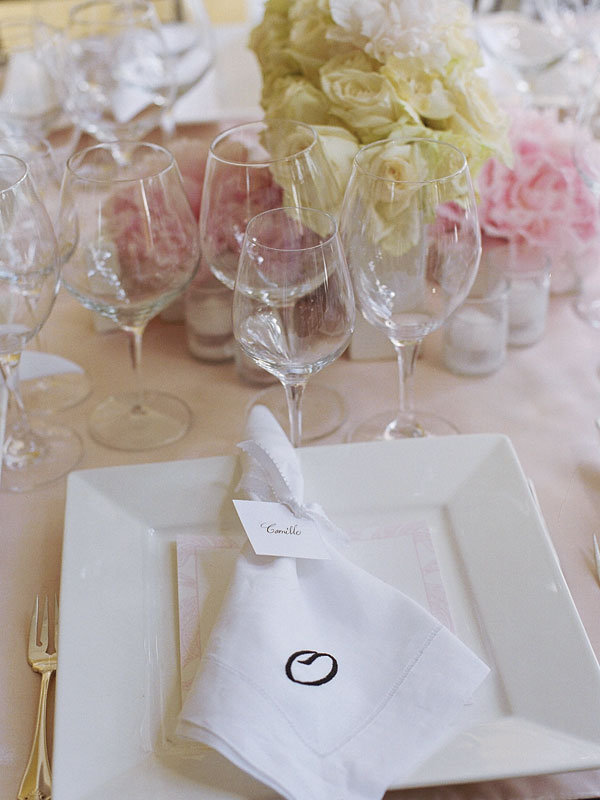 The After-Party: After dinner, guests were escorted back into the garden for a late-night surprise: a pink and white lounge for dancing and cake. As guests made their way down the sweeping Scarlett O'Hara staircase, waiters welcomed them with flutes of champagne, topped with a scoop of pink strawberry sorbet. The tent was draped in pink and white cotton voile, with a white valance that had black piping. Under crystal chandeliers, guests lounged on white-upholstered wicker chaises, plush white ottomans and sleek white couches, piled with pillows that were blush pink on one side and sailor white on the other.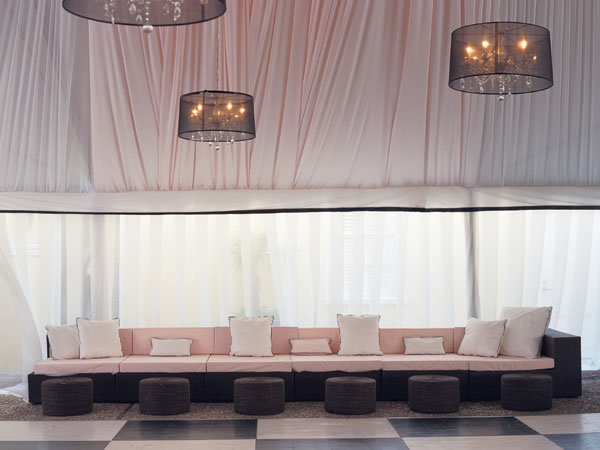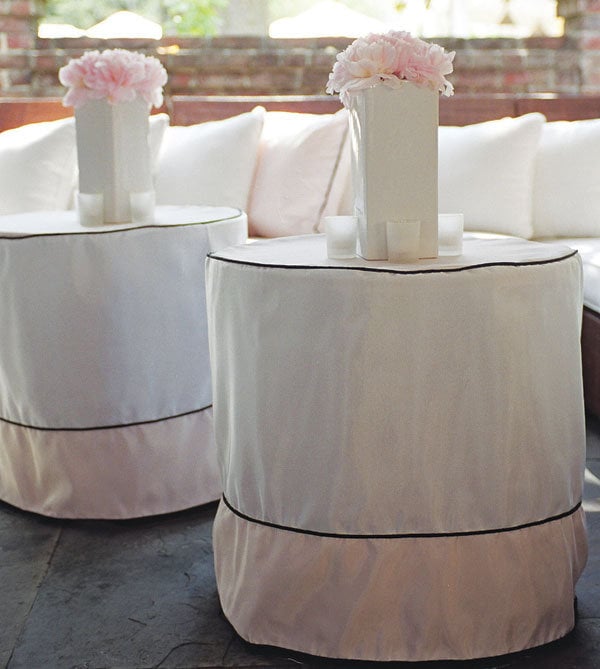 Planner's Tip: "I love a simple white wedding," says Tara. "The trick is to keep it simple. Don't try to bring in too many different looks, and think through all the details."

Photography: Liz Banfield Photography