Sick of silverware? Now you can register for just about anything--just think outside the (china) box.
Home Page Abstract:
Think outside the (china) box when it comes to your big-day registry.
Once you've picked out the tableware, furniture and housewares for your wish list, it's time to customize your wedding registry with gift ideas that further reflect your lifestyles and interests. Whether you're a connoisseur of good cheese and wine or a sports buff, all you have to do is sign up and enjoy what you truly love.
The Great Outdoors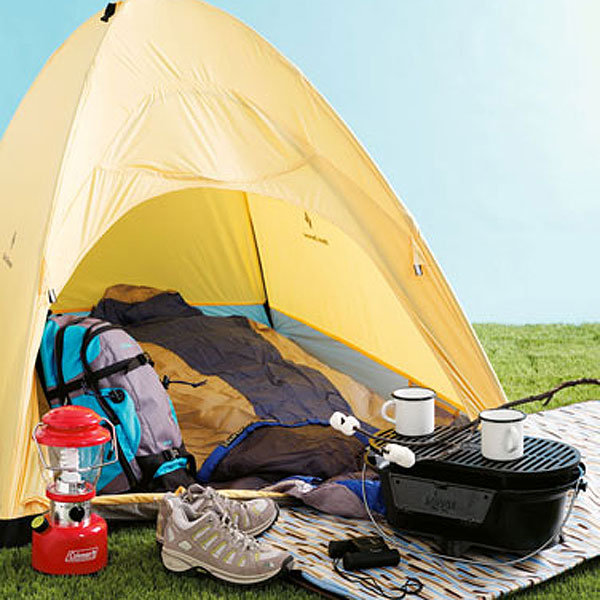 photo: Alexandra Grablewski
From Left: These outdoor essentials will make a a cool wedding gift for any adventurous family. Year-round two-person tent by Black Diamond [1]. Rechargeable retro-style lantern by Coleman [2]. Hiking backpack by L.L. Bean [3]. Eureka [4]'s "mummy bags" for women, designed with extra room through the hip area and more insulation around the chest and feet. Women's hiking shoes by The North Face [5]. Pocket-size binoculars by Vortex Optics [6]. Cast-iron Sportsman Grill by Lodge [7]. Blanket from Wrapables [8].
Home Work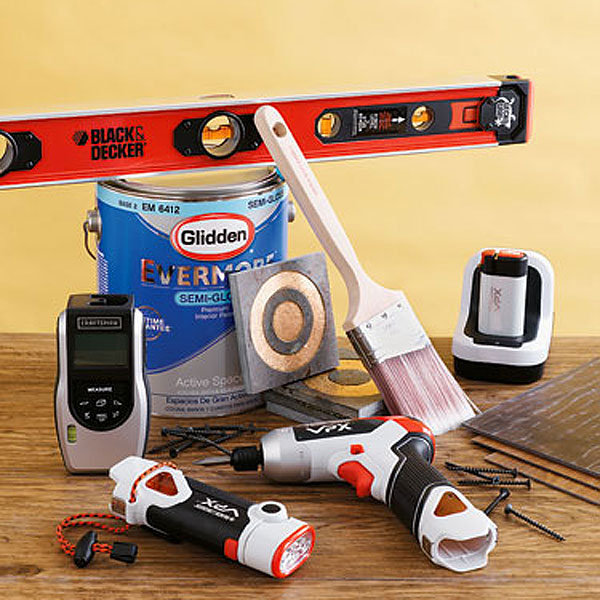 photo: Alexandra Grablewski
These are what we like to call creative wedding gifts. For some help around the house, consider these useful items: A 24" level (top) with gripping pads and attached 9" level/stud sensor; flashlight and screwdriver/drill/saw (front); and interchangeable lithium battery with charger (right), all by Black & Decker [10]. To measure space for a new couch, try Sears/Craftsman [11]'s laser measure (far left)—it's amazingly accurate. Freshen up any room's walls with Glidden [12] paint. Artistic Tile [13]'s bulls-eye-patterned Brazilian slate tiles with metallic leafing dress up a backsplash or a guest bathroom. Nafco [14] engineered-wood floorboards (used as surface and stacked).
Next: Special Delivery >> [15]
Special Delivery
Sometimes it turns out the unusal wedding gift is the one we find ourselves unable to live without. Imagine getting some of your favorite treats delivered to your doorstep every month. From left: TheRoastedBean.net [16]will customize and send you a selection of brews—anything from Kenya classic to just about any flavor you fancy. The California Wine Club [17] features Handley Cellars and Gainey Vineyard, among many more, in their wine-of-the-month clubs. And don't forget to say cheese! Three wedges of artisanal varieties are yours to savor when you sign up for Artisanal Premium Cheese [18]'s monthly program. Cheeseboard from Crate & Barrel [19].
Next: Spa Service >> [20]
Spa Service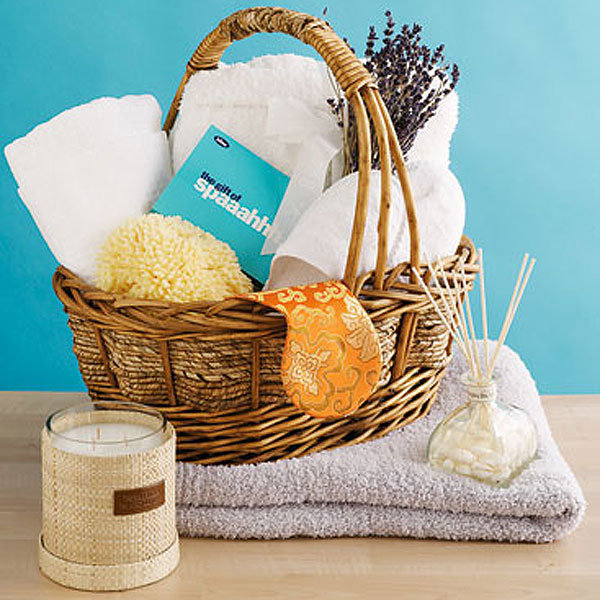 photo: Alexandra Grablewski
Every woman knows the truly special wedding gifts are the ones that soothe the soul. With these special wedding gifts your home can be your personal sanctuary. In basket, from left: Waffle-weave hotel wrap by Chris Madden for JCPenney [21]. Gift certificate from Bliss Spa [22]. Superplush white robe and blue throw (under basket), both by BareFoot Dreams [23]. Luxe terry slippers for guys and girls by Frette [24]. Silk eye mask from Wrapables [8]. Three-wick candle and tropical floral-scented fragrance diffuser by India Hicks [25] and sea sponge, all from Crabtree & Evelyn [26]. Basket by Target [27].
Sporty Spice
photo: Alexandra Grablewski
For an appropriate wedding gift, head for the sports aisle, it's time for play. From left: Set of clubs stored in a pink bag, by Hippo [29]. The handle on this women's racquet (center) is lighter than the men's racquet in back, which is designed to augment swing power, both by Head [30]. Bag by Ame and Lulu [31]. Golfing gloves: the men's is by FootJoy [32]; the women's, by LadyClassic [33], allows your ring to peek out. Cleveland [34]'s wedge offers better ball contact; Odyssey [35]'s putter has a lightweight feel. Monogrammed balls by Smart Play.