Laura Grace Coletti and Benjamin Drazil both work in the entertainment department at Walt Disney World, but they didn't cross paths until a mutual friend introduced them in 2008. They soon became inseparable.
After dating for just about a year, Ben popped the question during the annual Christmas light display at Disney's Hollywood Studios, which contains over 5 million dazzling lights. It was "snowing" outdoors and he caught Laura completely by surprise ("even when he was down on his knee, I wasn't sure what was happening!" she said). Friends were waiting in the wings to congratulate them and bestow gifts (including Mickey and Minnie bride and groom hats).
They started planning with Disney's Fairy Tale Weddings and selected their favorite Disney love story, Up, as their unconventional theme. It chronicles the adventures of Carl and Ellie, who are childhood sweethearts and adventurers. The story of their marriage together is told in just a few minutes without words, only imagery. However, it left a lasting impression on Laura and Ben. The story picks up when Carl is old and retired. He sets off on an unlikely adventure to Paradise Falls in South America, with the help of balloons and a young boy named Russell, a Wilderness Explorer. "The movie is filled with beautiful colors, details and ideas that were perfect for what we had in mind for our wedding," said the bride.
(P.S. Haven't seen Up yet? Read more about the movie's plot, here.)
Photo Credit: Ty Boyce of Disney Fine Art Photography and Video
Resources:
To start planning your happily ever after, contact the Disney's Fairy Tale Weddings team at (321) 939-4610 or visit disneyweddings.com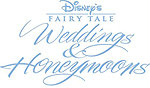 Theme:
Disney's Fairy Tale Weddings
Images: