When Aussie super-fan Branka Delic found out that Bon Jovi would be touring in Las Vegas during the same weekend as her wedding — which was held at the Graceland Wedding Chapel, the same venue where Jon Bon Jovi married his wife Dorothea 24 years earlier — she started an online petition asking the singer to walk her down the aisle.
"Bon Jovi, we're begging you. Make this wedding happen!" she wrote. "We're living on a prayer and we want you to come lay your hands on me and walk me down the aisle!" When she didn't hear back, she also began reached out to him via Twitter in the days leading up to the wedding: "The day is near, Jon boy. Is it a date or what? Please don't let this devoted Aussie bride down."
Imagine her surprise when Bon Jovi strolled in, dressed in jeans and a white button-down shirt, ready to walk her down the aisle!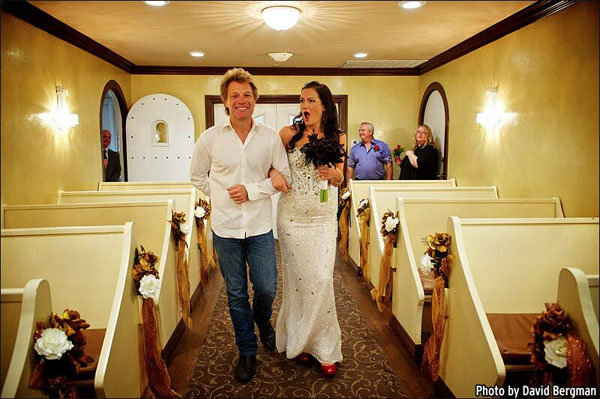 Photo via @BonJovi on Twitter
He later tweeted: "Congratulations @branksd! May you & Gonzalo have a lifetime of happiness, love & memories together - ALWAYS!" She responded, "@BonJovi you did more than make my dream come true, you changed my life forever! An amazing man with an amazing generous heart."
—Kristen O'Gorman Klein